July 1, 2016
We celebrated my birthday with brunch at Dave and Karen's house. There were sausages, bacon, smiley potatoes and hash browns, mushrooms and eggs and fruit, cream and two kinds of English jelly (of course). I might have used some to make into Canadian flags in honour of the other celebration on July 1st.
My aunt Mary made the trip from Wellesley for my birthday. Auntie Janice had to work but provided balloons and a lovely birthday banner.
Grandma J made her famous gluten free sponge strawberry sponge cake. My parents skyped in from Angola and helped me blow out the candles (along with many small children).
Some of us braved the weather forecast for a boat ride. Brendan and Margaret sat in the car but the kids (sans Theo), Mary, Dave, Mike and I squeezed into the boat during the storm.
As soon as the driving rain let up we motored out. Time constraints meant we didn't actually hoist sail but the kids all greatly enjoyed getting to drive. Isabelle had a truly wicked glint in her eyes as she wildly swung the boat from side to side. It was a pretty good thing we didn't have sails when the under-threes were driving!
We headed home to the annual neighbourhood block party and the kids ran around like hooligans for a while and then it was time for fireworks. Our kids don't cope that well with late nights, so we made a deal that we'd do a movie night instead with canned fireworks. We replayed the highlight reel we took at Iain and Renée's wedding and watched minions.

Brendan and I toyed with actually going to see the real fireworks after the kids were in bed but the weather reminded me of the super cold, windy and miserable year the fireworks were cancelled so we played Scrabble instead.
You might also like:
-
Happy Birthday
-
Boxing day
-
Rainbow party
-
Good Friday 2015
-
Mary Day
June 30, 2016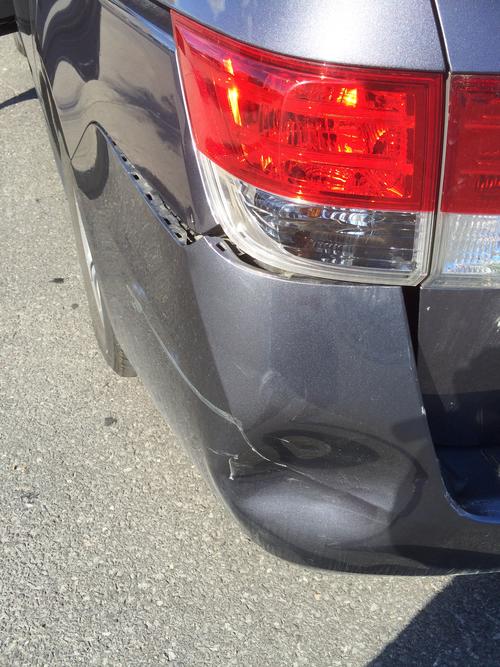 In retrospect, perhaps I shouldn't have started the day by reading Alexander and the Terrible, Horrible, No Good, Very Bad day.
Well, actually it wasn't a terrible day until Matthew lost baby dinosaur at Bulk Barn. He was distraught, even though he had been told to leave the toy in the car. And he only lost the dinosaur because he was having a meltdown over not being allowed to hang off the (tippy) cart. In any case, baby dinosaur was gone and we were late for karate.
I promised I'd go back to Bulk Barn and leave our phone number in case they found him. Then we dashed off to karate. I sent Elizabeth into the dojo and promptly backed into the car behind us.
I was NOT HAPPY. Matthew, trying to be helpful, says: "Don't worry Mommy, I'm ready to go to Heaven". Mommy is NOT in the mood for a deep theological discussion, but while assessing damage, I figure out that Matthew is expecting that since Mommy has just broken the car we are all about to die. I explain that I appreciate his bravery but that we are not in imminent danger of death. "But you broke the car", he points out. Puzzled. I explain that there's not even a scratch on the other car, but I am a bit upset about the damage to ours. Matthew considers for a moment. "Mommy?" he says. "Maybe next time it would be better not to break our car." Noted.
On the plus side, at least it's the same corner I already massively gouged when the van was relatively new. "You like that corner" says helpful husband. There might have been some growling.
You might also like:
-
Social Distancing: Day 14
-
Camp Otonabee
-
Missed the bus, Concussion, Matthew gets a stripe
-
Squirrel Bites
-
Party
June 29, 2016
It is cherry season again! Dave and Karen's tree had a pretty amazing crop this year. There were many jokes about needing to prune the tree for easier ladder access. It was not quite as many as the 60 cup year Matthew and Isabelle were born but I took home quite enough with plans to make a cherry cheesecake or two. Elizabeth was at camp and Xander was at school but the three year olds stayed away from the ladder and even helped wash and pit!
You might also like:
-
Cherry Picking
-
New favourite way to get home from the bus stop
-
Terry Fox Day
-
Teacher gifts
-
Cheveux Fou
June 27, 2016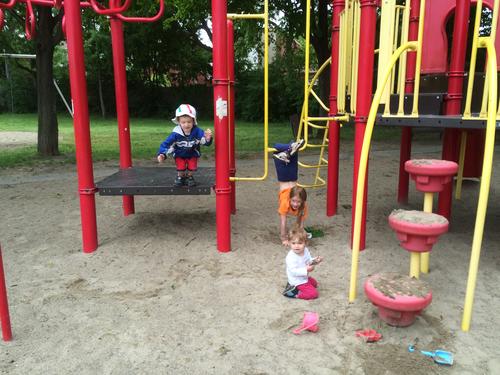 Summer week one was short because of the Canada Day long weekend on the Friday, but Elizabeth and Adi decided to do gymnastics anyway. Since it was only four days, there was no show (sad face). And therefore no pictures. Elizabeth had an awesome time anyway.
Matthew, Amelia and I had "park and museum" week while Elizabeth was at gymnastics.
Matthew is also no longer allowed to do "his" math unsupervised (at least with the transparency pen) after he decided it would be fun to decorate himself as a clown. It's hard to see in the photo, but he even drew in his hair and coloured his nails and earlobes.
You might also like:
-
Matthew with the Bear
-
Cousin Tshirts
-
Trading Post, birthday party
-
Rainbow Camp
-
Aunts and Uncles come to visit
June 25, 2016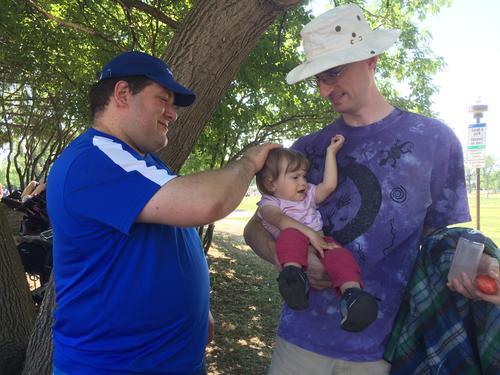 Lots of fun today at the Brewer park splash pad with Michael and Kaitlyn. Elizabeth showed off her monkey ways and was pleased to discover she's now tall enough to do the big monkey bars without being lifted up. And anyway she can climb up the poles.
Later that evening our immediate neighbourhood congregated two doors down for a lovely little potluck at which I dispensed much baby advice of dubious quality, the kids acquired about twenty temporary tattoos each and we all had a wonderful time. Love my neighbours.
Elizabeth has had two wiggly teeth since her last orthodontist appointment and she finally succeeded in liberating one of them. She was pretty chuffed and we were happy that the tooth fairy was well prepared for once (no need to borrow from piggy banks or anything like that. Not that that has EVER happened. Cough.)
You might also like:
-
A dubious first
-
Grading for a brown belt
-
Climbing dome
-
4.5 Amelia
-
Life with two kids