July 8, 2016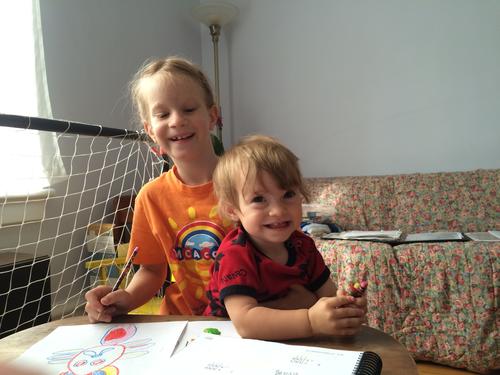 Summer week two was the first of three weeks of our summer homeschool program.
Elizabeth is going into grade two at Francojeunesse this year, and Matthew will be starting at the Glebe co-operative nursery school in the fall. This does not mean that we have stopped doing school at home.
Our summer homeschool goals:
Elizabeth:
-Finish MathUSee Beta (multiple digit addition and subtraction) and get a solid start on Gamma (multiplication). Supplement with Usbourne Brain games, which are math logic problems that she really likes. Work on mental math capabilities with some memorization puzzles and games.
-Summer journal at least five days a week in English or French
-Writing some postcards and letters to penpals (and our regularly scheduled birthday card time; if you want to get on our birthday card rotation, make sure we have your address and birthday...)
-Summer maintenance piano lessons
-Time to draw at least three times a week
-Electricity unit study
-Great artists unit study
-Make a pair of footy pjs
-Regular independent reading in both languages
Matthew:
-Starfall
-Jolly Phonics SATINP book 1 (letter recognition)
-Playdough letters
-Working on learning to write his name
-Make a quilt
Both:
-Science (for instance, measuring the amount of water we got in one of the epic rain storms we received this week - about 4"!)
-Completing at least an elephant's worth of books a week (that would be 20 under this year's summer reading program!)
-A chapter from our read-aloud book every day (currently: Danny, the champion of the world)
-My first map book (a geography curriculum focussed on map-reading)
-Cooking class (Kids cook real food video series)
-Lots of physical play, especially outside
Amelia mostly plays with Elizabeth's math manipulatives and empties the craft supply cupboard all over the floor. Good thing she's cute!
We made great progress on our goals this week. We mostly complete school in the morning, leaving plenty of time for fun at the beach. Or the park with cousins. Or the wading pool. In the sandbox. Doing crafts with friends. Watching our favourite cows head out to pasture. Playing in the basement. Playing in the rain... It was a pretty fun week!
You might also like
- Summer school week 1
(0.414097)
- Summer School Summer
(0.412618)
- Virtual School: Week 27
(0.410969)
- Homeschool wk may 11-15
(0.40852)
- Grade 1 update
(0.4084)
All