July 20, 2016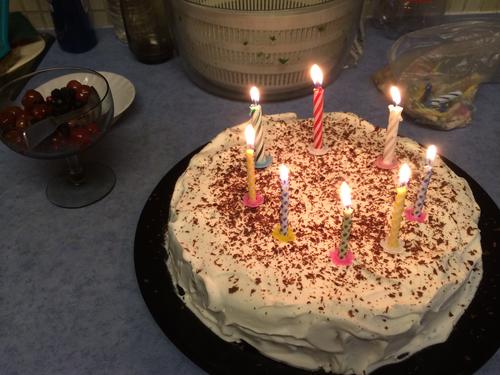 Uncle Mark is back from Taiwan, so we went over to Grandma J's for his birthday.
We went swimming before supper. Elizabeth spent much of her time swimming under the water and popping out close to Amelia to make her laugh. Matthew paddled himself around. Amelia climbed in and out and in and out and in and out of the pool.
You might also like
- Museum and Birthday
(0.316456)
- Pull to standing
(0.313665)
- Uncle Dave has a birthday
(0.306709)
- Happy birthday Uncle Dave
(0.3)
- Skating
(0.294118)
All
July 19, 2016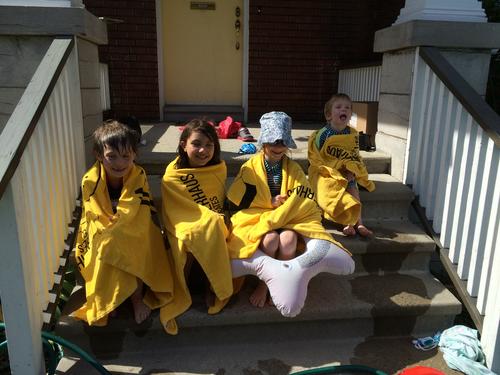 Summer week four was a lot of chilling out, especially with neighbours. "Little Elizabeth" (and Lauren and baby sister Charlotte) came with us to the beach. There's been a lot of puddling in our wading pool. We played at a lot of parks. We went to the wading pool homeschooling get together hosted by my friend Evelyn. There was more Pokémon catching.
Our housegroup came for brunch. We went to the dinosaur museum. "And Costco. Don't forget Costco", said Elizabeth. "Yes", said Matthew. "It's my best shopping place."
But my favourite was stopping at Olive and Chili for more gluten free treats.
You might also like
- Canada Day Street Party
(0.332046)
- The dinosaur museum
(0.319555)
- Trading Post, birthday party
(0.309434)
- First day of Maternelle
(0.309365)
- Happy New Year
(0.308664)
All
July 17, 2016
This weekend features two days of "fake" camping at lovely Lake Stickley.
Kids slept in their own tent, which was marvellous. First night was rough; Amelia took an unusually long time to settle down. She was bouncing and crawling all over the tent and literally turning somersaults on the air mattress until about quarter to ten. Matthew woke up at four a.m. needing help to get back into his sleeping bag. Amelia was nursing at the time and Matthew declined Elizabeth's "help" so Daddy had to get out of the tent to assist.
Apparently Evelyn didn't want to sleep either; she kept her big sister awake by stepping on her head repeatedly and played and played and played. Dianne gave up after three hours and went to sleep indoors. She was even gladder to be near home in the morning when Caitlyn told her she didn't feel good and started throwing up!
Saturday afternoon we went to a pond ecology workshop with some of our homeschooling group at the Baxter conservation area. The kids loved finding all the animals in the pond, but there were a disturbing number of very very big leeches. Some other participants waded into the pond and ended up providing a free demo of why one should avoid swimming in leech infested waters. We went back to the "campground" and went swimming in a much nicer pool. Aidan and Elizabeth in particular found it amusing to be dunked by the rocket ship. Matthew is now obsessed with water guns.
The second night was much better. Caitlyn was back to her regular self and no one else got sick.
We were thrilled to be able to have s'mores over a real fire (or s'more alternatives in Auntie Janice's case). After all the kids were asleep the adults indulged in more board games.
The kids learned how to play Exploding Kittens and Dutch Blitz. Exploding Kittens in particular was a huge hit, despite many tears at first as various people got eliminated from the game. It's really great for teaching good sportsmanship.
Then we downloaded Pokémon Go and went for a hike with the kids to try and figure it out. Dianne even went Pokémon hunting in the neighbour's backyard! Brendan went to great lengths to get it to work as it wasn't yet released in Canada. Of course it got released the following day. Oh well!
You might also like
- Gingerbread the 20th
(0.42498)
- Canoe Camping
(0.416413)
- 5th Birthday Party
(0.413595)
- École LaGlace
(0.413026)
- Music Day
(0.412197)
All
July 15, 2016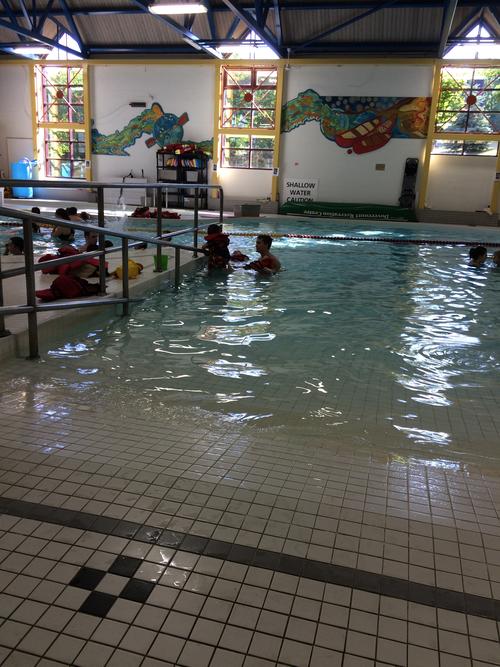 The big difference between this week and last week was that we decided to put all three kids into daily swimming lessons.
Amelia loves swimming but she wasn't too excited by her first taste of formal lessons. Every time she started doing something fun, the instructor would insist we move somewhere else or dump water on her head. We might opt for unstructured play where she can climb up and down the stairs to the slide in peace next time.
Elizabeth and Matthew tried group lessons again after a year and a half of private lessons. Elizabeth is at the point where they mainly swim endless laps. She didn't seem to make much actual progress on her level, but her technique and endurance certainly improved a lot. She's most of the way through swimmer 4. She also made a good friend during the week that she has been emailing (!) back and forth ever since. They've already scheduled a playdate.
Matthew didn't pass his level either (he's in preschool B) but he's awfully close. Elizabeth has offered to give him extra coaching for how to dunk his head underwater.
You might also like
- Matthew's first skating class
(0.394111)
- Strike Day
(0.384896)
- Dovercourt
(0.383354)
- Pandemic violin lessons
(0.373093)
- First day of school
(0.371465)
All
July 14, 2016
Elizabeth, Matthew and Auntie Janice went on an adventure today. Here's Elizabeth's report:
"We went to the radio station. It's where you listen to music and talking. It's very fun. Most persons have it on their car too! [Ed Note. My kids were SUPER impressed to discover we have a radio in the car. Minds BLOWN. I guess we don't listen to it much!] When we came we were downstairs and that's where we got chocolate. Milk chocolate and it was SO tasty. Then we got a bookmark. Auntie Janice got a book and a bookmark.
My favourite part was the chocolates and the music and they gave us headphones. The lady was talking on the microphone. Care talked about the weather. Her real name is Carolyn but everyone calls her Care.
I refilled my water bottle but I discovered I don't like bottled water. Not at all. I hate it.
After that we went to look at fridges and buy shorts and shirts for Auntie Janice. We played under the benches while she got dressed."
When they came home from the adventure we built a tent out of fort magic and the kids had a little sleepover in the basement. We half-expected issues in the middle of the night but they just went to sleep and stayed that way all night, despite the huge storm.
You might also like
- Smiley Face Pancakes
(0.361946)
- NAC and Snowflake Kingdom
(0.361478)
- Love bugs
(0.35868)
- Orange swimsuit please
(0.358209)
- #Jessdoesthemath
(0.35668)
All