August 7, 2016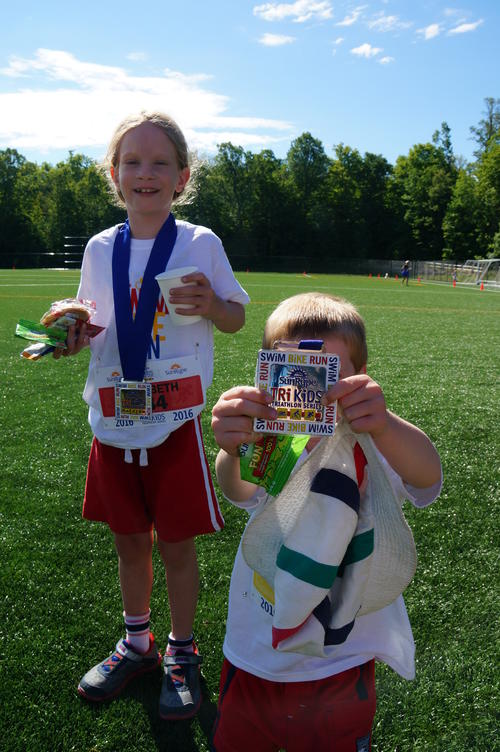 Elizabeth wanted to do a triathlon after watching the Ottawa triathlon near our house, and when I realized Matthew was old enough to do it do I signed up both kids even though it meant that we'd need to be packed for the cottage the night before and en route at a crazy early hour.
Elizabeth and Matthew liked doing the triathlon. Elizabeth's favourite part was the biking. Before the race she thought that the swimming would be her favorite part but then during the race she got to pass a bunch of people so that was her favourite. Matthew's favourite part was the swimming. The race was very well organized and highly enjoyable. My favourite part was the swimming because it was nice and cool on a very hot day.

The most surprising part was that the water was very cold. Elizabeth had a personal dresser to help her transition from swimming to biking. The personal dresser was not speedy AT ALL and insisted Elizabeth put on all the items we'd left in transition. After doing it we all concluded that next time we'll skip the socks and the kids will not bother with shorts and shirts. I'm not sure what I was thinking, but I will tell you that I was frustrated enough with how much time I was burning that I only put one sock on. We actually watched the Olympic triathlon transitions a few times to try to figure out what the "professionals" do. Elizabeth thinks that the way they hold their bikes while running is going to take a whole lot more practice and a lighter bike! (She's right!)
Both kids are already looking forward to their next triathlon.
You might also like
- Ballet
(0.406015)
- Virtual Piano Recital
(0.397163)
- Cottage Days: Support boat
(0.392327)
- A shower and the Great Glebe Garage Sale!
(0.385787)
- Virtual InHouse
(0.383595)
All
August 6, 2016
Elizabeth has been working hard at karate and she received her red stripe on Thursday. This momentous occasion warranted an entry in her daily summer diary, which I thought I might translate for those who have trouble with her spelling.
"August 4 2016
I went to karate! I worked with sensei Briget! I'm going to try to get my orange belt!! Sensei Briget is my favourite teacher! She is going to Ireland because she is good at karate!!!!!!!"
Elizabeth's diary entries are quite amusing - they contain many exclamation marks and usually talk about what Elizabeth likes. I've asked her to more or less alternate writing in English and French. So we see a lot of "J'aime" this and "J'aime" that and "It was fun!"
In any case, Elizabeth got her orange belt! She was very pleased and proud of herself. She was especially thrilled that favourite sensei Brigitte did the belt presentation.
You might also like
- Thunner Torms
(0.348624)
- Kindergarten Report
(0.348361)
- Four stripes to black belt
(0.344768)
- End of an Era
(0.34418)
- Homeschool
(0.343023)
All
August 5, 2016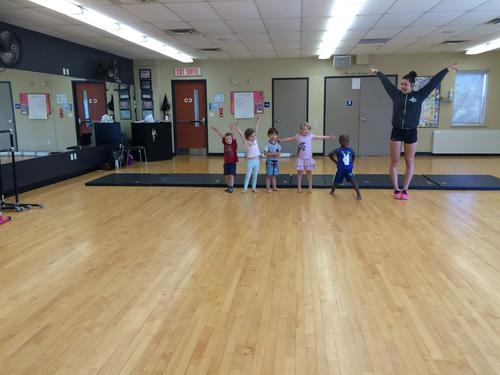 For week six, we thought it might be fun if Elizabeth and Matthew went to the same place for camp. So Elizabeth did circus camp at the Glebe Community Centre, and Matthew did gymnastics.
Elizabeth worked especially hard on her handstands this week - her goal is to be able to walk on her hands by the time she is "nine or ten". She was a little sad not to be able to try out unicycling - maybe next year!
Matthew's class had a mini-show every day after class, which was predictably adorable.
You might also like
- Last sail of the season
(0.339024)
- Ballet and Paw Patrol Camp
(0.32337)
- Last duty day for Matthew
(0.314904)
- New Skill: Opening Cupboards
(0.314421)
- Christmas Preschool
(0.313929)
All
August 3, 2016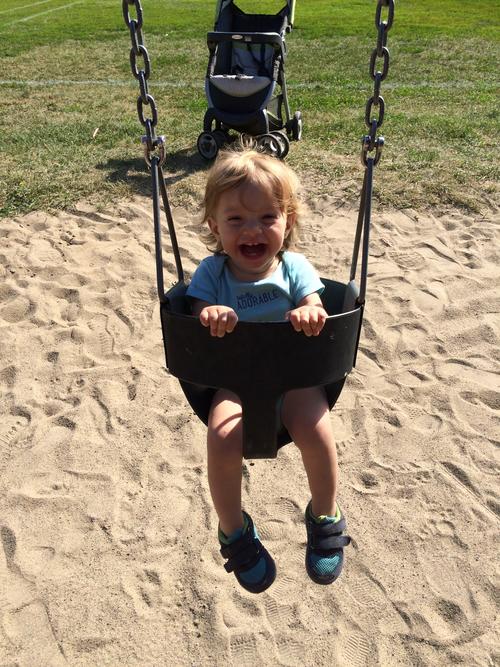 At fourteen months Amelia is cute, adorable and scrumptious (according to her siblings). She's talking more (not that we necessarily understand) and definitely starting to repeat sounds/words she hears. Still likes to fling herself backwards - Daddy hasn't recovered from Amelia playing on the air mattress - OH MY. Still very giggly and smiley.
She's beginning to try to understand how things work and tries to do this herself. Miss independence is much happier if she can do things "by self". She is much more helpful putting on and taking off her clothes and getting into and out of her car seat. She'll often get her socks and shoes and start trying to put them on if she thinks we are or should be going out. She still doesn't eat much meat but is getting quite good at eating just about anything else - putting those (six) teeth to good use! This is of course provided we don't try to feed her. She's starting to ask for utensils and is not happy with ones that don't look like the ones her siblings are using.
She is still very happy to play by herself as long as other members of her family are within sight, especially in the sandbox or with a toy car that she can climb in. She's not terribly happy if overrun with strangers though.
Her hair is getting long and curly. Grandma J thinks the bangs need trimming but daddy is resisting as he thinks the current look is just too cute. Cute. Fourteen months is cute.
You might also like
- Fifteen months
(0.393675)
- Amelia is thirteen months
(0.393655)
- Amelia is 2
(0.387454)
- 13 months
(0.386897)
- Nine months
(0.385714)
All
July 31, 2016
I would have liked to camp longer, but we had some very special visitors home from Chad! My cousin Phil, Merilee and their three girls, who have all grown up a ton since the last time we saw each other.
We went to church with Dave and Karen. There wasn't a summer Sunday school for Elizabeth's age (and Matthew flatly refused to go) so they stayed in church and took notes in between wiggling like wild things.
After church Dave and Karen headed home to nap their children and the rest of us drove downtown for Buskerfest! Unfortunately I made the unwise decision to allow my kids to stand in a VERY long and VERY hot line for balloon animals, which turned out to be quite expensive and meant I didn't get to see as many acts as I would have liked. The guy riding a pretend horse was voted not that good by our crew anyway. The gymnasts jumping through flaming hoops was much more our speed. My older two kids had fun milking a pretend cow ("That's why farmers invented milking machines" exclaimed Elizabeth), but Amelia was deeply suspicious and would have nothing to do with it.
Elizabeth and Matthew did love their pokemon balloons. Kaitlyn was underwhelmed by her pokeball though - I wish I had a photo - it was definitely not the balloon artist's best work.
Then we had everyone over for a lasagna and corn supper. What a special and lovely time. Too soon it was time to say goodbye.
You might also like
- Buskerfest
(0.393852)
- Good Friday 2015
(0.393606)
- Fancy hotel
(0.388042)
- Sleepover time
(0.384127)
- Wedding #RayCray2016
(0.380638)
All