August 16, 2016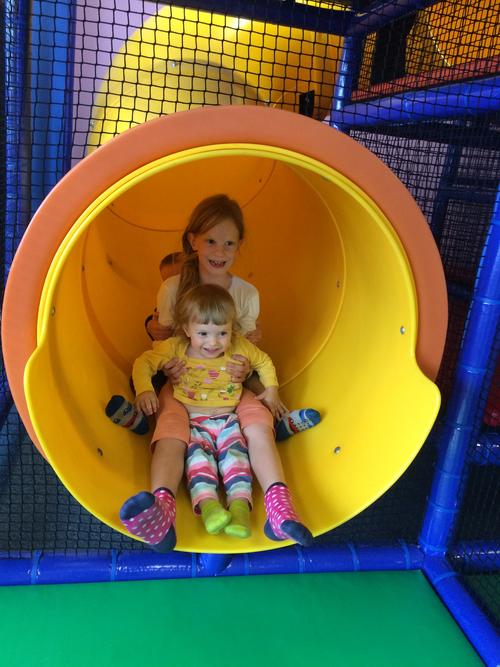 We'd had such excellent weather and the resulting drought caused a fire ban so we couldn't really complain when we had our first rainy day.
Rainy days are for playing ping pong in the barn (okay, so we did a bit of that on nice days too when we thought the kids might be getting too much sun on the beach).
The rain also happened to coincide with a special music/story/painting program at the Dwight library. The kids got to fool around with the puppets, tent and toys (as well as reading some books!) while waiting for the program to begin. Amelia was past naptime so she walked around catching Pokémon with Daddy.
Then we went to check out the new indoor Muskoka playground. I was kind of hoping it would check Elizabeth's summer bucket item of going to a "place like Cosmic Adventures" but the actual climbing structure was pretty tiny and I'd say that Elizabeth was definitely on the upper end of the target age range. She was super good about helping her sister get around on the structure without getting knocked over.
There were a lot more toys than we're used to, including a ton of trucks, cars and even a miniature roller coaster. Amelia loves things with wheels, so she loved it (especially after it thinned out a bit; she isn't quite as fond of too much commotion). The kids all wanted to bring the roller coaster home with us.
You might also like:
-
History Museum
-
Spartan Race
-
Sheep Shearing
-
Ice Cream Festival
-
First outings: Music, library, karate
August 14, 2016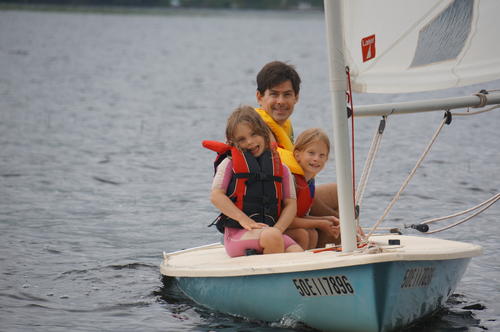 We went to visit Uncle Ryan and Uncle Lauren and Auntie Donna and cousins Lindsay, Anna and David at their cottage!
The kids loved playing together at the beach and in the loft. A real highlight was sailing with Uncle Lauren - Verdict: "It was Awesome"
You might also like:
-
The loft
-
Cousin Time
-
Orphan Photos
-
Wheelchair races
-
Breakfast at Great Aunt Muriel's
August 13, 2016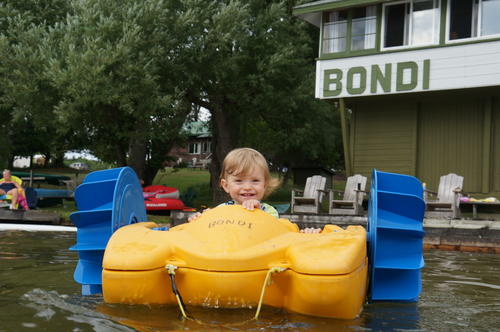 Cottage time isn't really complete without beach time. Elizabeth finally worked up the courage to slide down the iceberg water slide without a life jacket (but not without a ring). She did jump off the trampoline without any flotation devices. Matthew jumped off the trampoline a couple of times in his life jacket too!
There was much creation of sand castles (mostly of the water channel and tunnel variety) and even a couple of sand elephants. One morning we dumped water down the channel and a large toad hopped out most indignantly.
This is our happy place.
You might also like:
-
Swim to the point
-
Piano Recital
-
January Duty day
-
Spring in the park
-
Olympic skater
August 12, 2016
Amelia's bangs were getting pretty out of control so Daddy finally let Grandma give her a little trim (just at the front).
Amelia seems to approve of the increased visibility. Her hair has really lightened up over the summer; it's pretty similar in shade to the other two now.
You might also like:
-
First haircut
-
Baptism birthday
-
Ballet PJ week
-
Green Belt
-
A special visitor
August 11, 2016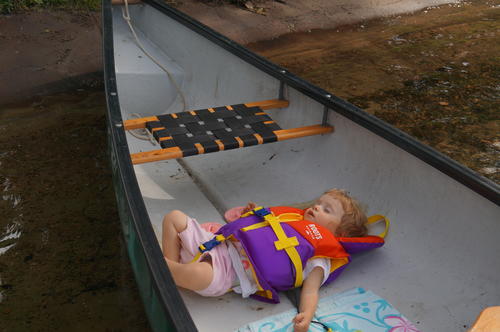 I feel like this set of photos is pretty representative of our cottage life this year (not including beach time; which merits its own post).
My kids were ridiculous about being in a canoe as usual (ACK IT MIGHT TIP), but with exposure settled down. Matthew is definitely less nervous than Elizabeth. Amelia enjoyed canoeing, but (of course) frequently wanted to get out in the middle of the lake. Luckily I've had lots of practice of nursing while canoeing.
You might also like:
-
Backyard camping
-
Matthew on the canal
-
Sleepover
-
End of the canal
-
Duty day