August 19, 2016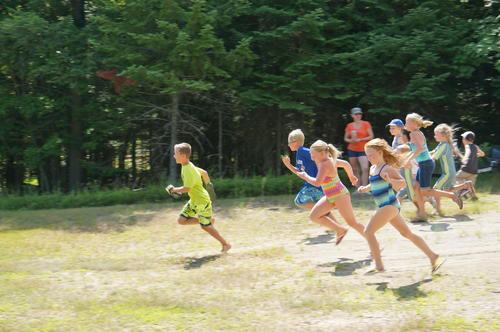 One of my favourite parts of the cottage might be putting together some fun activities for all of the resort kids. I've found that having something organized helps my kids make friends more quickly with the other kids and let's be honest - it's pretty fun to watch the kids run all over the place looking for clues.
This year we had three main activities:
"Mr Bear's Treasure Hunt": I've done a few of these now, hiding clues that lead to a piñata. This year I didn't make the clues into a puzzle map and there was much wailing and gnashing of teeth from the kids. Lesson learned: don't mess with tradition. Luckily the piñata lasted through all the kids and there was sufficient candy to satisfy all. Amelia had her own fan club.
Week 2 Scavenger hunt: I'm always amazed with what kids bring back when you ask for "a rainbow" (something for each colour of the rainbow). I took a risk in asking for something belonging to an animal - was not expecting the eggs, ham or yogurt! We ended up with a tie-breaker that was supposed to be whoever brought back the most different kinds of pine cones, but the kids interpreted as whoever could bring back the most pine cones. Fun times.
Elephant Birthday Party: Elizabeth's elephant is one of those stuffies that came with a birthday noted on the tag. Said birthday happened while we were at the cottage, so I promised to bake a cake and we took it down to the beach to share.
You might also like:
-
Island visit and Scavenger hunt
-
Rainbow Camp
-
Halloween
-
Wedding prep
-
Ottawa Maker Faire 2013
August 18, 2016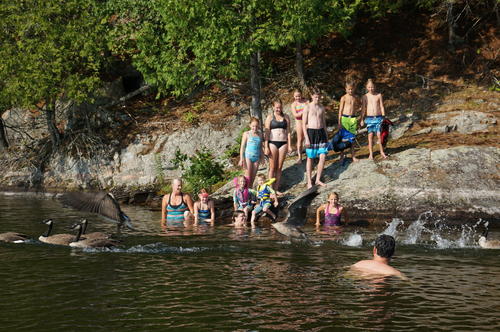 Elizabeth swam to and from the point (1km) both weeks and Matthew swam back.
Elizabeth wasn't even winded and finished well ahead of me both times. Matthew required significant towing assistance in order to go in the right direction but by week 2 he'd gotten much better. All that practice!
I think Elizabeth could have managed at least one direction without a life jacket, but she lacked my enthusiasm. Week 2 was COLD (we were the only point swimmers, and there was only one other swimmer!) so I felt that having got them into the water was enough.
You might also like:
-
Cottage Days: Point Swim and Treasure hunt reprise
-
Valentines
-
Cottage Days: Visit with cousin Ryan
-
Swimming
-
Music Recital
August 17, 2016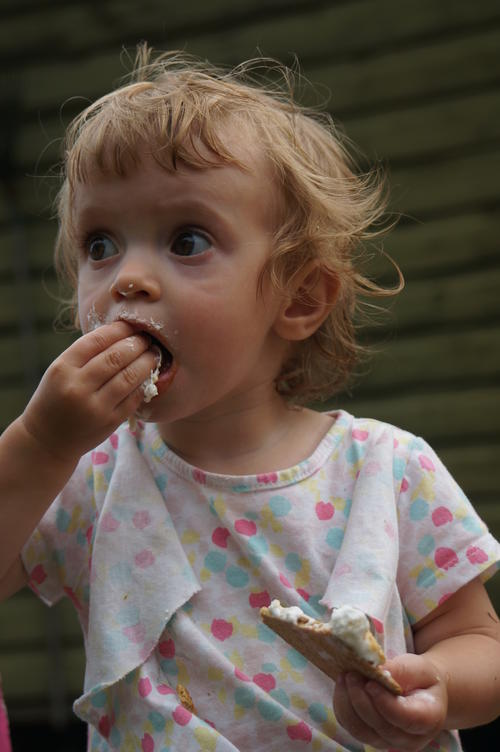 I probably should have gotten a video of Amelia seed spitting. The cute factor was really high. Sadly, we practiced too much the second time around and she'd lost interest by the time it came to spitting on the line. Oh well!
We were all very happy that it had rained enough to lift the fire ban. Yay for bonfires!
Amelia thoroughly enjoyed her very first s'more.
You might also like:
-
Rain rain go away
-
Baby shower and Canal
-
Nutcracker
-
Water baby in the pool
-
First Swing
August 16, 2016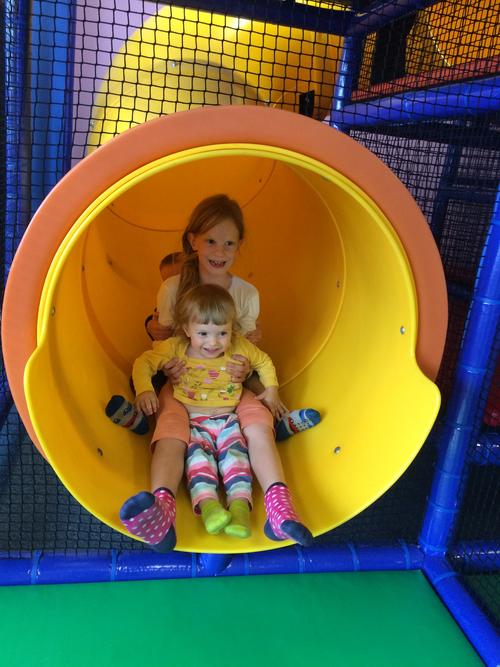 We'd had such excellent weather and the resulting drought caused a fire ban so we couldn't really complain when we had our first rainy day.
Rainy days are for playing ping pong in the barn (okay, so we did a bit of that on nice days too when we thought the kids might be getting too much sun on the beach).
The rain also happened to coincide with a special music/story/painting program at the Dwight library. The kids got to fool around with the puppets, tent and toys (as well as reading some books!) while waiting for the program to begin. Amelia was past naptime so she walked around catching Pokémon with Daddy.
Then we went to check out the new indoor Muskoka playground. I was kind of hoping it would check Elizabeth's summer bucket item of going to a "place like Cosmic Adventures" but the actual climbing structure was pretty tiny and I'd say that Elizabeth was definitely on the upper end of the target age range. She was super good about helping her sister get around on the structure without getting knocked over.
There were a lot more toys than we're used to, including a ton of trucks, cars and even a miniature roller coaster. Amelia loves things with wheels, so she loved it (especially after it thinned out a bit; she isn't quite as fond of too much commotion). The kids all wanted to bring the roller coaster home with us.
You might also like:
-
History Museum
-
Spartan Race
-
Sheep Shearing
-
Ice Cream Festival
-
First outings: Music, library, karate
August 14, 2016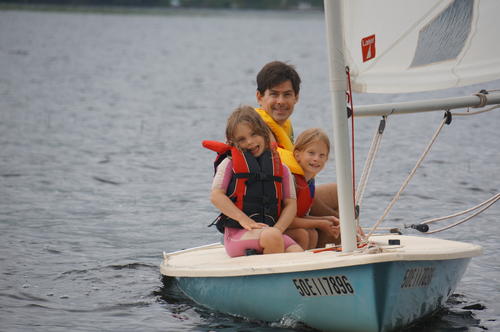 We went to visit Uncle Ryan and Uncle Lauren and Auntie Donna and cousins Lindsay, Anna and David at their cottage!
The kids loved playing together at the beach and in the loft. A real highlight was sailing with Uncle Lauren - Verdict: "It was Awesome"
You might also like:
-
The loft
-
Cousin Time
-
Orphan Photos
-
Wheelchair races
-
Breakfast at Great Aunt Muriel's