August 28, 2016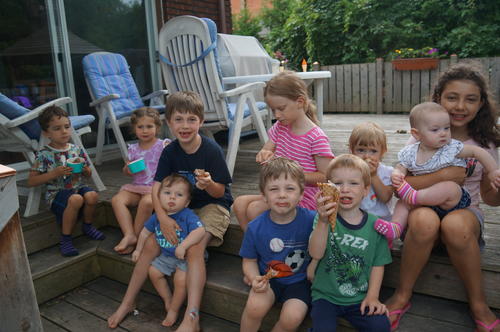 Summer means that feasting on ice cream is legitimate. This is a good thing as we tend to do so regardless but at least in the summer we can feel less guilty about it.
For the past few years we've been doing an ice cream party as a further excuse to indulge and sample a wider range of flavours than we might otherwise find an excuse to pack into our freezer. This year the kids from the street flocked over in great numbers. Some of them are now old enough to actually be interested in board games. Auntie Janice was caught outside in a sudden torrential downpour and had to be rescued.
There was much oooing and ahhhing at the bookshelf work in progress. Oh and there might have been ice cream. Even made on site during the party by slave labour ice cream. I think this might be a tradition now...
You might also like:
-
Good Friday
-
French Class
-
Progressive Supper
-
Homeschool
-
Cold weather activities
August 27, 2016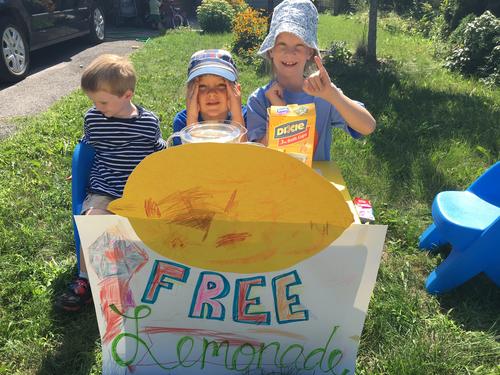 Uncle Dave wanted to replace his fence, so Brendan volunteered to go help him. I had a training session at church on the appointed day so the older two went to "help" while Amelia stayed with me.
Auntie Karen took five kids to the park and then helped them with a lemonade stand. Kind neighbours actually insisted on paying for theirs. Then they played in the sprinkler and made "snowmen" out of the wet/dry pavement with flowers for eyes.
Amelia and I came back in time to play and help keep Theo away from the work. He was super keen to help - "WOW" "OOOO" he kept exclaiming. The boys worked hard until supper time and managed to replace all of the fence nearest the cherry tree, as well as removing a small cherry sapling that had started growing into the fence.
You might also like:
-
Wedding prep
-
Good Friday
-
Gatineau Park Ski
-
All Saints and GNAG Halloween Party
-
Camping
August 25, 2016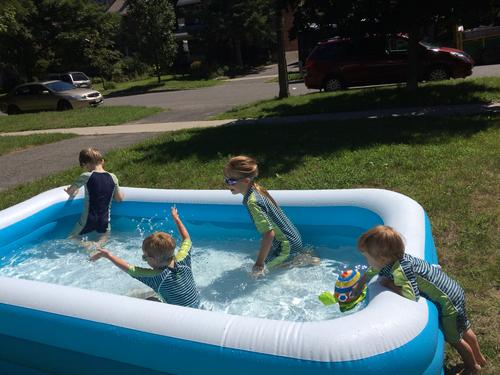 These photos are very representative of our post-cottage summer time. Park time interspersed with many kids in the pool or our sandbox.
We originally put our paddling pool in our front yard because our backyard is full of leftover rocks from the basement, but I've come to love how it becomes a kid magnet for all the neighbours.
You might also like:
-
Trampoline
-
Ice Cream Party
-
16th anniversary
-
Cottage Days
-
Last day at the cottage
August 24, 2016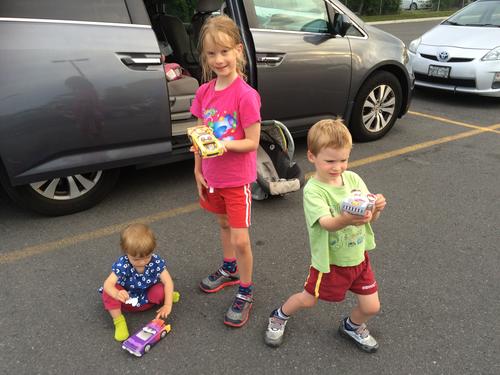 Our friend (and Amelia's god father) Michael took us out for dinner! The kids picked their favourite restaurant.
You might also like:
-
Visit from Michael
-
Two Michaels
-
Footprints
-
Foolish Chicken Dinner
-
Cats
August 23, 2016
There's been a special Star Trek themed exhibit at the Aviation museum all summer and activities in the museum proper to go along with it. We finally got around to checking it out on one of the last days.
The kids dressed up as astronauts and went on a pretend space flight where they "planted" plastic vegetables, found aliens and gave them to Kevin the robot, pitched tents to hide from a sand storm and investigated the space bubble overrun by tribbles. It was pretty amusing.
The space bubble was a HUGE hit, but Kevin stole their hearts. Our summer tenant Hayley might have had something to do with that - Kevin is basically a giant remote controlled car but Elizabeth and Matthew were easily convinced that he was a super smart, sentient robot.
After our visit we took out our kites and even though it wasn't really windy enough we had fun.
You might also like:
-
Decision making study
-
Auntie Joanne came to visit
-
Christmas adventures
-
The Mail must Fly
-
London