August 30, 2016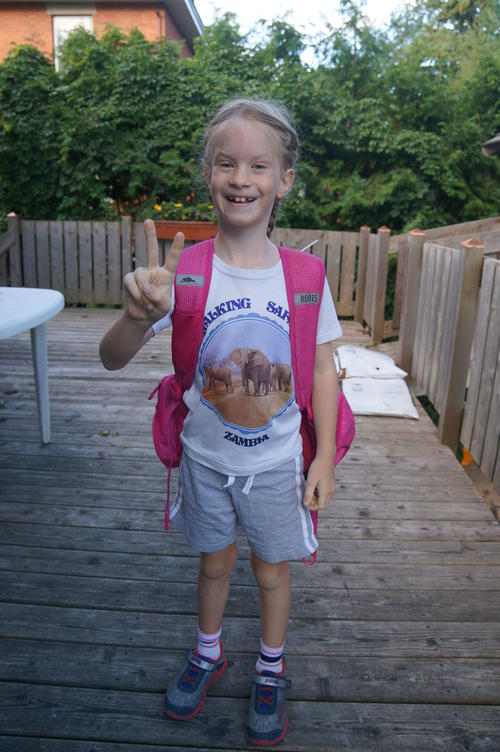 Back to school day and we now have a second-grader, with a better view of her new smile!
I was given secret information and was able to look up her teacher in advance on the parent portal. This reduced my anxiety levels quite a bit, especially since Elizabeth was very excited about her teacher who is "très gentille".
Elizabeth was not nervous at all. She banned me from going to school with her ("I'm too big for that!"). She's not in best friend Adi's class, but by now takes this very philosophically. She IS in the same class as her also very good friend Olivia and is pretty happy about that. She's also next door to her grade one teacher AND a water fountain. This is apparently a big deal. "Why?" I asked? "Oh Mom..."
Day 1 was deemed "super fun".
You might also like
- Field trip
(0.363897)
- Elizabeth end of year concert
(0.359014)
- First day of Maternelle
(0.35313)
- Grade 1
(0.337662)
- River Oak
(0.337517)
All
August 29, 2016
Elizabeth lost a tooth yesterday at church. That's eight teeth gone, fifty-eight to go. Not that we are counting or anything... The tooth fairy was unavoidably delayed in the storm last night, but luckily arrived by breakfast time. "Somehow".
It was our last opportunity to go to Cosmic Adventures, so off we went. Amelia promptly fell asleep, so I got to watch her nap while the other two went running through all the play structures. Eventually she woke up and had her own adventures climbing around the jungle gym. She was a big fan.
You might also like
- Do you ever feel like a gerbil?
(0.315068)
- Running
(0.310696)
- Life with two kids
(0.303136)
- Boxing Day
(0.302362)
- Canoeing
(0.300448)
All
August 28, 2016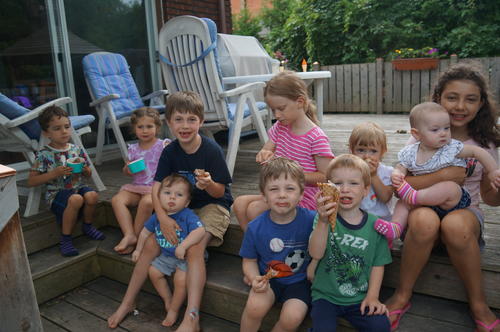 Summer means that feasting on ice cream is legitimate. This is a good thing as we tend to do so regardless but at least in the summer we can feel less guilty about it.
For the past few years we've been doing an ice cream party as a further excuse to indulge and sample a wider range of flavours than we might otherwise find an excuse to pack into our freezer. This year the kids from the street flocked over in great numbers. Some of them are now old enough to actually be interested in board games. Auntie Janice was caught outside in a sudden torrential downpour and had to be rescued.
There was much oooing and ahhhing at the bookshelf work in progress. Oh and there might have been ice cream. Even made on site during the party by slave labour ice cream. I think this might be a tradition now...
You might also like
- Good Friday
(0.334906)
- French Class
(0.330176)
- Progressive Supper
(0.327245)
- Homeschool
(0.325991)
- Cold weather activities
(0.324759)
All
August 27, 2016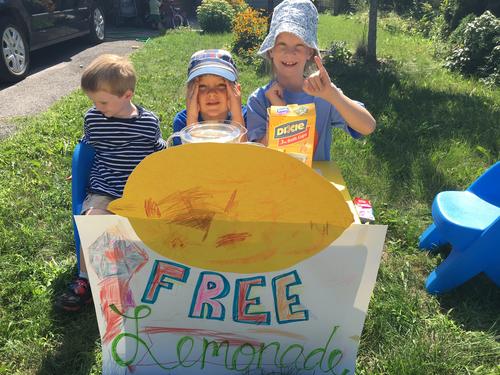 Uncle Dave wanted to replace his fence, so Brendan volunteered to go help him. I had a training session at church on the appointed day so the older two went to "help" while Amelia stayed with me.
Auntie Karen took five kids to the park and then helped them with a lemonade stand. Kind neighbours actually insisted on paying for theirs. Then they played in the sprinkler and made "snowmen" out of the wet/dry pavement with flowers for eyes.
Amelia and I came back in time to play and help keep Theo away from the work. He was super keen to help - "WOW" "OOOO" he kept exclaiming. The boys worked hard until supper time and managed to replace all of the fence nearest the cherry tree, as well as removing a small cherry sapling that had started growing into the fence.
You might also like
- Wedding prep
(0.329912)
- Good Friday
(0.329053)
- Gatineau Park Ski
(0.327511)
- All Saints and GNAG Halloween Party
(0.322943)
- Camping
(0.321522)
All
August 25, 2016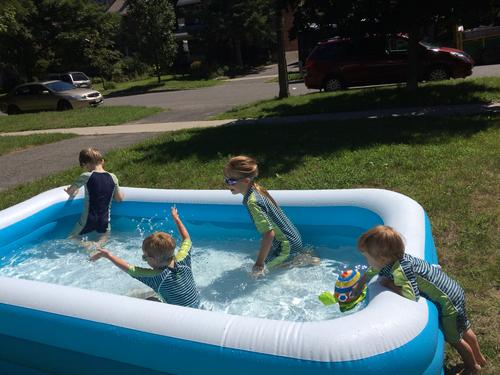 These photos are very representative of our post-cottage summer time. Park time interspersed with many kids in the pool or our sandbox.
We originally put our paddling pool in our front yard because our backyard is full of leftover rocks from the basement, but I've come to love how it becomes a kid magnet for all the neighbours.
You might also like
- Trampoline
(0.276423)
- Ice Cream Party
(0.275253)
- 16th anniversary
(0.267409)
- Cottage Days
(0.2657)
- Tulips
(0.265525)
All