October 22, 2016
Elizabeth was very excited to attend the karate Halloween party, a week early because many of the staff are headed to Ireland for the World Karate Championships around Halloween. Elizabeth picked her costume (a magician) and practiced her tricks well in advance in case she might have a chance to show them off. I was mostly pleased that she decided on a costume that used pieces already on hand!
The dojo was super decorated and the senseis clearly put a lot of time and effort into their costumes. They also set up a haunted maze with all kinds of jumping animals and scary things. Elizabeth had a blast at the party and couldn't WAIT to take "her adult" through the maze ("You have to do it Mom, because otherwise I don't get another chance. I'll talk you through the scary parts.") It would have been considerably more startling without the spoilers in my ear, and I was impressed that my kid didn't freak out the first time and wanted to go back. She's growing up!
You might also like
- Grading
(0.367056)
- Dance Camp
(0.363975)
- Piano Recital
(0.361429)
- Mother's day karate, spring fling and recital
(0.359005)
- Elephant and magic pajamas
(0.358779)
All
October 20, 2016
My parents are home from Angola on furlough; the kids are enjoying having them stay at our house for a couple of weeks. Elizabeth especially likes having her entourage come to the bus stop.
You might also like
- Cousin Time
(0.29375)
- New favourite way to get home from the bus stop
(0.289916)
- Snow
(0.28692)
- Sandboxes
(0.278626)
- Daddy date
(0.269962)
All
October 17, 2016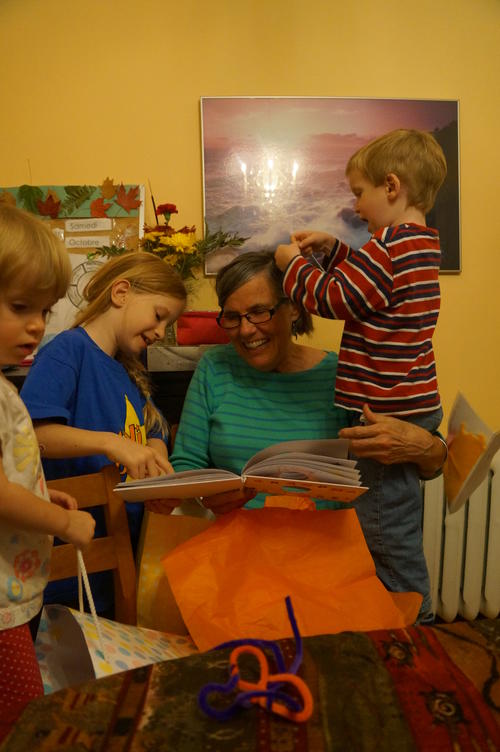 Grandma invited Uncle Mark and our crew of hooligans for a low key birthday celebration at our house with lasagna and carrot cake.
At swimming yesterday, Elizabeth and Matthew suddenly decided that they needed to have presents for Grandma if they were going to go to her party. Elizabeth decided that she needed to write Grandma a book, which was a lovely idea if a bit late in the day to start. Amusingly she also wanted to give Grandma the gift of being allowed to watch Elizabeth do karate, but I think she ended up going with a homemade Pokémon card (a Mega EX!) and a pipecleaner ornament. She started writing as soon as she got home, but iteration number one was "only three pages" and deemed unacceptable. "Whoever saw such a short book?" she wailed. "Grandma is turning a special age so she needs a special, proper book!" Luckily, she'd been given a create your own book kit for her birthday and between remembering this fact and being assured that she could have some parental assistance the crisis was averted.
I thought she could just write a few words on each page, but Elizabeth had definite ideas and insisted that a proper book needed to be typed. She stayed up late into the night writing and drawing her book.
You might also like
- Party Van
(0.379597)
- Incredibles 2
(0.364176)
- Elizabeth's 9th birthday party
(0.363354)
- Thanksgiving
(0.362205)
- Grading
(0.36209)
All
October 15, 2016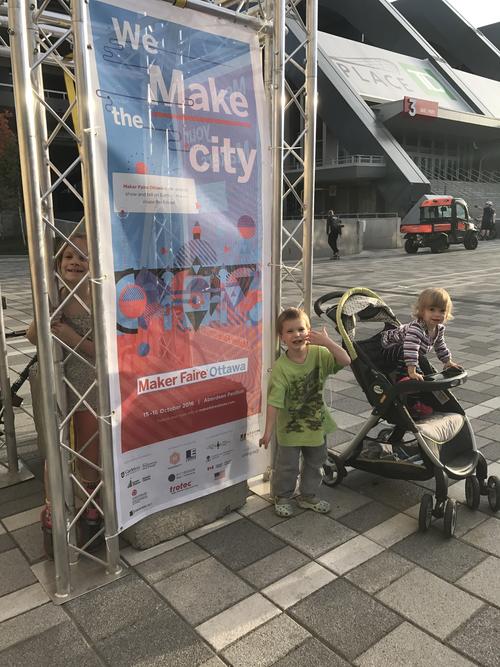 We went to the Maker Faire... the robots were all there...
My kids declared on the way there that "they didn't believe in robots" and had "never seen a real one". I was all ... "but what about our roombas? What about Kevin???" Anyway, Elizabeth grudgingly admitted after the Faire that robots might be real.
We admired many robots. We looked at intricate Lego. We played with technology enhanced pillow fighting pillows (they made cool noises as you waved them around).
The kids' favourite exhibit was the peg board marble run. All three kids were captivated for quite a long time.
My favourite booth was the papas inventeurs. There was the visual indicator of how much time you have before you have to get ready for the bus. There was the rfid enabled music player - kids illustrated their favourite songs on little plastic key fobs and then they could wave them at the lamp to make the music change (there were also fobs to change the lights, because why not?). But my absolute favourite invention was the "don't get off your bum at the dinner table" chair. The special cushion could detect if his kids got up. If they got up, the chair would play countdown music to let them know they had to get back (short grace period). If they didn't, the chair plays "loser" music. If they stayed seated, then it would play "winner" music at the end of dinner.
Afterwards we went and played at the park until supper.
You might also like
- Piano Recital
(0.373351)
- Fancy hotel
(0.373171)
- Dovercourt
(0.369565)
- Sheep Shearing
(0.365729)
- Messiah rehearsal, Santa parade
(0.36515)
All