November 1, 2016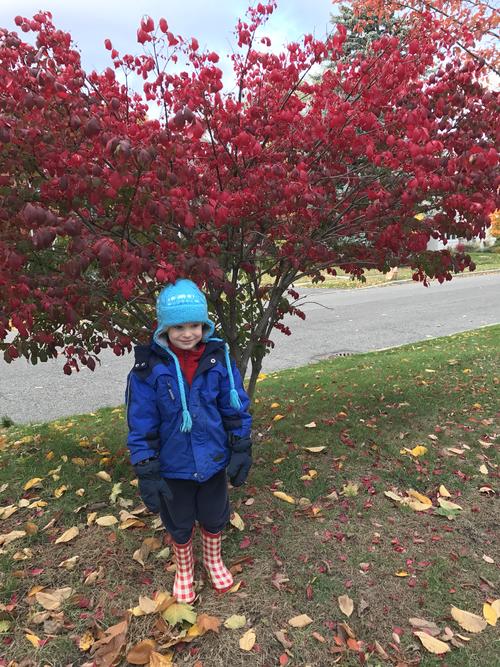 Although we didn't make it to Gatineau park this year, the colours in the city were spectacular.
"My head is on fire", said Matthew, standing by his favourite tree.
You might also like:
-
Erika's Art show
-
1st Stripe Brown Erika
-
Christmas Cake 2013
-
Home Depot
-
Waterpark
October 31, 2016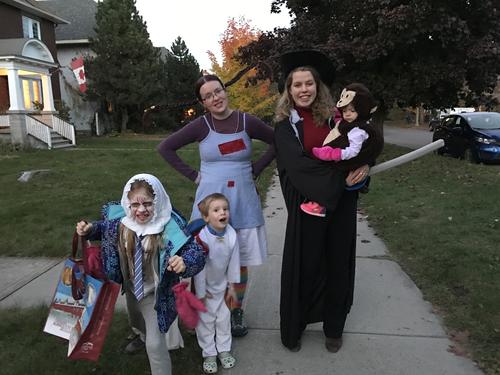 Elizabeth opted to be a baby boy for Halloween dress-up at school (hence the tie). She kind of wanted to wear a diaper. Brendan vetoed that idea.
Matthew was a "fire doggie". Except that the fireman hat wasn't compatible with the dog hat costume, so he decided that I got to be the fire doggie and he could be my puppy.
We carved our pumpkins in the frantic rush before school. Matthew designed a robot, Lorianne had a phantom of the opera pumpkin with a piano on the back, and Elizabeth demanded Pikachu.
I got to help out and make the snack for Matthew's preschool. I had grand visions of entertaining snacks but ended up settling for ghosts on the cheese when the allotted time didn't work out.
Our Halloween supper (to which I invited many the neighbours) was much more exciting - I had fun...
Elizabeth decided to be a ghost, which apparently required much blood. Yuck. We took Lorianne trick-or-treating for the first time in the city. Amelia LOVED trick-or-treating and didn't want to stop when we decided it was bedtime. Matthew started talking about going back to eat his candy after only a block. Elizabeth was sad we didn't let her go trick-or-treating with Adi this year, but the timing just didn't work out and it was pretty fun to trick-or-treat with little Elizabeth from down the street.
You might also like:
-
Halloween
-
Halloween
-
Halloween
-
January Duty day
-
Piano Recital
October 30, 2016
Growing up we always had an All Saints Day parade at church, so I was very excited to organize one for our church this year. Possibly too excited as I volunteered to prep twenty five costumes in order to maximize child involvement.
In any case, Elizabeth was St Brigid and Matthew was St George. Unfortunately his dragon backed out at the last second but Matthew didn't care as long as he got to wave around a sword. Elizabeth had a hard time picking a saint as she wanted one that a) was "interesting" and b) didn't come to a sticky end. Her favourite karate sensei is Brigitte so that was close enough to be satisfying.
Elizabeth decided she was going to be a cat for the Glebe Community Centre Halloween party, because her friend Olivia was going and also a cat. Since she came up with the costume design using existing materials, I didn't argue and even helped with the face paint. Matthew finished his robot and insisted he was going to wear it. It was adorable (he got the idea from Curious George, so I'm blaming Jess). It was also really, really, really hard to walk around in. We made it up the stairs and he did a few awkward games but when I told him he'd have to come out of his costume to go in the bouncy castles he was more relieved than sad. We also found out that we didn't have to do *all* the games to get the candy. I was thrilled!!! Amelia really enjoyed decorating the cookies and colouring at the science station. No one was interested in feeling eyeballs or brains. Sigh.
We went through the haunted house. Elizabeth was keen to do the scary one on the grounds that the karate version was pretty scary but I wasn't about to let her do it on her own (they suggested at least eight) and the younger two were too little so I didn't let her. We found Olivia about five minutes before it was time to go home. I let Amelia have her first lollipop while waiting for Brendan to pick us up. The kids agreed that eating the candy was the best part!
You might also like:
-
Elizabeth's 9th birthday party
-
Ski Show and Douvris Halloween
-
Snow, NAC, GNAG Halloween, dinner
-
How many weeks?
-
Grading
October 29, 2016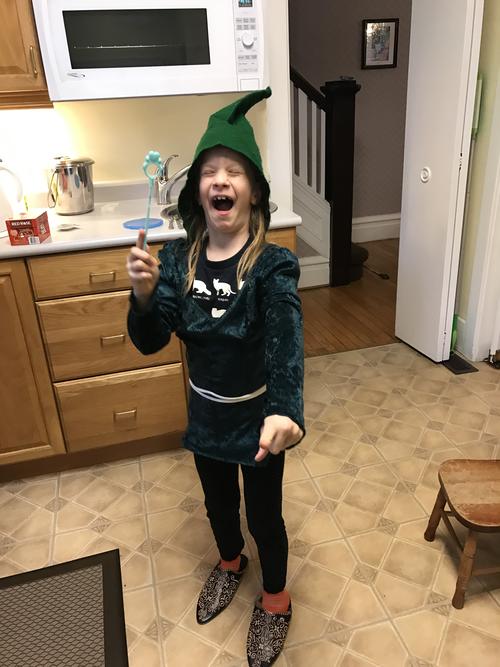 Elizabeth was invited to her friend Olivia's Halloween themed birthday party and she decided she would be a witch. "A witch?!!" I said. "I thought you were going to be a magician?" Turns out she was underwhelmed by the response to her magician costume and had decided on a new costume.
At the party, they decorated pumpkins (Elizabeth made a baby complete with soother) and ate cake and generally had a wonderful time.
After the party Elizabeth came home and decided to work on her next costume. "A robot?!!" I said. "I thought you were going to be a witch?". Turns out she's going to be something different every time she gets an opportunity to dress up. Matthew's making a robot now too.
You might also like:
-
Recital, Home Depot, movie night
-
Douvris Halloween
-
Family Day
-
Red Gi
-
More snow
October 28, 2016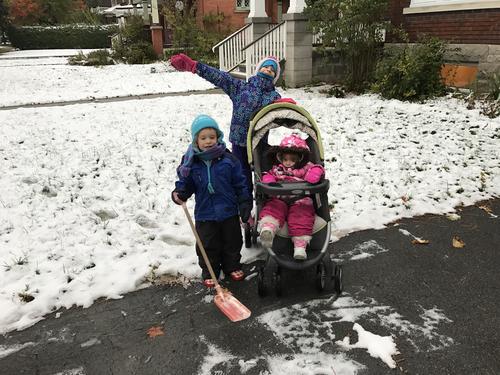 It's no secret that my kids love the winter. I think it was sometime in July that I confiscated Matthew's snow shovel, which he had been using rather forlornly in the sand while plaintively asking whether snow would be coming "soon".
He's been pretty excited about riding his "big" bike to preschool, but every morning he has been sure to tell me that soon it will be snow time and then he won't be biking. Instead he's planning to sled and take his snow shovel to school.
He also has been bugging me to put away everything for the winter, under the theory that this makes winter come sooner.
Not to be outdone, Elizabeth refused to get up for school a couple of mornings ago. "Go away!" she said. "I'm tired of having no snow and I've decided to hibernate until winter."
Today it snowed for the first time this fall, and the kids were ecstatic. No difficulty in getting out of the house today! As it happens, we aren't quite ready for snow here - the grass wasn't cut, the hoses are still out and the flower boxes are still out. Oops. I guess I should have listened to Matthew!
The kids made their first snowmen and Matthew shovelled snow off the lawns onto the sidewalk all the way to school. "Isn't that backwards?" I asked? Apparently not if you want to sled...
Amelia meanwhile isn't quite sure what to make of it all. She quite happily put on boots but was NOT excited about snowpants. Then she pulled mittens and boots off every other block on the way to and from preschool. Luckily it isn't actually cold yet.
You might also like:
-
LRT Grand Opening
-
Grading
-
Dance Camp
-
Roses and Thorns
-
First day of "preschool"