November 27, 2016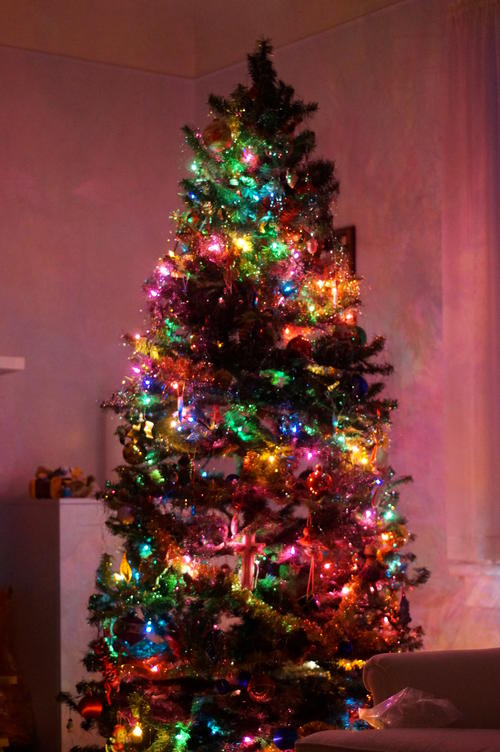 1) The cursing of the lights - in which we pull out the brand new lights purchased last year and discover none of them are working. Usually ends with a vow to go to the store and buy more. After some coaxing, Brendan managed to get a workable set. But we need new lights. Again.
2) The annual installation of flammable objects - aka the advent wreath.
3) The flinging of the tinsel. I think we've properly corrupted Lorianne!
I opted to put all of our decorations on the tree this year (even the very old ones) on the theory that Amelia is surely old enough not to knock it down.
You might also like
- Garden 2018
(0.315399)
- Decorating Tree
(0.315315)
- Advent I
(0.307815)
- Epiphany
(0.307332)
- Apple bowling
(0.305732)
All
November 26, 2016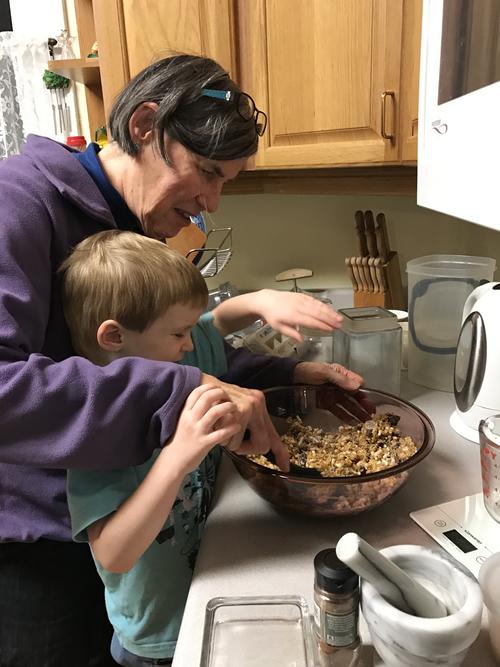 It took nearly a week past stir up Sunday but I finally got the pudding made. It was a bit of a fiasco steaming it this year - both Janice and I let it boil dry! Actually there were three puddings - two little ones for Janice and a big one for us. Janice started making her puddings in the summer time, dehydrating her own (safe) fruit and substituting out the many parts of the original pudding that she can't have anymore.
Everyone duly stirred and we even put charms in the pudding for the first time, fulfilling a lifelong desire of mine that I'm sure originated with Enid Blyton.
Then I completely forgot to add the rum. Sigh. It was almost as bad as that time I made orange meringue pie while on the phone with Uncle Chris. Hopefully the pudding tastes better than the pie did.
You might also like
- Raclette
(0.318493)
- Preparing for Gingerbread
(0.317105)
- Gingerbread
(0.315961)
- Gatineau Park Ski
(0.314204)
- Epiphany
(0.313783)
All
November 25, 2016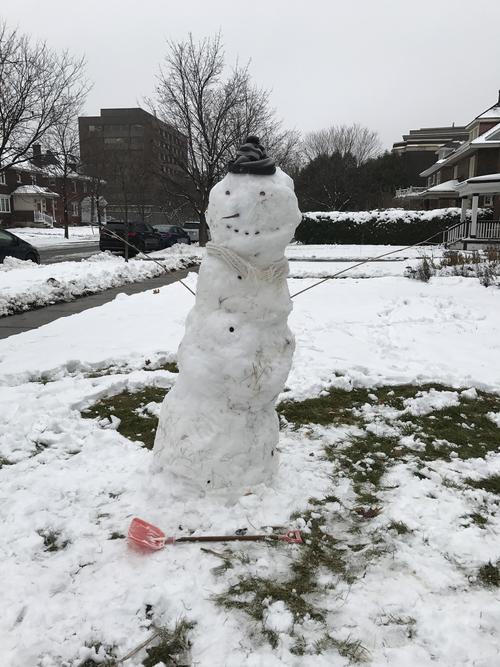 There wasn't very much snow, but it was perfect packing snow.
"Build me a snowman up to the sky, as tall as the moon!" directed Matthew. So I made him as tall as I could reach.
The neighbours at Simon, Martin and Oliver's house made a whole pile of large snowballs that they arranged in a circle on their lawn and dubbed "snowhenge". Mila used up all the snow in her backyard to make a giant snowball that I could barely push. Then the kids decided it had to go across the street to become part of snowhenge. It turns out that six determined kids can get a heavy object across the street. We did help them a little, but only because we didn't really want them to get flattened by a car flying down our street and not seeing the kids huffing and puffing in the dark.
You might also like
- First day of preschool
(0.326531)
- Olympic skater
(0.313196)
- Come Sing Messiah
(0.312865)
- A visit from Godmother Rachel
(0.311606)
- Snowclearing
(0.311304)
All
November 24, 2016
I grew up overseas where winter meant lots of grey rainy days and a few flakes covering the ground was cause for cancelling school. I don't think we built more than two snowmen during my entire childhood. In fact, one was not even a snowman but a snow rabbit. Although we used all the available snow from our yard and two neighbour yards the result was pretty small, muddy and rather pathetic looking.
So I find my children's enthusiasm for snow and winter rather perplexing. When we first moved back I confess I kind of hated winter, but somehow I've learned to thoroughly enjoy it. It probably helps that my kids do too.
All that to say: Snow around here is cause for great celebration and we're looking forward to an excellent winter.
You might also like
- Camp Otonabee
(0.330966)
- Paddling the Rideau
(0.330435)
- Wedding prep
(0.325073)
- Kindergarten graduation
(0.324888)
- First day of preschool
(0.322857)
All
November 21, 2016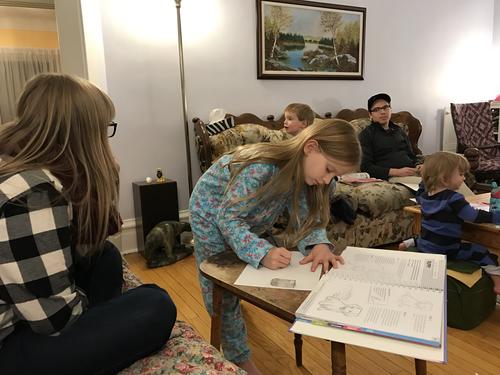 Elizabeth insisted that Rachel and Creighton needed to come over for dinner, as they do periodically.
I can't remember what made her think of it but Elizabeth insisted she had to draw something for Rachel. Eventually it morphed from "pick something out of my book and draw it" (I think because whatever it was wasn't cooperating) and turned into "guess what I'm drawing". This of course never ends well, but it's particularly challenging when the clues are things like "it's an animal" and the end result turns out to be an imaginary creature that Elizabeth just invented on the spot.
You might also like
- Leftovers
(0.345324)
- 6th birthday party
(0.317365)
- Elizabeth baptism birthday
(0.315068)
- Summer vacation
(0.313726)
- Sitting unassisted?
(0.310019)
All