December 1, 2016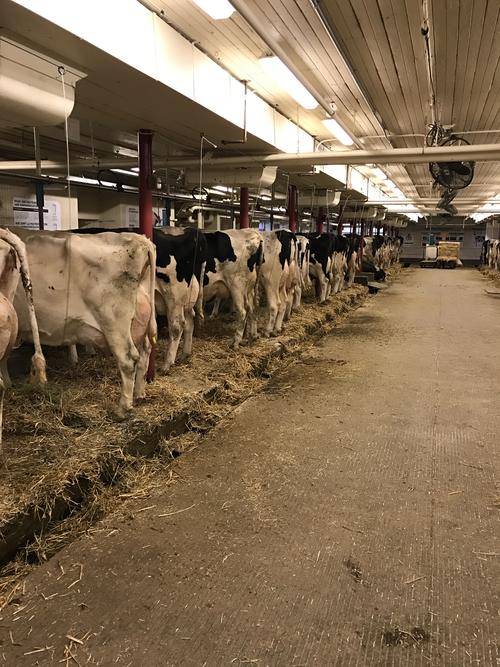 At the agriculture museum I was surprised to see that the cows all have their tails attached to the ceiling by wires. Apparently this has been since the summer, but clearly AFTER Elizabeth did farm camp. The cows still have full motion of their tails but when they step back to poop the wire holds their tails out of danger. Clever.
Matthew and Amelia were interested to see the farmer feeding the cows with his "zoom-y go-cart".
You might also like
- Pumpkin Carving
(0.318713)
- Feeding the sheep
(0.318627)
- Peer pressure
(0.314136)
- Strawberry picking
(0.313673)
- Ballet and Paw Patrol Camp
(0.31339)
All
November 29, 2016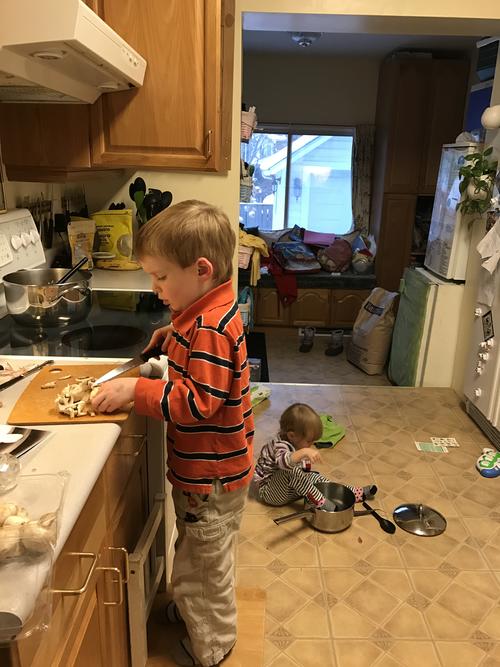 We've tried to be intentional about getting the kids to help out in the kitchen, although I do find it challenging to schedule regular time when the kids are in school.
I tripped over https://kidscookrealfood.com/ through our homeschool group and loved how the instructor broke down knife handling skills so we signed up to do their course.
Elizabeth was pretty excited to get to use a sharp knife and we even started practicing using the oven this year. She is terrified of the oven, so we are only putting cold things in, not taking hot things out.
Anyway after doing a few of the lessons I would definitely recommend the course and we definitely plan to finish it up although I've done a fair amount of just cooking on my own too. Both kids actually can be pretty useful in the kitchen when I let them, peeling, spreading, chopping etc.
One of their favourite things to cook is pancakes, aside from the cracking eggs part which none of my kids are keen on because they get gooey fingers!
Elizabeth likes cooking, but she prefers to play if given a choice. Matthew is super interested in cooking and would love to cook every day. Amelia can't wait until she gets to do more...
You might also like
- Skating
(0.394265)
- Dovercourt
(0.392374)
- Amelia 21 months
(0.391304)
- Cooking
(0.389722)
- Crystal Gardens
(0.386427)
All
November 28, 2016
I wasn't expecting Elizabeth to be grading until January, but all of a sudden -BOOM- third stripe and red stripe and Orange-Green belt here we come!
You might also like
- Third Stripe
(0.362245)
- Red stripe
(0.335616)
- Stripes and going to grading
(0.333333)
- Second Stripe
(0.309322)
- Erika's third stripe
(0.292929)
All
November 27, 2016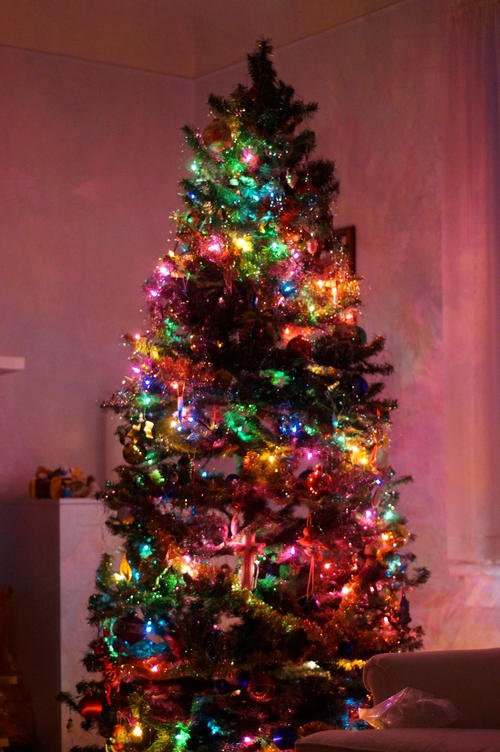 1) The cursing of the lights - in which we pull out the brand new lights purchased last year and discover none of them are working. Usually ends with a vow to go to the store and buy more. After some coaxing, Brendan managed to get a workable set. But we need new lights. Again.
2) The annual installation of flammable objects - aka the advent wreath.
3) The flinging of the tinsel. I think we've properly corrupted Lorianne!
I opted to put all of our decorations on the tree this year (even the very old ones) on the theory that Amelia is surely old enough not to knock it down.
You might also like
- Garden 2018
(0.315399)
- Decorating Tree
(0.315315)
- Advent I
(0.307815)
- Epiphany
(0.307332)
- Apple bowling
(0.305732)
All
November 26, 2016
It took nearly a week past stir up Sunday but I finally got the pudding made. It was a bit of a fiasco steaming it this year - both Janice and I let it boil dry! Actually there were three puddings - two little ones for Janice and a big one for us. Janice started making her puddings in the summer time, dehydrating her own (safe) fruit and substituting out the many parts of the original pudding that she can't have anymore.
Everyone duly stirred and we even put charms in the pudding for the first time, fulfilling a lifelong desire of mine that I'm sure originated with Enid Blyton.
Then I completely forgot to add the rum. Sigh. It was almost as bad as that time I made orange meringue pie while on the phone with Uncle Chris. Hopefully the pudding tastes better than the pie did.
You might also like
- Raclette
(0.318493)
- Preparing for Gingerbread
(0.317105)
- Gingerbread
(0.315961)
- Gatineau Park Ski
(0.314204)
- Epiphany
(0.313783)
All