December 12, 2016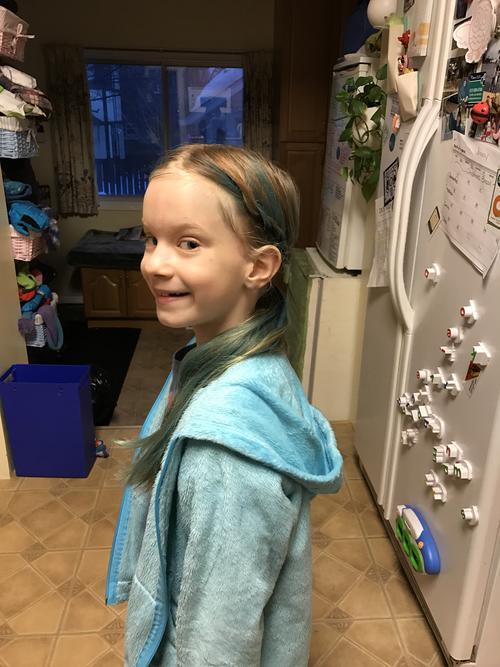 It was crazy hair day at Elizabeth's school. Auntie Janice helped her do blue hair chalk. Matthew was super jealous so we let him do crazy hair too.
You might also like:
-
Crazy hair day
-
Back to school
-
Chef Matthew
-
Housecoat
-
Pink Eye
December 11, 2016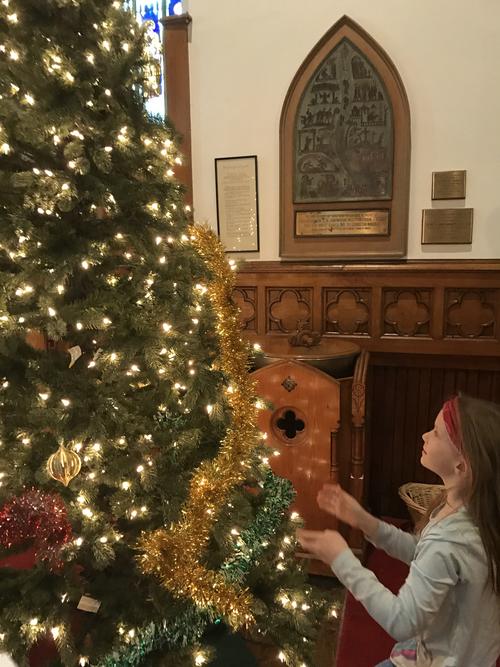 We've been getting ready for Christmas at church as well as home. Matthew's lego crèche cracked me up.
You might also like:
-
Crazy hair day
-
Pink Eye
-
Nutcracker
-
Home Depot
-
Theo is 5
December 10, 2016
Elizabeth made a great friend (Ruici) this past summer during her swimming lessons and they've kept in touch.
Our most recent play date was at the museum of Nature where they had a grand time.
After the museum we headed to Uncle Dave and Auntie Karen's for board games and cake to celebrate Auntie Karen's birthday.
You might also like:
-
Two birthdays
-
First day of Summer
-
PD Day
-
Catherine has a birthday
-
Uncle Dave has a birthday
December 9, 2016
We went to see Santa at Cumberland Heritage Village with the homeschooling association again and this year all the kids were healthy enough to come! Amelia was not interested in sitting next to Santa. I didn't think this Santa was particularly good but the kids had a blast and Amelia really, really enjoyed decorating her cookie. The wagon ride was a huge hit as well.
Elizabeth asked Santa for "a periscope. Or a telescope would be okay too". Matthew asked for a "remote control digger". In the car on the way there I stressed that Santa wasn't real. On the way home Matthew told me I was joking because he had seen Santa with his own eyes. I'm not sure what he thinks I'm trying to pull but the more I tried to convince him that it was a fun pretend story with costumes the more convinced he seemed that Santa is completely real. Elizabeth didn't seem particularly convinced either. So I gave up.
You might also like:
-
Pandemic violin lessons
-
Dovercourt
-
Costume deliberations
-
First day of preschool
-
Space Bubble
December 8, 2016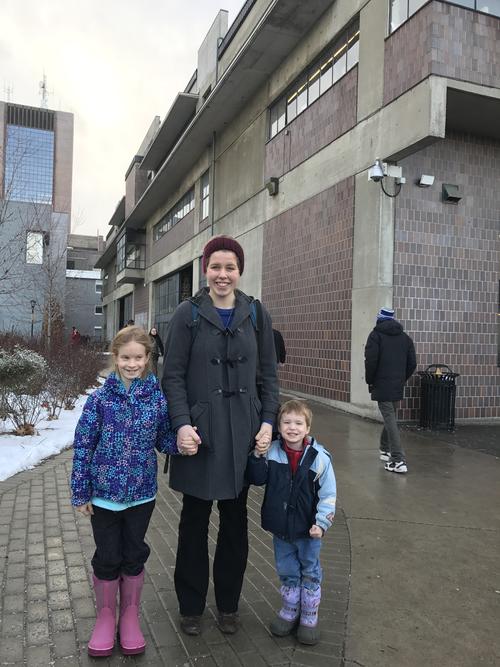 Matthew has been telling Lorianne that he was going to go to school with her one of these days.. So today was finally the day that the kids got to go hang out.
They were very impressed. They got to play "grown-up games" and eat at a coffee shop and generally do the things that university students do at university. Aside from actually attending classes... (Details, details...) Elizabeth and Matthew are now both keen to go to university. Probably we'll want to remind them of that in about a decade or so...
You might also like:
-
First Grading for Erika and Maria
-
Le Patinoire
-
Summer school jul 13-17 Circus week
-
Ballet PJ week
-
More snow