February 20, 2017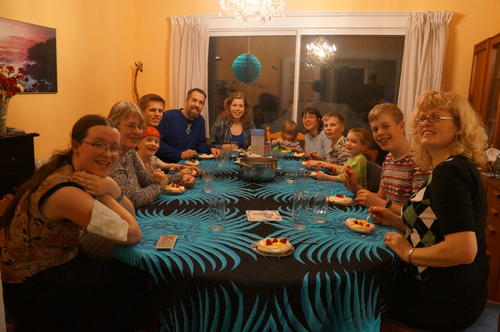 Lorianne's family came for supper while Angie was here, and we introduced them to fresh pasta and lemon schaum tarts.
In addition to skating, we dragged Angie to the Aviation museum this visit where they were having a special music camp promotion. Amelia napped while the older two tried out all the things (especially the drums!)
Then we did the "mail must fly" tour, which was mainly notable when someone tossed their cellphone from the second story instead of a parachute. The cellphone did NOT survive the trip down.
You might also like
- Amelia baptism birthday, visit from Hayley
(0.288172)
- Come Sing Messiah
(0.274882)
- Space Bubble
(0.269551)
- Janice has a birthday
(0.267782)
- Birthday party
(0.267007)
All
February 19, 2017
Neighbours Elizabeth and Charlotte invited us to their joint pool party at Dovercourt. There were fairy wings and jewelry and noise makers and the cutest Mickey cake ever.
You might also like
- Charlotte and Elizabeth
(0.347561)
- Crazy hair day
(0.239631)
- Valentine's Day
(0.237942)
- Adam and Allie
(0.227778)
- Ice cream party
(0.227612)
All
February 18, 2017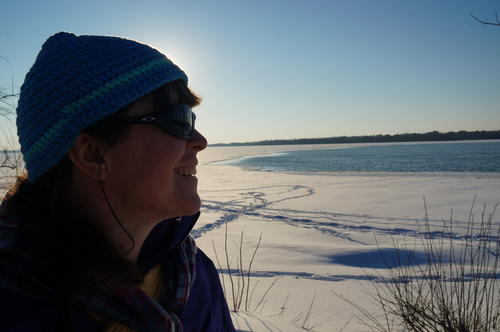 One of the cool things about Ottawa is that we have so many outdoor trails, including the Sir John A Macdonald or SJAM winter trail. It has great scenery, is super close to us and is especially groomed to make it easy to snowshoe or cross-country ski. Not bad right in the middle of the city! Grandma J snowshoes on it quite regularly, but this was our first time.
You might also like
- Green Bins
(0.264529)
- Snow Cream
(0.263427)
- Advent
(0.260526)
- Canal part trois
(0.259861)
- Ice Cream Party
(0.258065)
All
February 17, 2017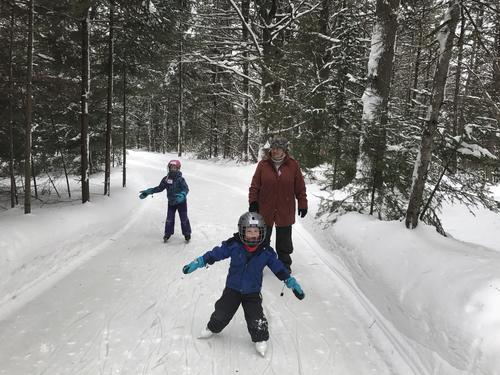 There's a new outdoor skating in the woods venue just outside of Ottawa and we decided that we HAD to check it out while Angie was here. We actually went on the 16th.
It was as amazing as I had hoped. We let Elizabeth skate around by herself as she was so much faster than the rest of us and the track was nearly empty of other skaters.
Unfortunately, I completely misread the map. I thought we had sent her around the loop with no possibility of getting lost. I was sure we'd meet her on the other side within a minute or two, but it turned out there were several turn-offs and the loop was much longer than we expected. I might have had a moment of panic, during which I may have skated faster than I should, caught my skate in the ice and fallen hard. It was a pretty good thing I was wearing a helmet; even so I was seeing stars for a few minutes. Otherwise I'm quite certain we would have been headed to the nearest ER.
In any case I was a lot more careful after that and we soon located Elizabeth. She had of course not come to any harm and was quite pleased at having a solo adventure.
It was a beautiful day, and gorgeous ice. Highly recommended!!!
You might also like
- Apple Picking Reprise
(0.367168)
- Boxing Day
(0.366806)
- An update
(0.362069)
- Earth Day
(0.360759)
- Pie Day #2
(0.360636)
All
February 16, 2017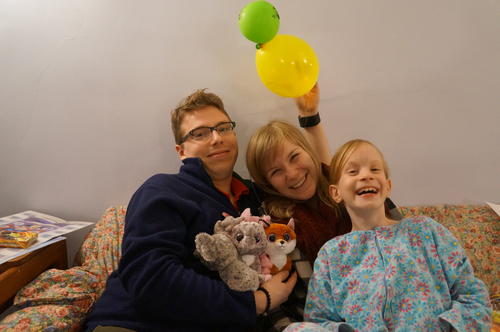 Creighton and Rachel are off to Texas so we had one last farewell get-together. The kids were a bit squirrely and clingy as one would expect but great fun was had and memories built. We will miss seeing them on a near weekly basis but look forward to new adventures and sharing over video calls.
You might also like
- Outside
(0.259668)
- Number One Buddy
(0.257143)
- Cousins
(0.256532)
- Red gi for Matthew
(0.256098)
- Cottage with Grandma and Grandpa
(0.254054)
All