April 3, 2017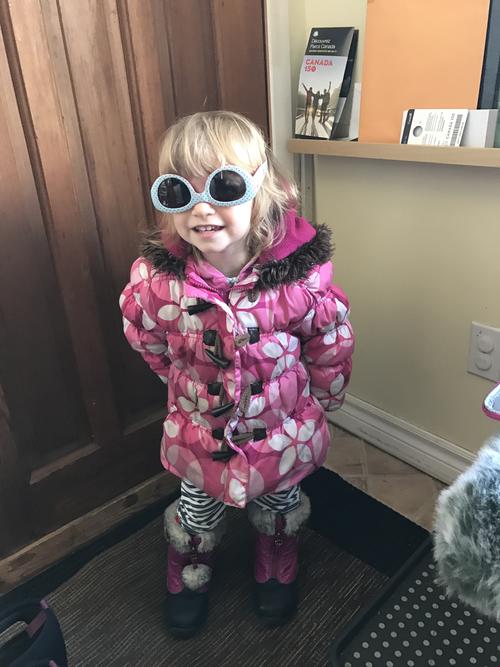 At twenty two months Amelia weighs 21 pounds and has finally outgrown the infant bucket seat.
Recently she has dramatically increased the level of daytime nursing requests. If she's bored or overwhelmed it's all "ni, ni, ni" while she tries to undress me. A discrete nurser she is not so she is frequently disappointed. She has also been sleeping less well, waking up to nurse and then nursing for many hours while dozing lightly unless I manage to wake myself up enough to put her back to bed. It's interfering with my sleep too, so we have begun the process of night weaning. She is not amused. She is very creative with her requests to nurse. If a direct request is not effective, she might demand to "nap" instead (because she gets to nurse at naptime). Or she'll ask for "bed" in the other room in the hopes that I'll nurse her then. "Mommy, come". If all else fails, "dink, dink, dink" (drink). She's very persistent.
She likes to do everything her brother and sister do. Tonight she had a meltdown when Daddy put her pjs on after being told very adamantly "no bath". Turns out she wanted a shower like Matthew and Elizabeth.
She always wants to go to the bus stop, but mostly insists on walking there. She has been known to walk all the way to the community centre and back on her own steam. It is a little frustrating to walk with her because she doesn't always have the same sense of urgency her parents do. There are so many snowbanks to walk on or dig in, puddles to jump in, ice to crack or dirt to smear on the sidewalk.
Still a rather picky eater, she does like to help herself to snacks and the other day I turned around and found that she had managed to serve herself a large hunk of lasagna off the kitchen counter into her own bowl that she had gotten out for herself. If I open the oven, she dashes to get the oven mitts in the hope that this will be the time I let her help. Although she doesn't get to help with the oven, I have frequently indulged her enthusiasm for helping cook this month.
Amelia really likes colouring "just scribbling" says Matthew dismissively. She pretends to do her math just like her siblings, practice piano and write her name. She loves helping with chores, such as "folding" laundry and tossing it willy nilly into the drawer, swishing the toilet and wiping down mirrors. But her favourite is definitely the vacuum cleaner. She likes to vacuum very vigorously for 30-45 seconds. Then she says "all done", turns off the vacuum and walks over to you "Five!" she demands, meaning she wants a high-five. Then back she goes to switch the vacuum back on. Vacuuming can keep her busy for a surprisingly long time.
You might also like
- Matthew is eleven months
(0.431973)
- 19 Months
(0.430959)
- 20 Months Old
(0.420701)
- 11 months
(0.419279)
- Michael turns 2.5
(0.416667)
All