April 14, 2017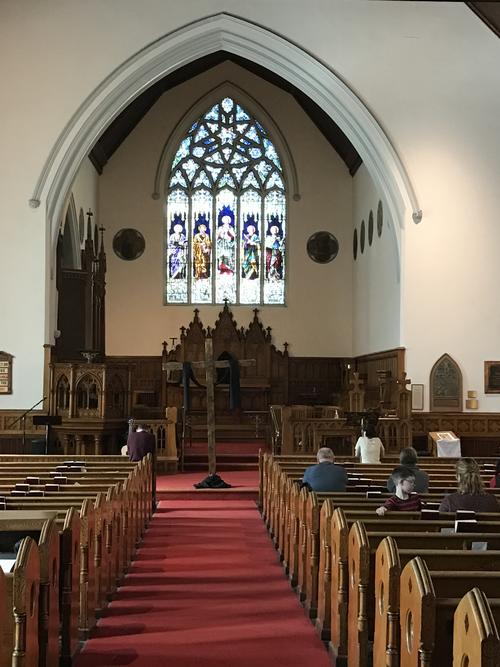 In church Matthew leaned over to Auntie Janice and said: "You know something that's really true? God has beaten death!!!"
He was so struck by this that he has repeated it quite a few times since. Elizabeth: "WHY do you keep saying that???" Matthew: "Cuz it's really exciting!"
After church the kids played outside with the neighbours for a while. Then we decorated our eggs for Easter and made gluten-free resurrection rolls. The batter didn't quite work, but wasn't too bad considering I hadn't actually intended to make them from scratch at all. Uncle Dave made the world's geekiest psyanky. Xander and Matthew's eggs ended up looking almost the same - they both just covered their eggs using all the food colouring allowed until they were almost black. I will be very happy when the kids are all big enough to just use the natural dyes and wax as the food colouring is so disgusting.
You might also like
- Good Friday
(0.409158)
- Good Friday 2015
(0.377067)
- Good Friday
(0.366446)
- Cousins
(0.362216)
- Three under three
(0.361496)
All
April 10, 2017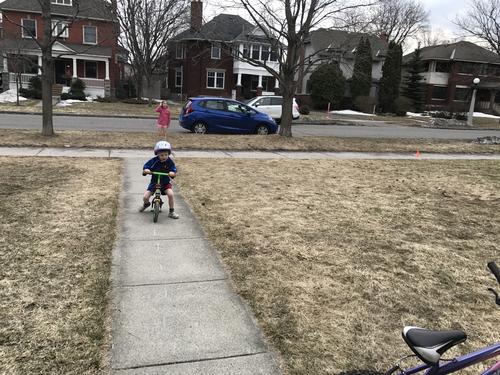 It's really spring now which means that the temperature is yo-yoing up and down, the snow is melting, everything is MUDDY and when it doesn't rain too much we are playing outside. Elizabeth has been gamely working on getting comfortable with her bike. As long as there aren't too many spectators she seems fine. Matthew insisted he could only ride the balance bike until he managed to rip open his knee trying to off-road on the soggy lawn. After that he decided he might as well try the bigger bike and he's progressed to being able to ride independently but isn't too sure about starting or stopping. Progress!
I finally got my seeds started which the kids enjoyed very much.
Matthew and Elizabeth have started swimming lessons again. Matthew's are Monday afternoons and Elizabeth's are Thursdays after school.
You might also like
- Three at a time
(0.363192)
- Cutest thing in the pool
(0.35935)
- Virtual School: Week 17
(0.354839)
- Sport Day
(0.353801)
- Dovercourt
(0.353723)
All
April 9, 2017
Palm Sunday and we finally get to open some envelopes from Angola - one for every day of Holy Week! There was much negotiation over who got to open which days.
The Palm Sunday parade is one of my favourite events of the year. Elizabeth and Matthew decided this year they wanted to be right up at the front with the priests. I didn't really get a good picture of the parade because I was too busy marching!
You might also like
- Green Belt
(0.341176)
- Le Patinoire
(0.327411)
- Tickles Mischief
(0.326478)
- Strawberry picking
(0.326087)
- 6th birthday party
(0.325328)
All
April 8, 2017
We were shopping at Loblaws (a whole 'nother story, since we left at bedtime and then in a fit of insanity I allowed the kids to participate in the Easter egg hunt in the store)
The kids had been banished to sit on the bench beside the checkout in order to stop getting in the way while Brendan and I scanned all of the groceries for the second time. As one does two hours past bedtime.
Anyway, the kids were looking around for mischief and saw these cards. "A free meal", read Elizabeth. "Hey Matthew, ask Mom if we can get a free meal." So Matthew trots over to ask if he can enter the free meal contest.
Needless to say I didn't allow them to put their submission into the box. I think the kids were a little offended that I couldn't keep a straight face.
You might also like
- Canoeing
(0.348201)
- Ski
(0.345566)
- Smiley Face Pancakes
(0.345146)
- Easter Egg hunt
(0.344551)
- Xander
(0.340568)
All
April 7, 2017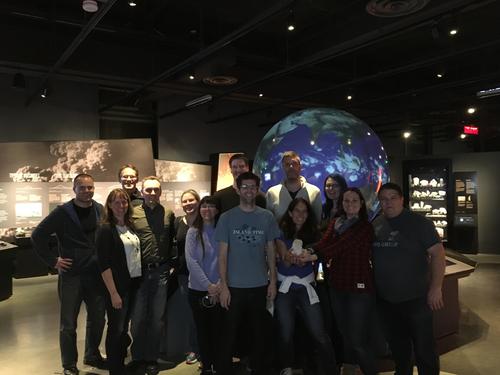 Our awesome neighbours invited us to do an Escape room with them today. I've always wanted to try one so once I'd arranged babysitting with Grandma J and Auntie Janice I jumped at the chance.
An Escape room is basically an experience where you get locked into a room for a certain time period with a group of others and you need to solve puzzles in order to get out.
Hosted at the Museum of Nature, this particular escape room "The Heist" was a jewel heist and we were a team of thieves who had to figure out how to disable the lasers guarding the jewel within an hour or be caught by security!
Needless to say of course our team was awesome and we accessed that jewel with six minutes to spare! Catherine would probably like me to mention that her part of the team actually completed their tasks in the fastest time our staff helper had ever seen.
Brendan and my part didn't go quite as smoothly. We're blaming the above average height of our group. Apparently super tall can sometimes be a disadvantage, especially when the clue writers are expecting normal height people to do the tasks.
I was pretty amused that I ended up being the map reader and navigator - those of you who know me well know that spatial orientation is not my strength, but apparently the many hours that I have spent at the museum have provided me with enough familiarity that I found it super easy for once.
Afterwards we went to Pure Gelato. Brendan says his crepe was amazing and he'd recommend it. They apparently have GF options but I was too nervous to try anything given that it wasn't so long ago that I poisoned myself.
All in all we had a great time and we're definitely going to do another escape in the future.
You might also like
- Home
(0.419753)
- Shopping
(0.40797)
- How many weeks?
(0.406422)
- FIVE
(0.405581)
- Covid shot 2
(0.399271)
All