May 1, 2017
Elizabeth has been trying very hard to convince Matthew that he needed to sign up for karate, and finally we bowed to the inevitable. Mostly I think Elizabeth wanted the chance to spin the wheel for a prize. She won a dairy queen treat. I was hoping for a free month of karate lessons and relieved no drone or something equally terrifying. She's already trying to figure out who she can sign up next. Be warned.
Matthew is loving having his own gi and getting to go to karate too. So far I've been pleasantly surprised at how well he listens to the senseis. He's even been described as "focussed" (!) Hopefully this doesn't wear off as he gets more comfortable.
Elizabeth was very excited to be able to help in her brother's class. "It's the cutest one" she says, and she has a point. Something about the three and four year olds flailing around is adorable.
Today is a bit of a milestone mark in my adventures as a "karate mom" as I somehow got roped into scoring the karate nationals coming up at the end of the month. Quite the adventure from knowing nothing about karate less than eighteen months ago!
You might also like:
-
River Oak
-
Social Distancing: Day 5
-
Cold weather activities
-
Sheep Shearing
-
Seven months
April 28, 2017
My kids were invited to help test a new climbing wall the museum of science and tech is planning for when they reopen.
Matthew and Elizabeth were not excited about the scent packages placed at various places to give a "sensory" experience while climbing. "All the things smelled bad and it got on my fingers" complained Elizabeth. It's true that the maple syrup package only smelled like maple syrup if you didn't stick your nose right in it. If you sniffed too close it smelled like burnt plastic. I guess in order to keep the scent over a few months it needs to be fairly intense.
All enjoyed climbing very much. Elizabeth would have liked to try going much higher.
You might also like:
-
Sleepover
-
Winter sticks
-
Fire!
-
Buddy Day
-
Kids in the kitchen
April 25, 2017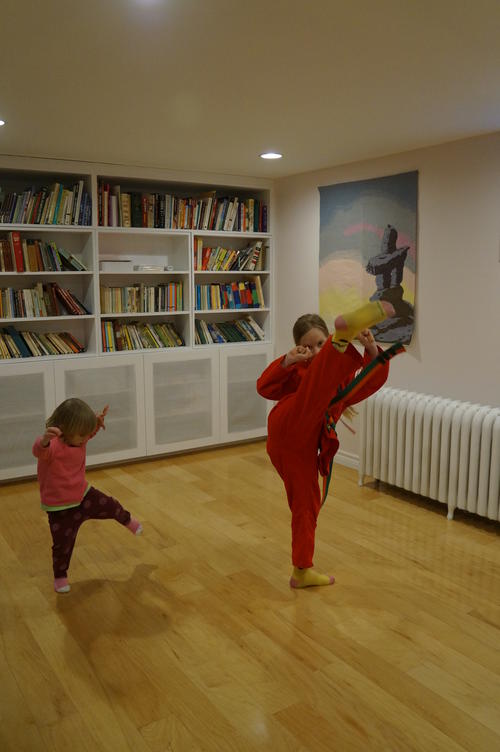 Elizabeth was super excited to get her third stripe on her orange-green belt today. She's determined to earn her red one before grading in two weeks, which I doubt will be a problem.
You might also like:
-
Red stripe
-
Third stripe on blue belt
-
Stripes
-
Stripes
-
Green Belt, one stripe
April 22, 2017
Elizabeth's school celebrated Earth day yesterday because the 22nd fell on a weekend this year. I discovered this about 7:15 Friday morning when Elizabeth came upstairs to complain that she didn't have a blue or green sweater. "I have to wear blue or green! And everyone else should too! And I have to have a no-waste lunch! Can everything in my lunch be green or blue?" Being Friday, I got to come up with a completely different plan for lunch, locate the right coloured clothing and generally get the kids ready for school by myself as Brendan had escaped to a breakfast meeting. I sent Elizabeth to the bus stop by herself, which turned out to be wise as she was gone long before her siblings had their act together enough to get out the door. Did I mention it was pouring rain? Amelia got so wet on the walk to preschool that she needed a change of clothing. Thanks, Earth day the first.
Anyway, the real Earth day was much better. We celebrated by visiting the museum of Nature. After trading in a wasp, a tree swallow eggshell and a couple of Cardinal feathers for a "diamond" (quartz) and (bearded) dragon skin, the kids decided to visit the Earth galley. "We have to go to the Earth gallery on Earth day". We got to draw Northern lights and help put the polar bear to bed (but first we removed all his internal organs!) We also patted some real polar bear fur and touched his claws. Elizabeth was quite impressed by how sharp they were.

Amelia loved going under the bear but once it started to deflate she was careful to stand well back.
You might also like:
-
Missed the bus, Concussion, Matthew gets a stripe
-
The Big Clock
-
Lego April Fools Day
-
Grading for a brown belt
-
Halloween
April 20, 2017
Tuesday we went to check out Dr Lynn's replacement.
When Elizabeth heard we were headed to the doctor, she wanted to know if Dr Lynn was back. This was her first question, even before determining whether needles would be involved. I explained that no, she was still living in Alberta. "Oh" said Elizabeth "I'll wait until she gets back"
Elizabeth doesn't need to get any shots except for the flu shot until grade seven or so, but Matthew was due for a few. He wasn't too sure about whether he wanted to have any needles and asked about all the diseases and their symptoms that he was being immunized against. Elizabeth was all: "Better get the shot, Matthew, because it only hurts for a second but some germs will kill you dead" She went on to advise that the best idea was for him to sleep through his needles. "Go to sleep now, then you won't feel anything". So he kept randomly pretending to fall asleep. He was super stoic for his first needle - didn't even make a sound - but he did cry a little bit at the second. He was very anxious to know whether he was really brave. (Yes)
By the way, Dr. Stephens was deemed super nice. Elizabeth declared that she'd take her on as her "second doctor". Because she's keeping Dr. Lynn forever.
You might also like:
-
Orange swimsuit please
-
On the canal
-
First snow!
-
A dubious first
-
Ski Show and Douvris Halloween