May 13, 2017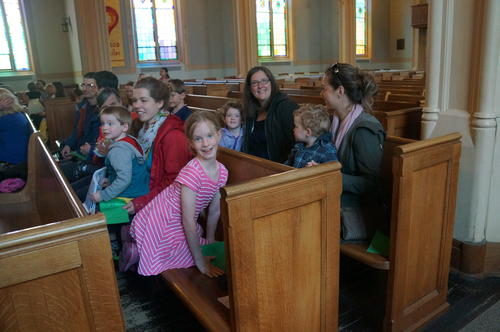 I'm not sure why everyone felt it necessary to schedule all the things Mother's Day weekend, but it was clear it was going to be a busy day.
First up was a special Mother's Day karate class. Elizabeth thought I should go to karate twice, but I opted to just go to Matthew's class on the grounds that it was earlier, shorter AND I got a two-for-one deal because she could help out.
After karate we headed to Matthew's nursery school festival "the spring fling" for lunch. I'd promised to take a shift manning the food booth as I hadn't really participated in any of the previous festivals. The kids all got balloons, and bounced in the bouncy castle and generally loved it. Elizabeth thought it would have been better if they'd had more "big kid" stuff. I pointed out that it was aimed at the under five set. "Oh"
After the spring fling we came home for half an hour to play and last chance to practice recital pieces. Amelia did not wish to shake her shaker but she did manage to make eye contact with the audience and even waved so that's progress.
Matthew started playing his piece before his bum even hit the seat. Daddy has vowed to start videoing the kids getting on to the piano bench (which frankly is one of my favourite parts at that age). He played his piece with great confidence and skill.
Elizabeth played her birthday piece from Auntie Joanne "A Happy Waltz" which was a stretch for her but I thought she did quite well considering. You can definitely hear where she gets less comfortable, but she was still having trouble playing hands together just a few weeks ago so it's really come together.
After the recital, we headed to the quilt show in order to get a chance to vote for some of the quilts. The kids really loved doing the scavenger hunt put together by Auntie Janice. They won fabric from Auntie Janice's stash! The quilts were gorgeous as usual, but more on that tomorrow...
We ended up skipping the tulip festival (we'll do that later), a cool bird festival and the science expo. Maybe next year!
You might also like
- Virtual Piano Recital
(0.424843)
- Social Distancing: Day 3
(0.423432)
- Party
(0.422287)
- Snow, NAC, GNAG Halloween, dinner
(0.420302)
- Orchestre
(0.419753)
All