May 28, 2017
It was race weekend and because we'd done it before I was completely overconfident. Result: we left the house late, ended up being even later when it turned out tires needed to be inflated before we could go anywhere and had to rush, rush, rush to get to the start on time.
I could hear the announcer making last calls for kids to come to the starting line when we got to the part where the cops make you get off your bike and walk, so I made poor Elizabeth run ahead while I locked up the bikes. Then I took off like a crazy person to see if I could make sure she actually got to the start line. It was super stressful for both of us. A kind person did help her get to the line, but then I completely lost sight of my kid.
I feel like there were more people this year because while I filmed the start of the race, even when I watched it on slow motion I had trouble picking her out - certainly couldn't see her live. Grandma also watched for her but didn't see her along the race track.
This year I got to the end but turns out that the actual finish line is out of sight of spectators (for security?) so I just saw her walking. She waved and I went to collect her. She was sad and crying and it turned out that she had been pushed near the beginning and scraped her knee and she declared there were too many kids and she's never running another race. So I marched her back to the first aid tent and got her knee cleaned off and a few hugs later she recovered enough to show off her medal.
We were walking back towards our bikes when Auntie Janice happened along. She had a flat and was concerned about getting home. So we decided to trade bikes, go straight to church and have Daddy drive us and the bikes home. Elizabeth wasn't keen on biking home with a sore knee in any case.
I'm happy to report that Elizabeth has decided that she probably will race again, although she's thinking maybe she'll do a different race next year.
I'd be curious to see how she did on the marathon though as she nearly halved her time from last year despite her fall. She ran the 1.2km in 5:33 compared to 10:22 last year.
You might also like:
-
TriKids Triathlon 2017
-
Racoon proofing
-
Missed the bus, Concussion, Matthew gets a stripe
-
Flying Squirrel
-
Plasma Car
May 27, 2017
It was Great Glebe Garage Sale weekend and Elizabeth had high hopes for her face painting and tattooing station. Both Matthew and Amelia helped. I have to say, I'm not sure whether it was the weather or what but I was struck this year by how few kids were allowed to stop and get their face painted or pick out a tattoo. I'd say maybe 5% of the interested kids were yanked along by their impatient parents.
Certainly the feel of the garage sale is slowly shifting. There are still a few "real" garage sales that happen, but in addition to so many charity booths there are quite a lot of people selling things I wouldn't expect to find in a garage sale context. Brand new socks and sheet sets, for instance. Not to mention SO MANY fidget spinners.
In any case the kids stuck at it for an impressively long time and I was proud of their efforts.
After the garage sale I was completely exhausted. So exhausted in fact that I completely forgot it was Aidan's birthday party until it was nearly over. Let's just say Elizabeth was NOT impressed when I told her we'd missed it. But Dianne encouraged us to come anyway, so Elizabeth and I leapt into the car and drove over and she got to have cake and do a few of the activities and thought it was all super awesome. Although I'm not sure she actually knows what minecraft is :P
You might also like:
-
Piano Recital
-
First outings: Music, library, karate
-
Cottage Days: Jack and Olivia
-
Race weekend 2017
-
Homeschool wk may 19-22
May 25, 2017
We've been taking swimming lessons at Dovercourt, which means we get to play in the playground there. A little rain never stopped anyone :)
You might also like:
-
Swimming lessons
-
Snowy Winter
-
Snowground
-
Lightning Storm
-
Drawback to kids doing laundry
May 23, 2017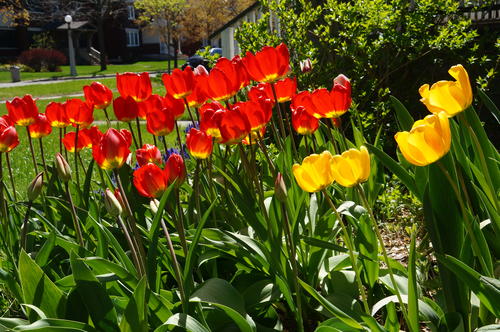 A glimpse of some of the spring flowers in my garden this year. I was underwhelmed by the Canada 150 tulips, but at least they weren't orange like some apparently!
You might also like:
-
Easter Garden
-
Mary Mary
-
Spring
-
Mary, Mary
-
Hail!
May 22, 2017
We had free tickets from the quilt show to go to "the tulip gallery" at Landsdowne park, so we all headed over together with Auntie Mary, Ruici and her mom to check it out. We were underwhelmed, to put it mildly. But it was cool to watch the artist paint a tulip and the kids very much enjoyed running up and down the hill.
You might also like:
-
Insectarium
-
Uncle Dave's birthday
-
Grandma H
-
Big Day
-
Mother's day