June 15, 2017
I'm pregnant! I guess this is the big news of the year!
Some of you may recall that Elizabeth ordered a second brother way back before I was pregnant with Amelia.
Well, as it happens back in March or so she started telling various friends (and their parents!) that she was going to have another sibling in January. I was a little puzzled to be getting all these comments from other parents about how "brave" we were and how tired I looked etc. Eventually it became clear that Elizabeth had been telling people I was pregnant, because she had been chatting with God and asked for a January baby. "Because winter birthdays are the best but I know February is kind of busy". I told her to stop telling people I was pregnant because Mommies prefer to tell that sort of news themselves, besides they also prefer to wait until it's actually true and Mommy and Daddy hadn't quite decided whether they actually wanted to have four kids yet. Then I took some books out of the library about how babies are made. I also told the parents that I was definitely NOT expecting.
So... you know how this goes. A month or so later I started feeling quite ill and long story short January 10th we're having another little boy.
In the taking no more chances department, I thought it better to get Elizabeth to agree that once number four comes along our family is big enough. After all, she also would like to have a room to herself at some point in the not too distant future.
You might also like:
-
52 cm of Snow
-
Number 3
-
Dovercourt
-
LRT Grand Opening
-
First outings: Music, library, karate
June 12, 2017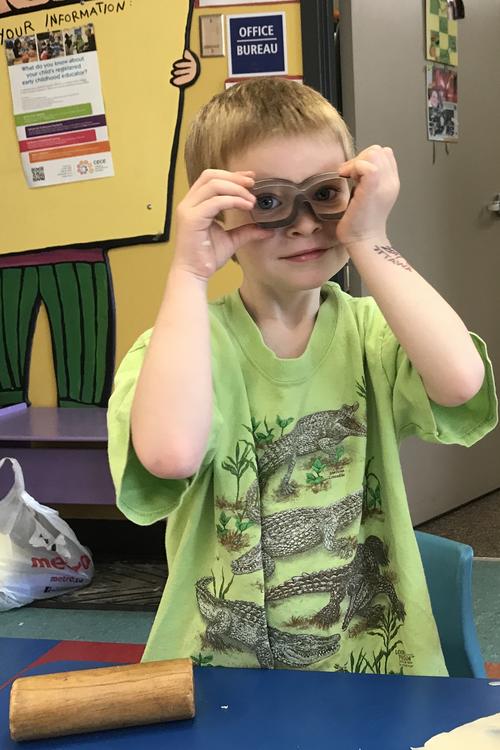 It was my last duty day of the year with Matthew. He spent relatively little time playing with me this time; he was too busy playing with his friends, especially one little girl. Although he did decline the invitation to play tea party with her, his friend Adam and one other little girl on the grounds that it was "not es-citing".
Daddy had to go to a meeting towards the end of preschool, so he dropped off Amelia and she got to "help". Matthew was happy to give her an introduction to preschool since it will be her school next year.
You might also like:
-
Duty day
-
First day of preschool
-
Christmas Preschool
-
First day of Maternelle
-
Last day of school
June 11, 2017
I wasn't nervous about the in house tournament because after all, they give out participation medals. Then I realized that only Tykes get medals and there was chance that Matthew would get one and Elizabeth wouldn't. Not that this is necessarily a problem, just we hadn't actually discussed this as a possibility. Oops.
The morning of, Elizabeth really didn't want to do the sparring part of the tournament. She figured that she'd definitely lose so why bother. Kata, on the other hand, she was supremely (over) confident.
Matthew was just looking forward to doing his very first tournament! He was up first and duly completed his little obstacle run.
Then it was Elizabeth's turn. There were some very tough competitors but Elizabeth did manage to pull out a bronze in kata. She was still unhappy about sparring until we realized that girls and boys compete separately and there were only two girls at her belt level. At worse she could only get a silver, and she came pretty close to carrying off the gold. She sheepishly agreed that it's always better to compete and do one's best than to worry about the end result.
You might also like:
-
Inhouse Tournament
-
Battle Zone Karate 2017
-
Burlington
-
Inhouse Tournament
-
KMC Tournament
June 10, 2017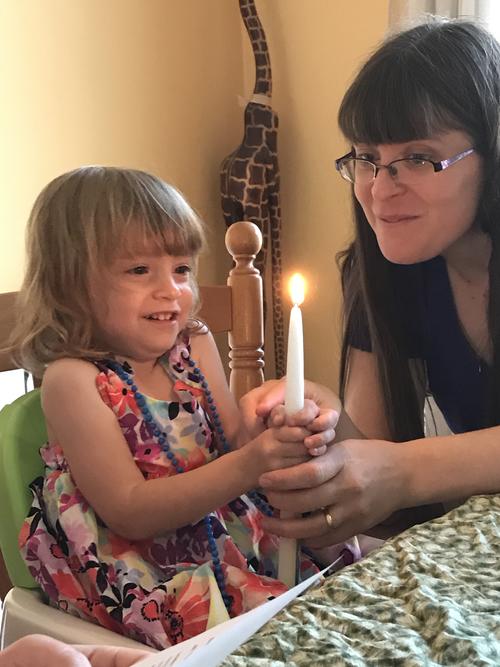 We celebrated Amelia's baptism birthday with Lorianne with brunch and cake and candles today.
Elizabeth was asked to participate in a karate demo, so after the baptism celebration Brendan and the kids headed over to the OAC to watch Elizabeth show off her stuff. There was free BBQ and all kinds of exciting things to watch; I gather they had a good time.
It was hot when they came home so they dragged out the paddling pool and played in the water until supper. Hayley came over as our special visitor, to everyone's delight.
You might also like:
-
Cousins
-
Visitors!
-
Angie
-
Museum and Birthday
-
Baptism Anniversary
June 9, 2017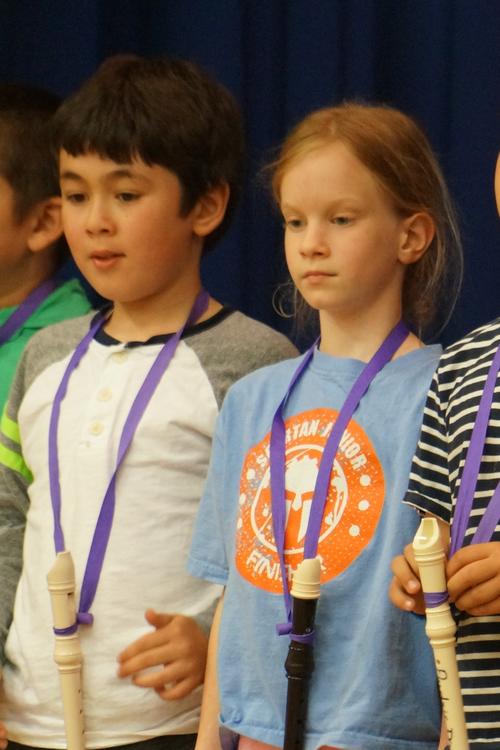 It was the end of the year, which means it was time for an end of the year concert!
Elizabeth was placed up on the stage this time, so we had a great view. I asked her why the kids were picked to be on the stage and it turned out that they put all the tallest kids in her grade up high. She's apparently the tallest girl in her class and the fourth tallest kid. Who knew?
The kids do a pretty good job on the singing now (although Elizabeth needs more confidence to get over her tendency to mumble-whisper). The recorder and xylophone playing is still an ...experience. But at least it is starting to resemble music! I do think that the music teacher could perhaps do more - there's a significant number of kids in Elizabeth's class that I'm aware of that do music as an extracurricular activity and quite a number in MYC. I'm also quite sure that the teacher has no idea that Elizabeth has any musical background whatsoever. Elizabeth was a little surprised when I told her that the fingering on the recorder that her teacher is showing her in school are actually the same notes she's learning in piano. She hadn't quite put together the (limited) solfège she's learning as part of MYC with the notes the teacher makes them sing at school.
You might also like:
-
End of Year concert
-
Decision making study
-
Senior Kindergarden
-
La lièvre et la tortue
-
Piano Recital