July 24, 2017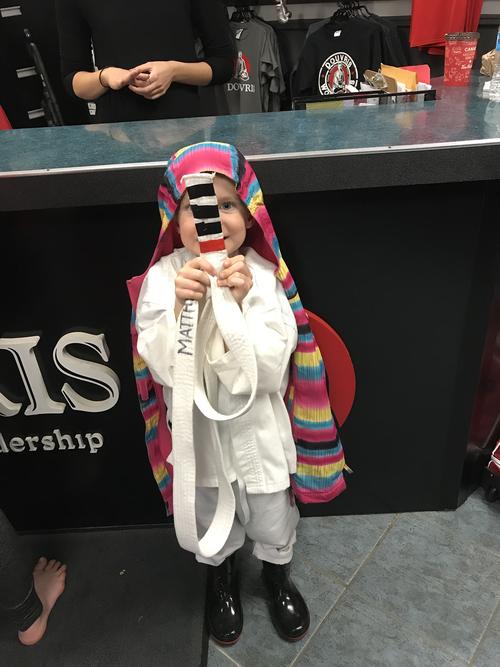 Just like that Matthew has acquired his red stripe and is upgrading from white to white/yellow belt.
His sister is very proud.
You might also like:
-
Red stripe
-
Three stripes
-
Stripes
-
Stripes!
-
Stripes and going to grading
July 23, 2017
Our annual group camping trip was booked for July 21-23 and we were super nervous because apparently the group sites around Ottawa have gotten popular enough that we can't book at the last minute once we're sure the weather is going to cooperate anymore. In fact, we ended up at Gatineau mostly because there weren't any other options available!
2017 was the first year that we dared to book two nights instead of one, but I think it's pretty safe to say it won't be the last. Some of us only did one night or the other, but a few of us stayed the whole time and we had a blast.
Luckily, the weather did cooperate. It was very hot, but not unpleasantly so. There was much fire. S'mores! Beach time! Hikes and games! Bottle rockets to the sky! Bubbles. Bold raccoons (but not so bold they bothered the tents). Pretty nice outhouse that Matthew even agreed to use...
We did girls and boys tents again, although Amelia stayed with Mom and Dad.
I think I still prefer the Rideau Pines group camping setup with the private beach one doesn't have to drive to or share with everyone else, but it was still a gorgeous campsite and we had an amazing time.
You might also like:
-
Orange swimsuit please
-
Fall summer
-
Ollie Otter goes swimming
-
Inhouse Tournament
-
Strike Day
July 21, 2017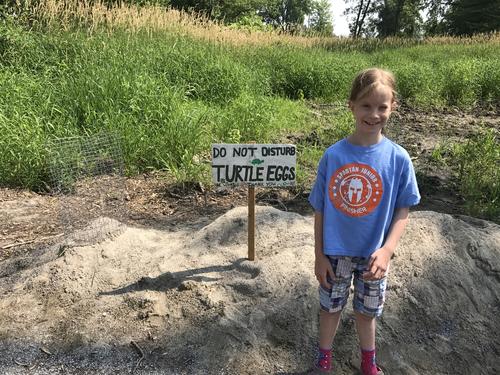 We visited Petrie Island today for a program about turtles. The kids were pretty excited because they wanted to go to the beach but when we got there it was red flagged. They did open it up while we were eating lunch but the kids decided that they'd rather get to our campsite earlier than go swimming so instead they ran up and down the beach like wild things.
You might also like:
-
Gardening
-
Red gi for Matthew
-
Cottage Days: Visit with cousin Ryan
-
Green Belt
-
Last day at the cottage
July 17, 2017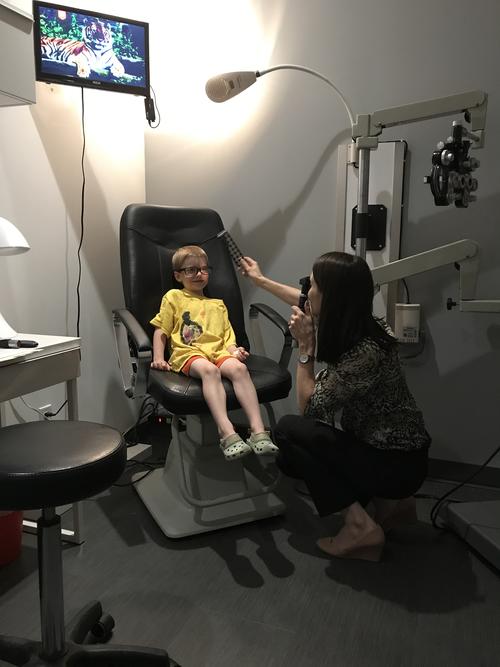 Matthew's eyes changed more than expected between last year's visit and this year's visit, so we were asked to come back in for another check mid-year.
He got to experience dilation drops for the first time. He was unimpressed. Elizabeth thought the temporary sunglasses were pretty cool though. I was just relieved that the final verdict was to keep monitoring as I have no desire to deal with glasses for my four year old.
After we went to Dairy Queen to use up some of the gift certificates we have from there through karate. Matthew decided to get the exact same thing as Elizabeth, and then almost immediately regretted it as it had no chocolate and the main thing he likes about ice cream is eating the chocolate part off. (He's not terribly fond of ice cream). I may have vowed not to go back to Dairy Queen without Daddy; it's so messy and I can't even eat the leftovers my kids don't finish!
You might also like:
-
Grading
-
On the canal
-
Dentist
-
Incredibles 2
-
Swimming
July 14, 2017
Janice R and I went to the spa for a long overdue relaxation period sans enfants.
And then in the evening Matthew got his third stripe on his white belt!
You might also like:
-
Stripes
-
Three stripes
-
1st Stripe Brown Erika
-
Matthew's first grading
-
Third stripe on yellow