August 25, 2017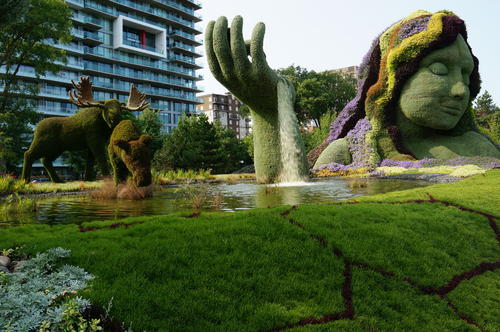 Margaret and I took the kids to see the special Canada 150 horticultural exhibit over in Jacques Cartier Park. Elizabeth and Matthew were not super excited about going to see giant chia pets in lieu of playing with their friends on the street but I dragged them along anyway.
I was a little surprised by the line to get in (caused by strict bag checks). We weren't sure what they were checking for but at least the line moved quickly! I expected we'd have to pay $20 for parking but someone was leaving as we arrived and offered us their ticket for $5 which was pretty sweet.
Elizabeth spent most of her time grumbling that she didn't like any of the exhibits because there were NO ELEPHANTS. I pointed out that Canadian history isn't exactly full of elephants. Apparently it should be.
The kids were pretty interested by how the exhibits were created. I could have spent quite a long time just sitting and enjoying the greenery - it was extremely beautiful! I don't think my pictures do it justice.
You might also like
- Quilt Show
(0.38911)
- Bug Day
(0.387917)
- Dovercourt
(0.375479)
- Siblings
(0.373089)
- Rainy day
(0.369472)
All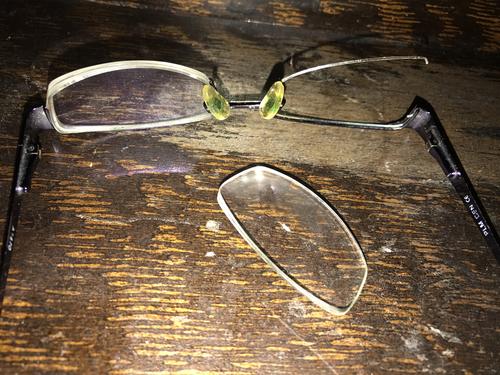 I was putting Amelia to bed, lying on the floor beside her mattress and learned that I should not put my glasses on the floor next to me.
Brendan was quite horrified when he unexpectedly came into the room and stepped on them. I'm still not quite sure why he stepped right there but my glasses were definitely broken. Luckily he was able to get them fixed for me the next day!
You might also like
- Sleepover
(0.29471)
- Flat tire
(0.292537)
- Sugar Bush
(0.27685)
- Busted
(0.275081)
- Christmas Preschool
(0.272727)
All
August 24, 2017
My friend Evelyn hosts a series of get-togethers in the park near her house every year and since thunderstorms delayed it until after we got back from the cottage we made it out to the final luau!
I had thought it too cold to go swimming but the kids insisted on bringing bathing suits - they were right! It was such a nice day.
You might also like
- Cottage Days: Visit with cousin Ryan
(0.320388)
- Palm Sunday
(0.302452)
- Summer Carnival
(0.297826)
- Canal
(0.29745)
- Cottage Days: Point Swim and Treasure hunt reprise
(0.29683)
All
August 22, 2017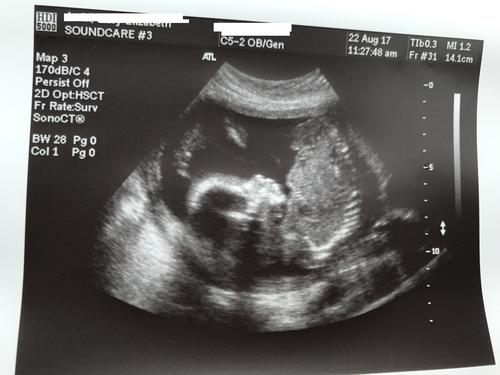 A very rainy day was just perfectly timed to run errands such as acquiring new backpacks needed for school next week.
Elizabeth and I ran a very special errand at the ultrasound clinic where it was (eventually) confirmed that baby is a BOY! Although I did notice the tech was careful to check whether I had other children and find out if they were all the same gender or not before telling me; not sure whether that was just curiosity or related to the previous nonsense. The actual ultrasound took much longer than normal because baby was lying on his stomach and wiggled every time the tech tried to capture a photo of his heart.
In any case, Matthew is relieved "cuz there are too many girls around here". Elizabeth is happy because she thinks it will be "a good balance" and she has "a lot more boy names". But she did tell Daddy he could pick the middle name LOL.
You might also like
- Summer school jul 13-17 Circus week
(0.381877)
- River Oak
(0.358667)
- Happy Birthday Aidan
(0.34478)
- Virtual School: Week 16
(0.344193)
- Senior Kindergarden
(0.34297)
All
August 21, 2017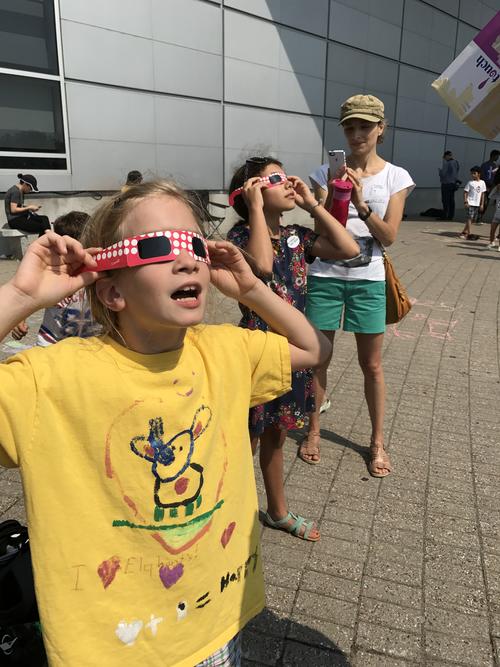 It was eclipse day and the Aviation and Space museum sent an invitation to come and look at the sun with telescopes and protective glasses so we hopped in the car and headed out.
I gather they expected somewhere between 500-2000 visitors; the final tally was closer to 8000! I have never seen the road to the Aviation museum backed up past Montreal road. I dropped Brendan and the kids off at the museum as I had to go to an appointment near by. By the time I got back the traffic was even worse, but quite a few cars gave up (maybe 1 in 5?) so it didn't take as long as I had feared. I was concerned about parking - there were cars parked all over the various parkways lined in both directions and cars driving along the bike path in order to get ahead of various lines, but I guess some people arrived and then decided they wouldn't be able to find glasses that they just gave up and left. So I found a spot and it wasn't even far.
Mila, Simon and their mom met us at the museum. Although the museum ran out of glasses pretty early on we found that people were very generous and willing to share. Janice lent us a pair as well, and helped make a pin-hole viewer so we were well equipped.
The kids all oohed and ahh-ed over the "bite out of the sun" - in our area it was only 61% but I was quite impressed at my view through the glasses.
The kids spent some time in the museum proper but the real attraction was hanging out the back and watching the airplanes and helicopter take off and land. I had given up hope of getting a glimpse through the telescope but on our way out I observed that the line had actually fallen to a mere five people so Elizabeth and I stopped to admire the last sliver of moon and check out the sun spots. Probably that cost us quite a few minutes in traffic but it was worth it. Looking forward to 2024 when the totality will be much closer to our area!
You might also like
- TriKids Triathlon 2017
(0.395246)
- Hike in the woods
(0.393375)
- Broken nose
(0.393069)
- First outings: Music, library, karate
(0.392484)
- Race weekend 2017
(0.388711)
All
August 20, 2017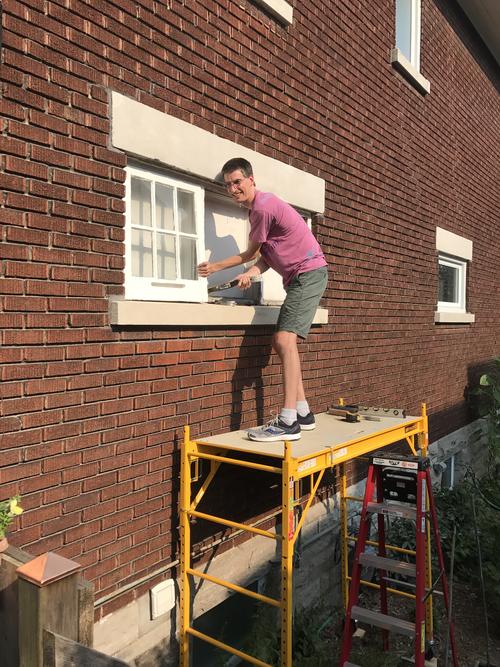 A long time ago there were three windows in our house that were bricked up on the inside. Two in the living room (on either side of the fireplace) and one large one on the wall in the dining room.
We thought about re-opening one or more of these over the past decade or so, but finally concluded that having wall instead of window suited the rooms in question better. Re-opening would not particularly improve the light or the heating situations in either room, and would require creativity to avoid eroding privacy.
Having made the decision that we were never going to reopen the windows, it seemed silly to continuously have to pay to maintain those old windows on the outside. They needed painting, and new windowsills. Shortly the entire window would need to be rebuilt. So we decided to bite the bullet and have the outside bricked in as well while it's still easy to do so.
Brendan thought at first he'd like to do the smaller two windows himself, and also committed to removing all of the windows in order to save on labour costs. Removing the windows wasn't a problem but once he got into doing the smaller windows he realized that removing the top lintel was going to be super labour intensive with the tools he had. Not only was it ridiculously heavy, but the concrete was very strong. So we decided this wasn't a good use of his time and asked the professionals to take over. I was quite impressed that the part he did complete is pretty much indistinguishable in quality - his brickwork skills have come a long way from the first (rather disastrous) time we tried our hand at repointing!
You might also like
- LRT Grand Opening
(0.386277)
- Racoon proofing
(0.372671)
- Pie Day #2
(0.368542)
- Home
(0.368113)
- Mother's day
(0.366857)
All