September 9, 2017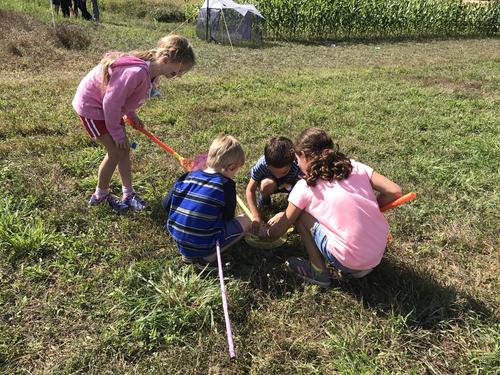 I wanted to take the kids to Bug Day, but just as we were leaving the neighbours came over and wanted to play. The best solution was clearly to bring Mila and Simon along with me.
Each kid got a pick their own butterfly pin (and then describe the butterfly to learn about naming). The girls opted to do the face painting, but Simon apparently doesn't like face paint and so Matthew decided he wasn't going to do it either in case Simon felt left out.
An entomologist then took us on a field expedition to catch our own bugs. Elizabeth spent the time freaking out about all the bugs, but did calm down enough to catch a grasshopper. The other kids had a ball running around chasing various insects. The boys were told in no uncertain terms that they could NOT catch other kids. Matthew negotiated a loophole whereby he was allowed to catch himself, but not at the same time as any bugs. We learned about various collection techniques. I'm told they don't use the mouth suction device for collecting insects off dung or dead bodies. Seems fair.
Then we went inside to sample some bug cookies, pet some cockroaches and watch said cockroaches "race". The bugs covered in jewels are apparently a thing in some parts of the world - people attach the bugs to a chain, which they then clip onto themselves. The bugs then crawl all over them. "Live jewelry"!
Afterwards we checked out part of the open house happening around the corner. They have 16 mini greenhouses where they can manipulate a variety of growing conditions - light intensity, temperature (day/night), moisture etc. It was pretty interesting and the kids enjoyed this part the most because they got to play a DNA matching game that rewarded them with candy. And THEN on the way out everyone was presented with a free granola bar of the kind that contains more chocolate than food. Everyone agreed that science is awesome.
You might also like:
-
Egg Hunt
-
Broken nose
-
19th Annual Gingerbread Party
-
Ski Show and Douvris Halloween
-
5th Birthday Party
September 7, 2017
One plus side of all the rain (aside from being able to jump in puddles) is that sometimes we get to see beautiful rainbows!
One downside is that if there are clear blue skies when you leave for the bus so you decide not to wear a rain jacket, inevitably that will be when it POURS and the bus will be late. Hooray for children who insist on wearing proper rain gear even if you don't, and for fellow-bus-wait-ers who live around the corner and can lend you an umbrella.
You might also like:
-
Getting there
-
The next plan
-
Cottage (Reprise)
-
Dinner with Lorianne
-
Skating with Angie
September 5, 2017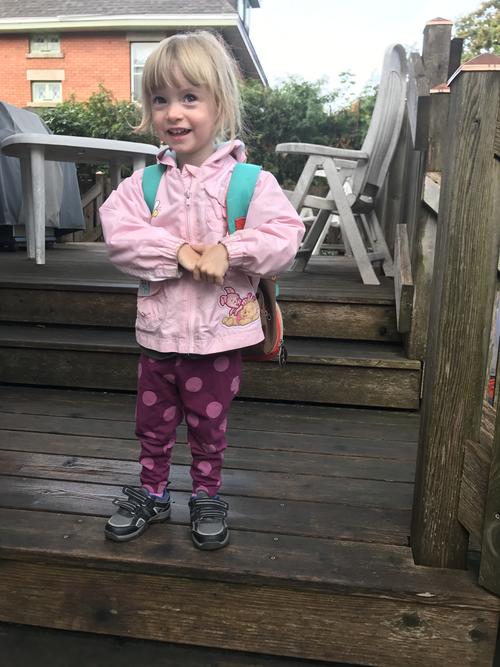 It was Amelia's first day of preschool and she was SUPER excited to go. Day one wasn't really a good test of anything because I agreed to stay as "duty parent" so I was there the whole time.
I was a little worried about having enough snack for everyone, but turns out I'd forgotten it was a staggered entry, so only half the kids were there, plus the toddler class eats less than the preschoolers.
Amelia seems to be on the older/more mature end of the scale, but did manage to make a friend. She can't wait to go back. We'll have to see whether she likes it as much on her own :)
You might also like:
-
Duty day the third
-
Nora and Simon
-
End of year french class
-
Water baby in the pool
-
Music Recital
September 4, 2017
Our friends Brian and Meghan just installed a new pool this summer and we were lucky enough to score an invitation to come swimming, with dinner afterwards!
Dianne, Dave and kids, Karin and John and kids, and Mark and Julie all came as well.
Brian and Meghan's eldest (Madeleine) took the kids into the basement after supper to play while the adults chatted. Somehow this resulted in my kids bringing home a doll, a bear and much doll clothing, which they LOVED.
Super fun day. The kids would now like to have a pool in our own backyard.
You might also like:
-
Chickadees
-
Pool Party
-
Summer vacation
-
Park with Dianne
-
Antibiotics
September 3, 2017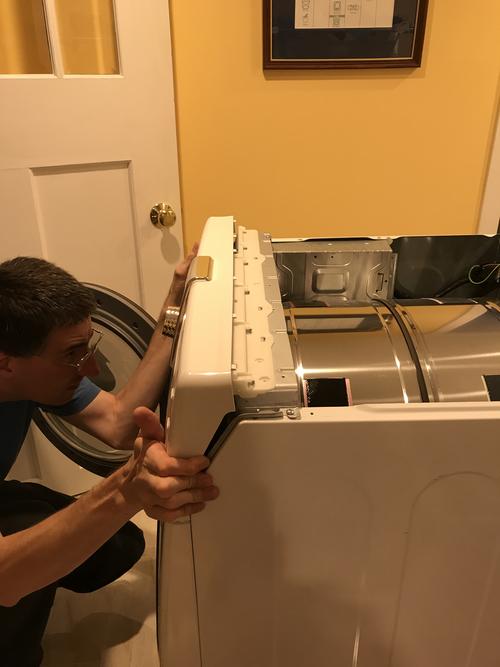 In which we discover what happens if the kids "forget" to replace the lint filter after cleaning it while they are doing their laundry.
We may have spent the better part of the afternoon taking apart the dryer. The guilty culprits were not allowed to play while we were doing so. They got extra chores until we were done.
We don't think this will happen again any time soon. We hope.
You might also like:
-
Christmas with second cousins
-
Ski Club 3
-
Fence Day the second
-
Dentist
-
Nora and Simon visit