September 24, 2017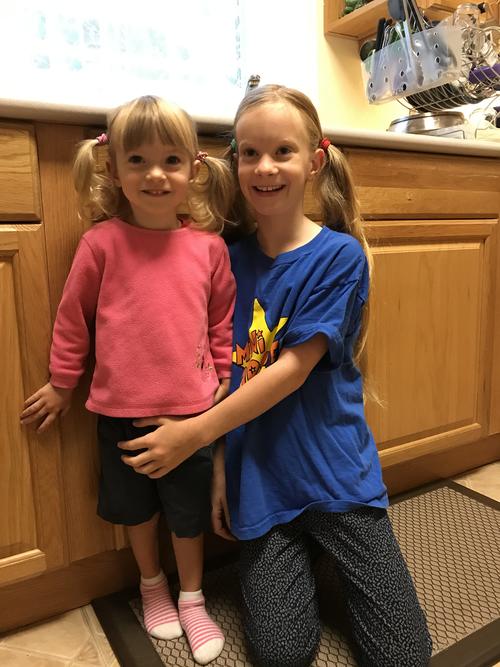 Elizabeth doesn't let me put her hair up as much as she once did ("seriously, it takes too long and it's not practical Mom!") but the kids have gotten into doing "hair styles" for pretty much anyone who will cooperate. Matthew does accept the occasional haircut as it bothers him greatly when it gets long, but he also wishes his hair would grow "up to the ceiling" and he adores when Elizabeth brushes it with water or even hair gel.
Elizabeth has been trying to talk her sister into growing out her bangs "to match". There's been a long running campaign to show me "how cute she will look".
Amelia is quite willing to let her siblings do whatever they like. Sometimes she pretends to do Mommy's hair. "Look, I gave you a pony!"
You might also like
- Smiley Face Pancakes
(0.354167)
- Hair
(0.34359)
- Piano Recital
(0.338485)
- End of an era
(0.337456)
- Picture with a bear - Six months
(0.332331)
All
September 23, 2017
It was the hottest day of the year, but because skating lessons have started up again we left the house in full snow gear. By the time we got home it was 35C!
Our rink (St Laurent) is one of the coldest in the city so we needed that gear, but it was a little strange walking up to the arena in mittens, hat etc with everyone else in t-shirts and shorts.
It was Amelia's first formal lesson. Daddy had to work pretty hard to get Amelia interested in skating (she wanted Mommy), but the stuffies on the ice and the instructor flopping on his belly to sing the "fishies in the water, fishies in the sea" song were sufficiently interesting to redirect the storm.
We told Elizabeth she doesn't have to take lessons anymore, but they had an appropriate group for her and it seemed like it would be more fun to skate than to sit and watch so she's participating.
After skating we came home and cooled off in the paddling pool with neighbours until late afternoon. Then Elizabeth and Matthew went to their MUCH anticipated "Nerf Battle" at karate. Amelia cried all the way home when she realized she didn't get to stay. We may have eventually placated her by having candy and pizza for supper (this is what the older two taunted her with right before leaving the car, in a "we get to have this and you don't!" kind of way. Gah! Siblings!!!).
I picked the kids up way past Matthew's bedtime (which possibly was part of the appeal for him). I was quite dismayed to arrive to find him sitting lethargically in the hall holding an ice pack to his head. Apparently he got shot in the head at close range a few minutes before I showed up, but once I showed up he was keen to tell me all about how awesome everything was and how he'd eaten THREE pieces of pizza and drunk TWO whole juice boxes and how that was even more than Elizabeth cuz she just had ONE juice box. I took them home sweaty and happy, and thankfully all in one piece.
You might also like
- Skating
(0.423747)
- Broken nose
(0.4222)
- Skating
(0.42015)
- Winter Celebration
(0.418217)
- Matthew's first skating class
(0.417339)
All
September 22, 2017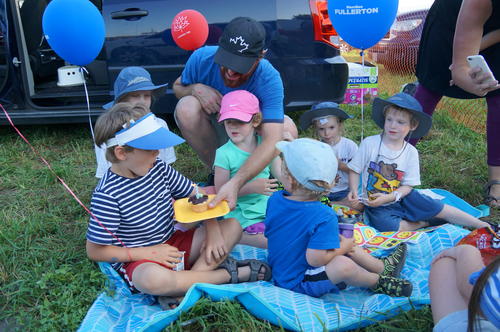 Xander is six so we went to the fair again to celebrate.
Conveniently, the kids had a PD day so we didn't even need to pull them out of school but just headed to the fair as soon as we got our chores done. It was pretty hot but we fit in many rides. By "we" I mean that the kids did as many as possible while the adults avoided as many of the spinning round and round in the hot sun activities as possible. Mostly Amelia could go with Elizabeth or even by herself but I did the Merry Go Round and a spinning elephant ride a couple of times and Janice did a couple of rides too. Grandma J took the older four on the ferris wheel, and Daddy went down the giant slide with Matthew.
The most popular ride was probably the train, although Elizabeth and Matthew quite enjoyed the dragon roller coaster. Amelia insisted that I hold her "tight" for the Merry go round and held on for dear life but by the fourth time she went around (with Janice) she was comfortable enough to have her helper let go AND she was even brave enough to wave!
After the fair we had cupcakes and presents in the parking lot.
You might also like
- River Oak
(0.379679)
- Butterflies 2017
(0.375176)
- Boxing Day
(0.367816)
- Lac des Loups
(0.366522)
- Cottage Days: Santa's Village
(0.354913)
All
September 21, 2017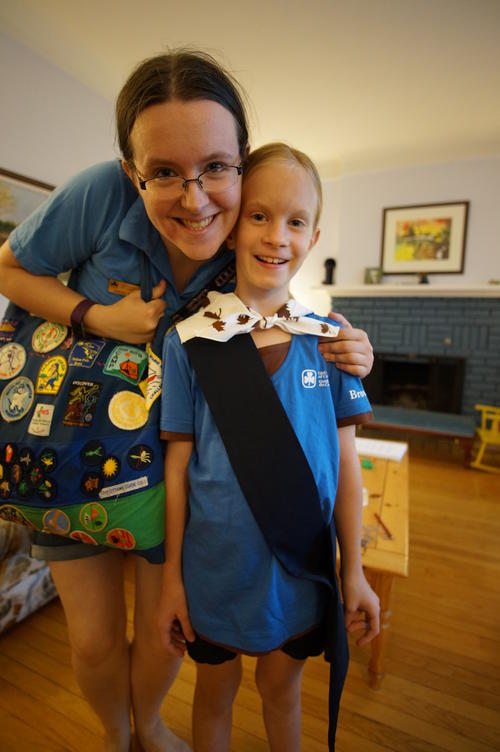 Auntie Janice has been extremely involved with a brownie troop near here for many years. Elizabeth has asked to go to brownies with Auntie Janice since she was about Amelia's age.
It's the last year she can join Auntie Janice's troop, so we decided that we'd make it happen.
Today was Elizabeth's first meeting.
You might also like
- Brownie Halloween
(0.317073)
- Sushi night
(0.304478)
- First Steps
(0.294118)
- Swim and a dragon
(0.292994)
- Last day of grade one, Matthew's baptism birthday
(0.29108)
All
September 16, 2017
My second cousin Emma came to Ottawa for a provincial power lifting championship.
The kids reckoned they ought to have gotten out of school to go and watch the competition but I told them they had to make do with the video Arno took :)
You might also like
- Kick like a girl
(0.263587)
- Seed spitting and s'mores
(0.262997)
- Bus stop fun
(0.26087)
- Baptism Anniversary
(0.256906)
- Scavenger Hunt
(0.252459)
All