November 6, 2017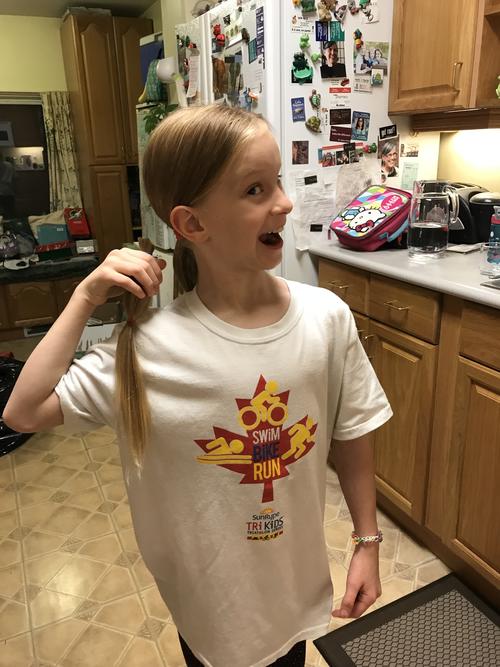 Elizabeth has been toying with cutting her hair shorter for some time, and on Saturday she finally decided she was ready to do so.
I believe the final straw was noticing that she had to be careful to avoid dipping her hair in the toilet.
In any case she cut it approximately in half and donated the cuttings. She's very pleased with her new hairdo, despite an initial panic about whether she'd still be able to make a bun for ballet.
You might also like
- Photo day
(0.330383)
- Choppy Choppy
(0.320565)
- Lil helper
(0.306954)
- Fish!
(0.302108)
- Packing Snow
(0.297297)
All
November 5, 2017
Annual first fire of the season day. Also notable because for the first time the kids were interested in details about Guy Fawkes and we may have discussed the whole hanging, drawing and quartering thing.
Elizabeth's take? "That's not nice." Matthew's take: "Blowing things up isn't nice either though".
You might also like
- Winter
(0.317901)
- Raclette
(0.295154)
- Photos in the snow
(0.295)
- Siblings
(0.284595)
- Look ma - no coat!
(0.280098)
All
November 4, 2017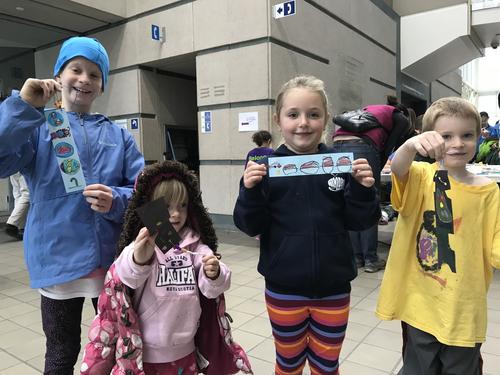 We met Amelia's godfather Michael and Kaitlyn at the library for the Ottawa Storytellers Festival. First we heard some stories aimed at the younger set, then we listened to some told by other kids. Amelia and Brendan went out to play with other things because we were told that any kids in the audience had to be silent and that was expecting too much. I wasn't too sure about Matthew either but he managed to hold it together. The ones told by the other kids were slightly more mature themes than I would have expected but the kids seemed to enjoy.
Afterwards we explored a bit and then I supervised bookmark crafting with the kids while Brendan and Michael took a few minutes to try and catch some super amazing Pokémon (they were unsuccessful in their mission although it did provide much amusement). Then we headed over to Michael's for a fun rest of the afternoon.
You might also like
- Piano Recital
(0.349782)
- LRT Grand Opening
(0.347339)
- Roses and Thorns
(0.346685)
- Guided Tour
(0.345953)
- First outings: Music, library, karate
(0.344952)
All
November 3, 2017
After Halloween we seriously had at least 4kg of candy in our house (maybe 5!), so I was glad when Elizabeth and Matthew demanded to know when Switch Witch was coming. Switch Witch is a tradition we started last year, when Elizabeth came home from school after Halloween and announced that her friend Olivia got to trade in her candy for a toy and she thought we should do this too. I was intrigued since Matthew has absolutely no self control when it comes to eating sweets so we thought we would try it. It worked very well last year, and this year when both of the older kids were so excited about a repeat it was clear that this is now Something We Do.
Elizabeth thought it should be Halloween night, but we decided to do it the 2nd in order to give Mom and Dad time to get organized. (Halloween was a Tuesday, and Wednesdays are already too crazy without adding unnecessary frivolity)
In any case, we let the kids eat the candy more or less unrestrictedly after supper those two days, and then they put all the rest outside their door to trade for a toy.
Elizabeth received doll clothes, Matthew got Lego and Amelia got playmobil. I was ambivalent about the doll clothes because I feel like she's getting too old for dolls and is imminently going to lose interest but she has been talking about such things non stop lately so we went with it.
Amelia did demand to have her candy back the following day and wasn't super excited to be reminded that she had traded it for a toy, but there was not too much drama in the end.
I was super relieved to put the candy away out of the reach of small children.
You might also like
- All Saints and GNAG Halloween Party
(0.401345)
- Pandemic Halloween
(0.391176)
- 52 cm of Snow
(0.389075)
- Silly Sock Week
(0.38895)
- Halloween
(0.388571)
All
October 31, 2017
For Halloween this year, Matthew was Darth Vader (costume courtesy of neighbour Nelson down the street), Elizabeth was an elephant and Amelia was a dinosaur (we've gotten pretty good mileage out of that dinosaur, boy). Brendan was a giraffe (as usual) and I decided it was a good year to be a pumpkin.
It was my duty day at Amelia's preschool. We had a fun time reading books, being dinosaur vets and dinosaur fire fighters, doing crafts and then running around in the gym upstairs. For snack I brought ghost cheese, spider crackers and apple teeth.
After school we made some Halloween themed snacks and invited all of our neighbours to come join us for some supper before heading out trick-or-treating.
Elizabeth left by herself with her friends Mila and Bianca to go hit about a million houses. (I did check that they had adult supervision!)
The rest of us made our way down our street at Amelia pace. Matthew ran on ahead ringing doorbells which was extremely frightening - luckily my neighbour was able to go ahead with him. Eventually Brendan was able to join us and take him in hand and we all set out to go to Fourth Avenue where there are two houses that apparently compete to have the most over-the-top decorations in Ottawa. The one had an indoor AND outdoor component and we admired their dedication from afar. "That's too scary for me", decided Matthew. The other one was much less intense so we went to laugh at the dancing skeleton and get some candy. I should have brought a stroller for the way back but was luckily able to borrow one - it was pretty cold especially for Matthew who refused to wear anything except his costume and our kids lasted much longer than expected. Elizabeth wasn't super pleased that we stayed out longer than she did. This is apparently not how it's done.
But everyone had a good time and it was nice to catch up with our neighbours.
You might also like
- Halloween
(0.44085)
- Halloween
(0.438935)
- Missed the bus, Concussion, Matthew gets a stripe
(0.433794)
- Halloween
(0.432069)
- Dance Camp
(0.429189)
All