November 11, 2017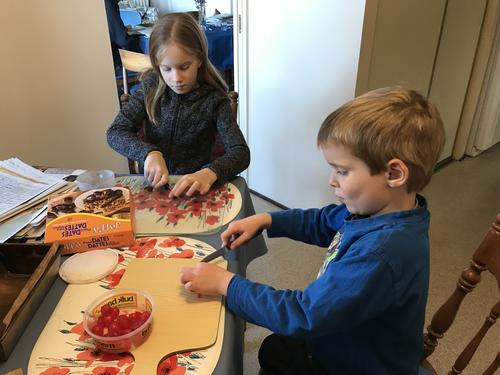 It was remembrance day, so after skating we headed over to Grandma's for the annual making of Christmas cake.
The kids did quite a bit of chopping of fruit before losing interest and going off to play with Tinker Toys.
You might also like
- Christmas cake
(0.420091)
- Grandma has a birthday
(0.304167)
- Christmas cake
(0.296804)
- Christmas Cake
(0.28836)
- Remember remember
(0.285088)
All
November 10, 2017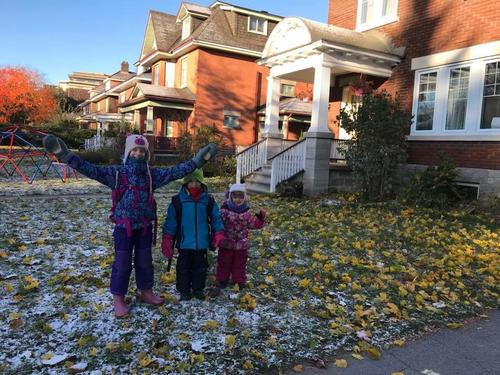 It hardly counts, but here is our first snow fall of the year!
You might also like
- Back to school
(0.22619)
- Cutie Pie
(0.223404)
- Tree decoration
(0.218182)
- Snowground
(0.210526)
- First Snow
(0.209459)
All
November 9, 2017
Of all my kids, Matthew is by far the most interested in making things in the kitchen. I probably should encourage this more than I do! Left to himself he has been known to make things spontaneously; like the time he decided he needed to make a milkshake
Elizabeth is much less excited about helping but I was quite surprised when I decided I should get her to try her hand at meal planning (with the intention of getting her to shop for and cook some meals). I gave her a calendar an instructions to fill in the following week and next thing I knew she'd quizzed the whole family on what they wanted to eat and filled up the whole month.
Her spelling still cracks me up. (Wraps, for those of you wondering...)
You might also like
- Piano Recital
(0.354839)
- Sleepover
(0.354783)
- Wedding prep
(0.354354)
- It's for you
(0.348837)
- The Dentist
(0.341818)
All
November 8, 2017
After Halloween everyone got very excited for the upcoming All Saints Day parade. Matthew insisted he wanted to be St George again and talked Amelia into being his dinosaur - well... dragon... It was an easy sell since she only wants to be a dinosaur at the moment. "Cuz dey say RAAAAAA". Like most of the little boys at church, Matthew probably would have been anyone as long as he got to wave around a sword.
Elizabeth was trickier, but I eventually talked her into being St Elizabeth. She borrowed Matthew's doll to be John the Baptist.
Brendan and I were Mary and Joseph; seemed like the obvious costume choice this year!
After church we went to Grandma J's.
You might also like
- Virtual All Saints Day
(0.345083)
- Butterflies 2017
(0.343988)
- All Saints and GNAG Halloween Party
(0.334194)
- Douvris Halloween
(0.326829)
- First Communion
(0.325383)
All
November 7, 2017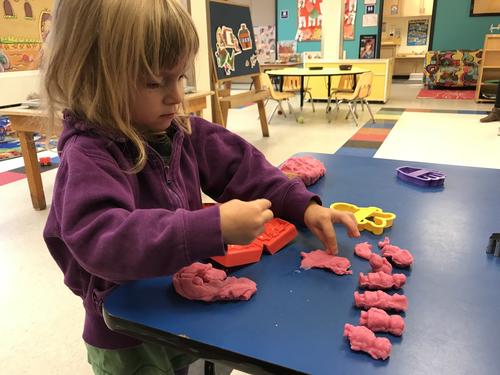 Since I'm likely to be slightly occupied at the beginning of next year, when I had the chance of doing an extra duty day for preschool in the fall term I decided I had better take it.
Amelia was quite pleased to show me all the things. We spent quite a bit of time playing with the train set. I even managed to more or less get the half dozen kids that wanted to play to work cooperatively to push the trains around the track for a bit. Amelia's certainly the only kid who can undress/dress herself to go outside and many of her classmates didn't seem to be in the habit of even taking off/putting on their own hats. Either their parents have way more time and patience than I do, or the kids are a lot younger than Amelia.
I brought rainbow fruit and muffins for the kids which was much easier to put out than some of my previous snacks while still satisfying my compulsion for all the cutesy.
You might also like
- Piano Recital
(0.382138)
- January Duty day
(0.372981)
- Melting
(0.365497)
- 52 cm of Snow
(0.360195)
- 4.5 Amelia
(0.358788)
All