November 19, 2017
Winter has been anxiously awaited here, but for once Brendan and I would like it to hold off just a few more days so as not to interfere with our pending tree removal.
I hear that this is supposed to melt.
You might also like
- Full Black Belt
(0.296029)
- Minus one tooth (ibid.)
(0.283912)
- Lake of Shining Waters
(0.282209)
- Fish!
(0.275204)
- Jay and Jane
(0.274143)
All
November 17, 2017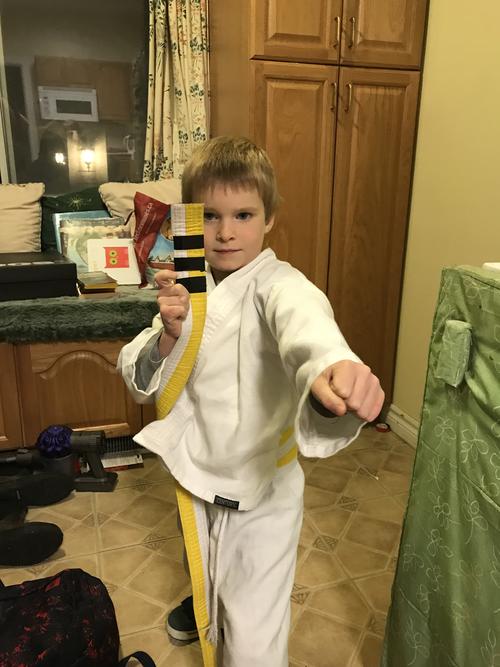 Matthew was very excited to get his third stripe on his white-yellow belt.
You might also like
- Third stripe on yellow
(0.597222)
- Matthew has a second stripe
(0.408163)
- Matthew's first grading
(0.384615)
- Stripes
(0.375)
- 2nd Stripe
(0.354167)
All
November 14, 2017
Ron Harrison passed away and today was his visitation. Matthew and Elizabeth were extremely interested to see all the photos from when Rachel and her brothers and sister were little, and especially ones where Ron had hair!
I don't believe Elizabeth missed a single night praying for Ron ever since she first heard he had cancer. By the time he passed away the other kids had joined in as well. It will take a bit of time to process and come to grips with his passing. He will certainly be greatly missed and will leave an empty space in many hearts.
You might also like
- Joel and Kate
(0.332627)
- Pirate Pinata
(0.317774)
- Rachel and Andrew
(0.31773)
- Matthew on the canal
(0.317073)
- First Communion
(0.316988)
All
November 13, 2017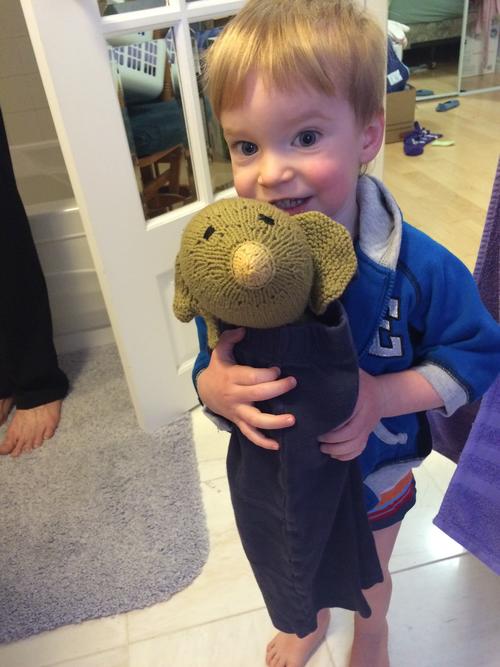 My friend Janice made this incredible knitted elephant for Matthew which he adores and Elizabeth is horribly jealous of (because she's the one who likes elephants).
Matthew doesn't really sleep with stuffies, but in so much that he has stuffie favourites Tickles is one, in part because it's so tempting to suck on the trunk (ewww).
Daddy and Matthew (especially Daddy) have been having fun with Tickles.... That elephant sure gets up to mischief.
You might also like
- Palm Sunday
(0.326478)
- Fun at the neighbours
(0.308725)
- A failed birthday present
(0.304781)
- Messiah practice
(0.304432)
- Rain rain go away
(0.295238)
All
November 12, 2017
Temporary neighbour Lindsay (she's living with her great-aunt down the street for a few months) came over to make slime with Elizabeth. Matthew tagged along.
They had way too much fun, so I tried not to fret about the borax part. It isn't something we do often, but I do think it's odd that the current craze involves playing with ant poison. I know it's unlikely they will eat or even rub it in their eyes, but still!
You might also like
- Trading Post, birthday party
(0.306)
- Pokemon
(0.302691)
- Soon you'll get to 30
(0.300242)
- Photos in the snow
(0.298673)
- Smiley Face Pancakes
(0.291809)
All