December 3, 2017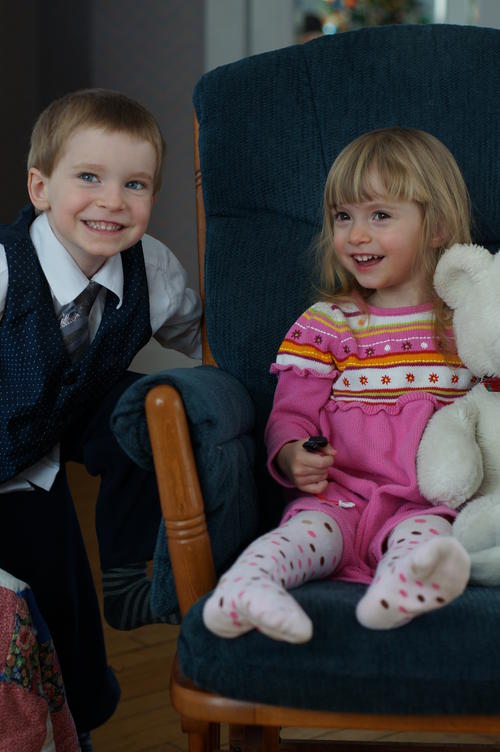 At two and a half Amelia seems much older than the other two and half year olds we know, aside from when it comes to potty training. Possibly due to some digestive problems that we're working on with a gastroenterologist (the current theory is that she needs more fibre and less sugar in her diet) she doesn't seem to know whether she's peed or pooed in her diaper. She'll sit on the toilet but seemingly has no clue what it's for. Certainly she's never actually produced anything. I'm assuming she'll make up her mind to figure it out one of these days, because getting her to do something she doesn't want to is challenging. She's very independent and getting more so. She does not like having help if she hasn't asked for it and will throw a big noisy fuss if she isn't given a little bit of consideration. In general though she's pretty easy going. After all she has two bigger siblings to boss her around!
She now sleeps nicely in her own room and mostly doesn't wake at night. She's a bit more of a Daddy's girl than the other two were at the same age, certainly the only kid that I've gone to comfort in the night and been told "Noo not you! I want Daddy". Of course if Daddy goes then she wants Mommy. In the morning Amelia usually gets dressed by herself or with the help of her siblings.
She's extremely verbal and picking up and using some French words now as well as her quite extensive English vocabulary. She knows all her colours, most of her alphabet and most her numbers.
At preschool she's reached the "march in without looking backwards" stage. She loves preschool days. Actually she seems to enjoy her routines generally. Mondays we do music "Music yay yay yay" and then we go to the library. Tuesday is a preschool day. Wednesday we have house group at church (and we must NOT forget our church shoes or snack). Thursday is another preschool day and often Grandma comes to visit. Fridays we don't have anything specific, and she always complains. Saturdays we had skating and it's our chore day. Sundays we go to church (yes, with the shoes).
She doesn't eat a ton at once, but is a pretty good eater if given enough time. She doesn't like to eat quickly or by herself! She has a definite sweet tooth. She likes most meat - especially sausage. Other favourites include pasta, peas, salad and cheese.
Favourite toys include her ride-on car that plays music, Elizabeth's shopkins, dolls in her doll house and various stuffies. She's pretty big into imaginative play and can play by herself for quite a long time, though she prefers to have someone nearby. She loves to dance, especially if she can wear her ballet slippers (a hand-me-down from Isabelle).
You might also like
- Amelia is five
(0.457766)
- Amelia is three and a half
(0.456686)
- 4.5 and 8.5
(0.456414)
- 21 Months
(0.455932)
- 18 Months
(0.453624)
All
December 2, 2017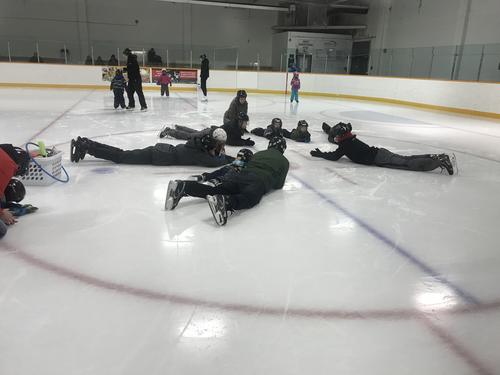 It was the last skating lesson day.
Amelia has progressed to occasionally letting go of Daddy and trying to take a few steps on her own. She is quite risk averse on her skates, but since she spent most of the session crying because Daddy wouldn't pick her up after about the first ten minutes of each lesson, we were just happy to see her get to a point where she was at least participating. The teacher recommended that she try Just you and Me next session, which we are going to ignore since we think she'd spend the whole time on her knees. Not that we are doing next session as we have little to no desire to bring a newborn to the rink. Plus Daddy's back needs time to recover from all that bending over.
Matthew spent the session skating circles around his classmates. The teacher took me aside about five lessons in to apologize that Matthew had apparently finished all of the curriculum for Kindergliders. His teacher was pretty great and gave him all kinds of extra stuff. The main problem is that he's actually more than a year too young for the next level, but since we're taking next term off it will be less of an issue when the time comes to get the staff to waive the age restriction.
Elizabeth also was clearly better than her peers and she actually started out the session having nearly completed all the items in Junior gliders. Frequently she was given extra tasks to do and even had a few essentially private lessons. So we were a little puzzled when her report card came back and she made virtually no progress against the items outstanding on her card. (I mean, she obviously made progress as we could see some of the things she was working on got better.) Not quite sure whether this will be her last set of formal classes; as far as we're concerned her skating ability is fine as it is and she's more interested in ballet and karate. I guess we'll see what the schedule is like in September.
You might also like
- Skating
(0.437431)
- River Oak
(0.429885)
- Preschool duty days
(0.422449)
- Hawaii
(0.420586)
- Fall summer
(0.42015)
All
December 1, 2017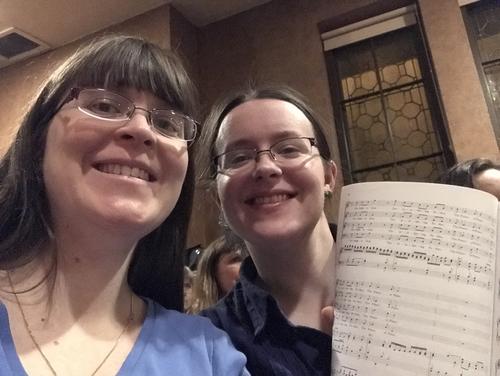 Janice and I went to Come Sing Messiah again. It was just the two of us this year, which was a little strange. Always a good time though.
This year I was unable to go to the first rehearsal due to logistics, but I decided that we'd go a few minutes late right after skating on week two.
Matthew came with me first, and then I traded children and took Elizabeth for the second half of the rehearsal. Matthew has had some difficulty sitting quietly and still recently, so I wasn't expecting to do much singing while he was there but he completely shocked me by not only being quiet but engaged. He followed along with the music and did his best to sing. He's looking forward to the day he can sing with the boys, apparently.
Elizabeth was equally well behaved and is starting to get to the point where she knows the music. I didn't bring her to the actual performance this year because she had tournament team and isn't going next week. Next year will be her tenth year of attending rehearsals though, so I think I'm going to take her then.
Had a lot of comments about how well behaved they were, and a few people remarking how big Elizabeth is - as they remember when she was very small!
The following week Janice and Amelia joined me for rehearsal. Amelia actually stayed for the whole thing, but did quite well nonetheless.
You might also like
- Come Sing Messiah
(0.44089)
- Piano Recital
(0.428375)
- Party
(0.408543)
- Cottage Days:Cousins
(0.407101)
- MYC
(0.404412)
All
November 30, 2017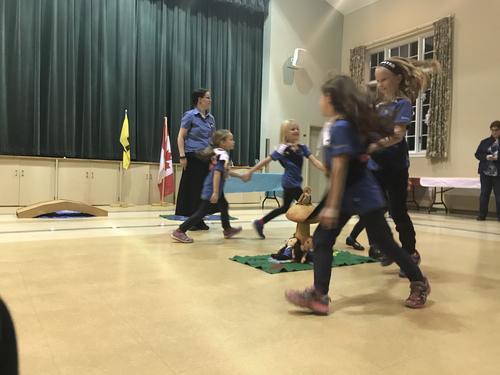 Elizabeth has been going to Brownies for weeks now but today was the "enrollment" ceremony.
Elizabeth wanted the whole family to go but had to settle for Daddy. They sang songs, danced around a toadstool and ate cakes. They also recited their Brownie promise and got a certificate. Elizabeth found it all very amusing. Daddy was pleased to get out of bedtime duties with the younger two.
You might also like
- Strawberry picking
(0.30163)
- Brownie Camp
(0.295943)
- Theo is 5
(0.284404)
- A week in review
(0.279891)
- Xander
(0.279297)
All
November 26, 2017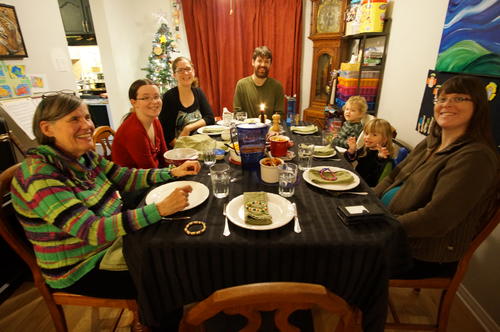 Dave and Karen and family are going to Angola for Christmas, so we decided to do the kids gift exchange and celebrate a little early.
Dave cooked a roast "sous-vide" for 48 hours. There was squash and sweet potato, broccoli and cauliflower and candy cane ice cream. Xander made everyone custom bracelets with pipe cleaners.
The cousins had a wonderful time playing together. Matthew was thrilled to get his long coveted walkie-talkies. Amelia got a flashlight, which she now sleeps with. They both received puppets - Matthew had a dinosaur and Amelia got an owl. We were very amused when her first instinct was to give the owl to Janice, because CLEARLY all owls belong to Janice (!) Elizabeth and Xander's presents are coming from Japan a little later - but they didn't mind too much because they got distracted by walkie-talkies very quickly. The only sad part is that the range doesn't go from Barrhaven to the Glebe. Well, let's be clear that I'm not sad about that!
Uncle Dave got a bonus gift of tree, which he's planning to use to make pens or other useful wooden things turned on a lathe.
You might also like
- Wedding prep
(0.391076)
- LRT Grand Opening
(0.383226)
- Erika is FIVE
(0.382558)
- Christmas
(0.380156)
- Christmas Pukefest
(0.375932)
All