December 17, 2017
Amelia was super excited to discover that there was a beautiful sunrise this morning and insisted that we take photos.
Mommy and Daddy were less excited that she has been waking up in time for said sunrise quite consistently recently. We just installed a fancy new light in the kids' bedroom that gradually increases the light to wake them up for school without us having to go down and be alarm clocks, but sadly Amelia's internal clock is suddenly not on board. Hoping this is a temporary aberration and we can go back to having kids that sleep in!
You might also like
- Brendan and Mommy-dear
(0.314225)
- Crawling...
(0.310631)
- Father's day
(0.310105)
- Pie Day
(0.305263)
- Family time
(0.301587)
All
December 16, 2017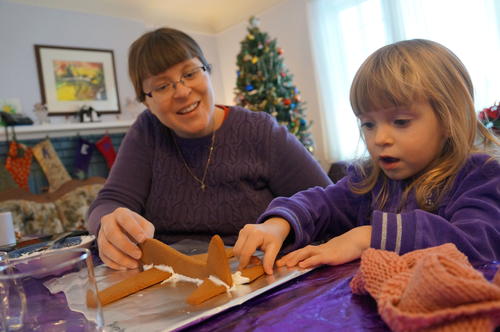 It was gingerbread day and although some of my helpers weren't feeling well and therefore unable to come I was not too concerned since Mary and Andrea made our dough last weekend!
Brendan took Matthew to his karate class and I took Elizabeth to hers, which provided a welcome pause in the midst of the chaos of finishing laundry, putting away toys that are easily broken / used to hit each other with if not under adequate supervision and making cookies.
Janice made Elizabeth super happy by helping her make a round pokéball out of gingerbread. The best part of Elizabeth's plan from her perspective was that it was possible to fill the ball full of candy. She didn't actually eat that much candy while building though (much to my surprise). Elizabeth spent a significant amount of time building various structures, including helping her friend Mila (with Emma's help)
Amelia mostly ate candy, but was convinced to place a few candies on her airplane as well. I don't think anyone is going to "help" her eat it in the end because quite a few of the candies at the end got licked before placement (ewww) - in my defense I wasn't supervising that part as someone needed to be making large quantities of icing!
Matthew had a good time building his police car. I got him to do it in two stages - assembly before our guests arrived and then decorating afterwards once the icing had dried hard. I think this was the best idea because some other friends tried the same pattern and at least one of them experienced a catastrophic collapse. Oh well.
There was much playing - Matthew might have ignored instructions and brought all his friends up to play in Elizabeth's bed and find play swords to whack each other with at one point - but other than that the house remained standing and remarkably calm. Credit is definitely due to Emma and Alida - babysitters extraordinaire who helped kids build and prevented world war III from occurring in our basement.
You might also like
- Gingerbread
(0.445226)
- Social Distancing: Day 3
(0.411444)
- Gingerbread 25
(0.410517)
- Gingerbread part two
(0.407955)
- London
(0.406602)
All
December 15, 2017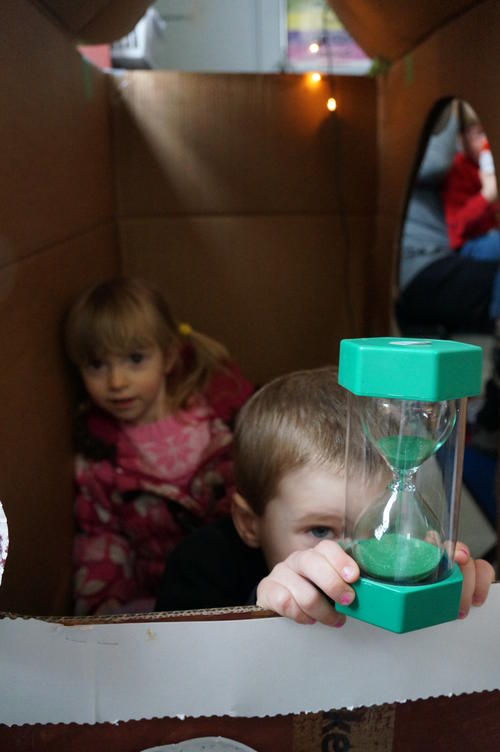 It was Matthew's Christmas concert so Brendan, Amelia, Grandma J and I all went to the little school to hear his class sing a short selection of music. They had the programs all written out on little pieces of birch bark which was cute.
After the singing we headed up to his class to stand shoulder to shoulder with all the other parents for a potluck snack time. Matthew greatly enjoyed showing off his classroom, especially the little "gingerbread" house made of cardboard they get to play in. The timer is used for taking turns - first you ask the teacher for permission to go in, then you grab a timer and when it's out you tell the next person they can have a turn. I was amused that Matthew mostly communicates in sign language as his french is still not good enough I guess. No wonder his teachers think he's quiet!
Amelia had a good time playing with the other kids as well.
Matthew was quite teary when it was time for the parents to go home - in fact we left the class to the sound of many small wailing children, but he did have fun in the afternoon and was glad he stayed in the end.
You might also like
- River Oak
(0.382008)
- Social Distancing: Day 5
(0.362471)
- End of Year concert
(0.361963)
- Come Sing Messiah
(0.361789)
- Dovercourt
(0.360656)
All
December 14, 2017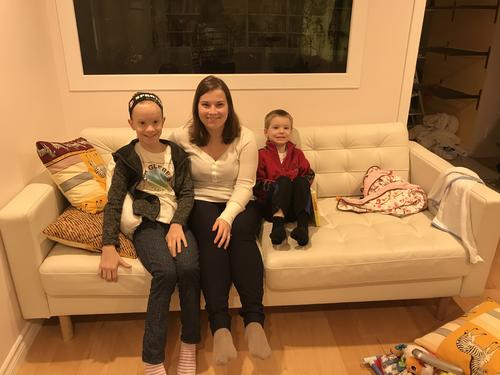 We didn't intend to accept any tenants while Lorianne is away at school in Spain this year because we wanted to have the room available in the winter term.
But when Rachel mentioned that her friend was looking for a short term place until Christmas it seemed like we had a good fit.
Katelyn wasn't here very long but it was fun getting to know her a little and we enjoyed having her here. Elizabeth and Matthew were a little put out to hear she was leaving before someone else was coming. It's apparently "boring" to have an empty room. Elizabeth thinks maybe she should move in herself so the room doesn't get lonely while Lorianne is away. Nice try, kid!
You might also like
- End of an era
(0.350272)
- Field trip to Agriculture museum
(0.34891)
- First Swing
(0.341176)
- Sleepover
(0.338954)
- Twelfth night
(0.338491)
All
December 12, 2017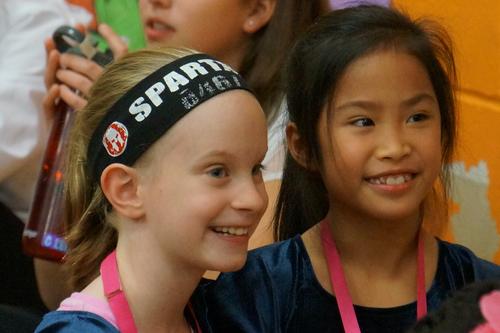 Grandma J, Amelia, Brendan and I went to Elizabeth's Christmas concert today. As usual, the grade ones attempt at group recorder was laughably terrible.
Elizabeth's pieces were pretty good, although I do think they could improve upon how they place the children as there didn't seem to be much thought put into height of the kids in the first versus second rows.
Since there was a major snowstorm in progress, her concert ended only about half an hour before the end of school and it was a 5pm karate day, we decided that it would make sense to pick the kids up early instead of spending ages waiting for an inevitably late school bus.
I was afraid Elizabeth would be annoyed since she dislikes missing school for any reason but she didn't mind as her two good friends both left at the same time.
You might also like
- Sick
(0.35982)
- End of Year concert
(0.358185)
- Happy New Year
(0.354061)
- Christmas concert
(0.35324)
- Summer week 3
(0.353028)
All