January 1, 2018
One of the things we like to do when it's cold is to blow bubbles and fling hot water into the air and watch it freeze. Our bubble mix wasn't really right (and it was too windy) but the kids greatly enjoyed getting to fling their own hot water this year.
Since it was too cold to hang outdoors terribly long, we sorted through our craft cupboard and completed a few in order to liberate some space. We still have far more craft supplies than we realistically need but there was some progress.
I was surprised by how focussed Matthew was on completing his fairy. Elizabeth had been working on hers on and off in about half a dozen sessions since she was about four. Matthew completed his in one sitting, with very little help. This spurred Elizabeth into completing hers because she was not about to be outdone by a four year old!
We made ice balls again, but I wasn't able to talk Brendan into making them into lanterns. Maybe next year...
You might also like:
-
Cold weather science
-
White Belt
-
Pancake Chef
-
Mother's Day
-
First Snow
December 31, 2017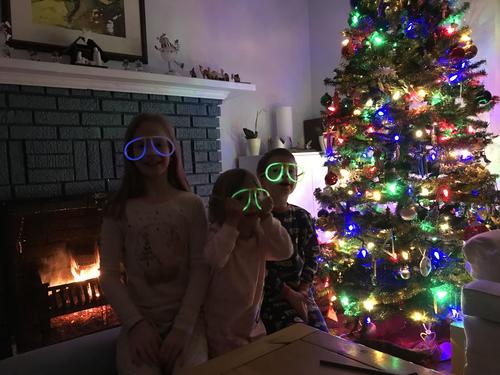 New Year's Eve started out badly with Amelia announcing she had thrown up in her bed. So she crawled into ours and promptly threw up there, too. After a bath she insisted she wanted breakfast and ended up eating quite a lot despite my best efforts and then was pretty much fine for the rest of the day. Having finished off her food last night I'm still a wee bit worried just in case, though she does have the same wicked cold I do and it could have been coughing fit related.
After breakfast we decided it was time for a hotly anticipated "Dance Party" (one of the Christmas activities that the kids decided we must do). We played wii games, some Apple TV dance thing and DDR. You will be relieved to know I did not unduly exert myself. Amelia danced with great vim and vigour, leading us to decide that probably she does not have stomach flu.
After lunch the kids all needed to get out of the house so I proposed a little grocery shopping expedition. I know it hasn't been 24 hours since I last left the house but I was feeling serious cabin fever so I insisted on going along. Brendan made me take my blood pressure first (it was fine).
We had beef fondue in front of the fire, with broccoli and peas. We hadn't intended to have peas for supper but according to Elizabeth we ALWAYS eat peas New Years Eve.
Then the kids put on glow in the dark glasses and we watched the grand finale fireworks Auntie Janice taped in August and counted down to Brazilia midnight.
Happy New Year everyone! May you have a wonderful 2018!
You might also like:
-
Broken nose
-
Grading for a brown belt
-
Welcome 2019
-
Family Day
-
A shower and the Great Glebe Garage Sale!
December 30, 2017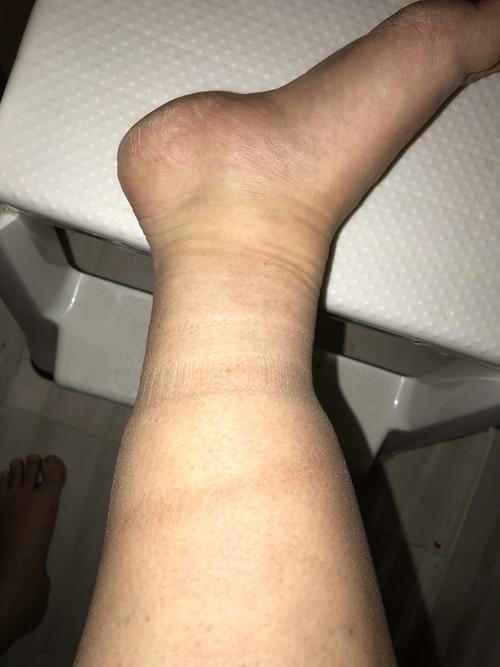 For the first time in four pregnancies I've had to remove my wedding ring and leave it off due to swelling in my fingers. I did have some trouble with swelling feet, but this time around I'm having trouble fitting into my boots - if I wear them somewhere and take them off there is no guarantee I can get them all the way back on when it's time to go home. The marks in the photo are from my "loose" socks (which I don't like normally as they fall down). The dark line is bruising from socks worn last week, and when I take off my socks the skin is numb and tingly.
I've had a few other warning signs that mean that I'm now under instructions to take it VERY easy and to monitor my blood pressure.
Baby day is coming fast but since my blood pressure is going up and down like a yo-yo there are questions as to whether I'm actually going to make it to my C-section date. I really hope so since I have a terrible cold, stuff still to do, my wonderful OB is on vacation and my mom's not here yet...
In any case Brendan and I got to verify that we still know our way to the labour and maternity ward at the Montfort today, but since my blood pressure had gone down again by the time they were monitoring things they sent me home with instructions to keep my feet up and take it even easier than I had been. Just when I want to be out and doing all kinds of things too... Sigh.
You might also like:
-
Weather board
-
Fall
-
Shark!
-
Hair Tourniquet
-
Skating
December 29, 2017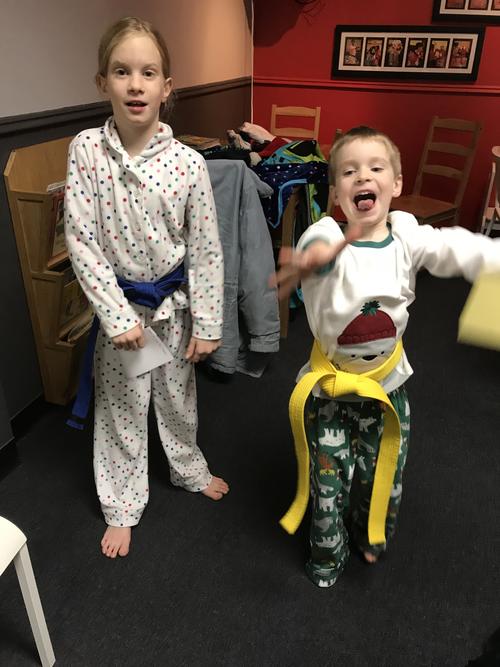 There have been some special karate classes over Christmas break. On Wednesday Elizabeth got to spar with Sensei Robbie Lavoie ("He taught me lots of cool tricks!"). Thursday she had a special kata class with Sensei Suba (apparently she learned new ways to make snapping sounds).
Friday was PJ day!
You might also like:
-
Artist Maria
-
Strawberry picking
-
Twelfth night
-
Red leader
-
Epiphany
December 28, 2017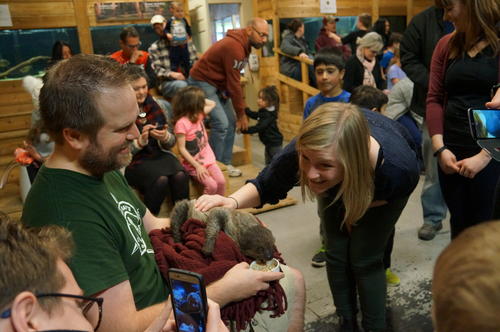 Rachel and Creighton were back in town for Christmas and we decided to go to see the baby sloth at Little Ray Reptile Zoo. (Rachel LOVES sloths, as it turns out)
Of course, we were all loaded into the car before we discovered that the extreme cold had caused our van battery to completely give up. This was extremely disappointing as Elizabeth really wanted to see Rachel so I texted our various neighbours to see who might have jumper cables. Imagine our gratitude and surprise when Marit replied with the offer of their van! Time was short so we took her up on her very generous offer and off we went to admire the animals. Rachel was swarmed by small children as usual, although Matthew deserted her in favour of his "number one buddy" once Victoria showed up.
Petting the sloth was definitely the best part...
We brought back the van and then headed over to Lauren and Ronnie's for neighbourhood pie day and a whole lot of playing.
You might also like:
-
Wedding #RayCray2016
-
Number One Buddy
-
#Jessdoesthemath
-
Strawberry picking
-
Operation Little Glass Robin