January 16, 2018
Pastor Michelle came by today to meet Michael. I was feeling slightly better and actually made it downstairs
You might also like
- Cousins
(0.253886)
- Visit from Michael
(0.237705)
- Distanced walk
(0.217617)
- Christmas cake
(0.214689)
- Slime with Lindsay
(0.213904)
All
January 15, 2018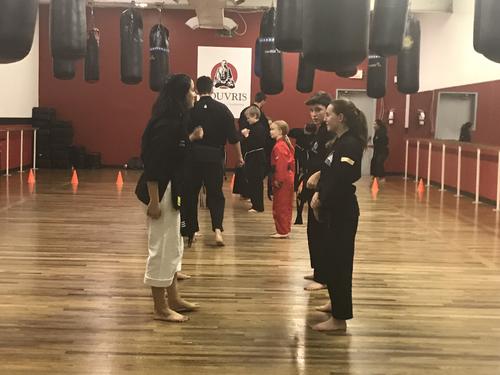 Our Wednesday schedule involves Elizabeth going to piano, then eating supper at karate before her blue belt class. So this is why she happened to be around during the black belt class immediately before hers. They were missing a person needed for doing their throws and things. Sensei Cody asked her whether she'd like to fill in. Of course she would! She had a big grin as she learned how to be tossed on the floor (and how to toss others). She looks forward to getting to go to this class all the time.
There are bonus Grandma H with Michael and Michael and his sibling fan picture photos in here, because let's face it, the baby is the main attraction around here at the moment.
You might also like
- Red gi for Matthew
(0.321212)
- Erika is 14
(0.319257)
- Elizabeth is eight
(0.315493)
- Class Bear
(0.315044)
- Camp Otonabee
(0.312139)
All
January 14, 2018
You know I was not feeling good when I had two sets of visitors (Dave, Karen and the kids, and Heather and Andre) and didn't feel well enough to greet any of them. In fact, I do not think that this has ever happened before to this extrovert. I just sent baby down and stayed in bed whimpering and wasn't even slightly tempted to have anyone up to visit.
You might also like
- Maundy Thursday
(0.281984)
- You known you're real parents when...
(0.268844)
- Wine contains alcohol
(0.268623)
- Auntie Janice
(0.268519)
- Heidi and Tante Elfi
(0.267544)
All
January 13, 2018
Matthew got a stripe on his yellow belt! He was pretty proud of himself. I haven't got a great sense of whether he likes karate or not. If you ask him after class, he wants to go back "right away!" or "I have to go tomorrow for sure!". But before class he is all "let's skip this class and go next time". Mom and Dad think that the extra physical activity and discipline building is particularly useful for this rambunctious little boy, so he's stuck with it for the moment.
You might also like
- Matthew's baptism birthday
(0.316344)
- Four stripes to black belt
(0.311508)
- Two stripes
(0.310924)
- Swimming!
(0.307036)
- Isabelle is TWO
(0.304924)
All
January 12, 2018
Michael is two days old and it's warm enough outside that there was fog on the way to visit the pediatrician for his first well baby checkup. (Did I mention I miss midwifery postpartum care?)
You might also like
- Dating ultrasound
(0.257525)
- Happy Birthday Rachel
(0.25188)
- First Popsicle
(0.251232)
- Waterpark
(0.245902)
- Backyard camping
(0.238754)
All