January 26, 2018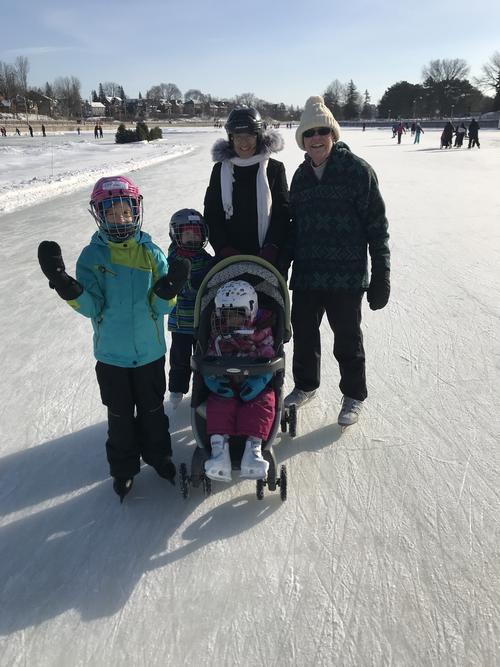 The canal has been open but it was too cold or too hot (temporarily closed) for the kids. Today was a PD day and the weather and ice seemed cooperative so I sweet talked Brendan and the Grandmas into taking the older three for a skate from Patterson to Fifth. Elizabeth had a birthday party so they just had time to get a beavertail before having to head back, but the kids didn't mind.
You might also like:
-
Commuting by skates
-
Late night skate
-
Matthew on the canal
-
Skating on the Canal
-
Brendan's party
January 24, 2018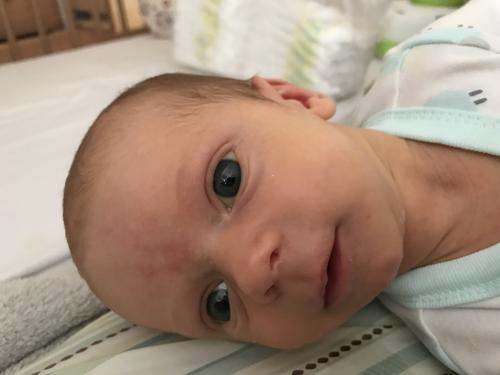 Two weeks! Recovery so far has been more difficult than anticipated, which means that baby and I have spent much of the time upstairs in bed. Since he's at the nursing all day and night stage, unless he is sleeping or pooping this hasn't exactly been a big deal.
Michael is definitely adored by his siblings, who all fight over who gets to feed him his daily vitamin. Elizabeth is definitely smitten and is old enough to be useful holding him and carrying him around - I highly recommend an eight year gap between siblings at the newborn stage anyway.
Michael hates being cold and rarely cries except when being changed (because he's cold). Usually he'll give a single small cry "waaa" when he's upset - it's more of a complaining wail than anything; before working up to real crying if whatever it is isn't rectified promptly (dirty diaper; gas; hungry). I don't find him particularly fussy.
Everyone is relieved that he isn't projectile vomiting like Amelia (yet?). Daddy spends a lot of time looking at his eyes to see if they will be changing from their current blue.
Also today: Riki and Dave from our house group stopped by with a meal and to get in some baby cuddles.
You might also like:
-
Michael at 1 month
-
Four months
-
Michael at 2 months
-
Nine months
-
Backyard camping
January 23, 2018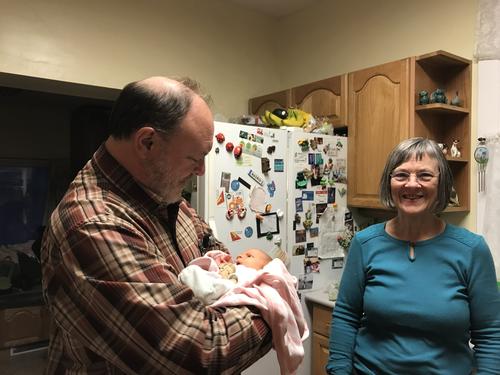 We took Michael in to get his hearing test and unlike Amelia he was super cooperative. We were in and out in about five minutes! (His hearing is fine)\
Grandpa has arrived along with Auntie Muriel who gave him a ride from Toronto.
Amelia was too shy to say hi to Muriel at first but immediately greeted Grandpa with a hug. I guess regular visits over Skype officially work better than in-person visits every few months, at least in her case.
My neighbour Lauren also stopped by to trade baby cuddles for treats :)
You might also like:
-
Breakfast at Great Aunt Muriel's
-
A Cuckoo Visit
-
Gatineau Park Ski
-
Feeding the birds
-
#Jessdoesthemath
January 22, 2018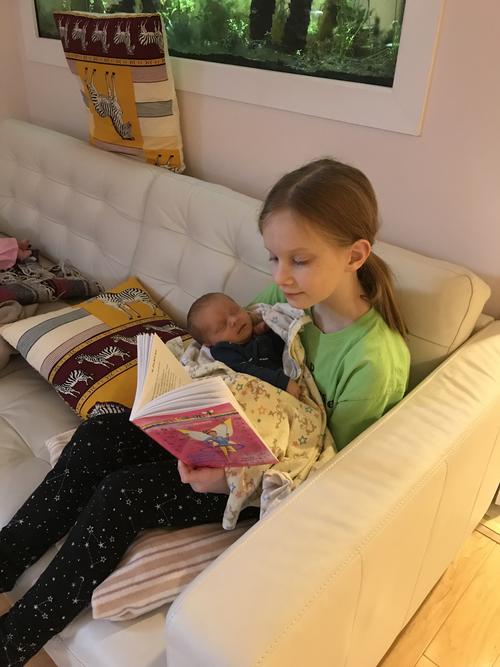 What homework looks like around here recently (subtitle: Elizabeth is smitten)
You might also like:
-
Red stripe
-
Tump tump
-
Play structure
-
Walking the pets
-
Pretty in orange
January 21, 2018
The kids got all fancy for church so we grabbed the photo op. You can tell it wasn't terribly seasonal weather (super warm!), but the kids enjoyed playing outside without their coats.
Our neighbours Marit, Francesco and their three kids came by for afternoon tea and to meet Michael which was loads of fun.
You might also like:
-
Angie departs
-
Ice Cream Party
-
Janice has a birthday
-
Baby shower and Canal
-
First day of Holidays