February 10, 2018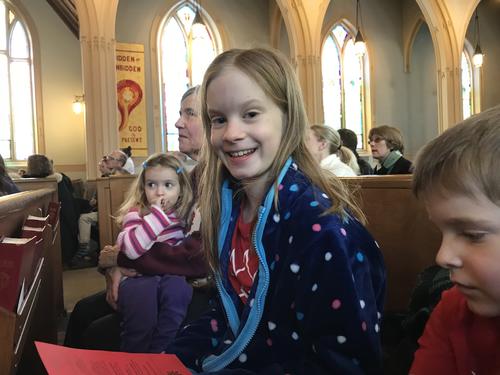 I normally make Elizabeth pick a piece that no one has been practicing lately in order to spare the listeners from five renditions of the same piece (and to spare angst in comparing her performance to the other kids - she can be a wee bit competitive). However, I was just a bit distracted in the weeks prior to this recital and didn't help her pick or practice a recital piece. So for once she played the piece she had been working on in class, and for once she wasn't particularly nervous beforehand. Go figure!
Matthew had selected a recital piece quite a few weeks in advance and then abruptly changed his mind the day he had to declare his choice.
So actually choosing pieces was much more stressful than usual, but the recital itself was great.
Amelia practiced her song at home with GREAT enthusiasm, boogying all over the living room with much wiggling of hips and bum. So I was sure she wouldn't participate at all during the actual recital. I was pleasantly surprised that she actually shook her shaker and didn't cling to Janice like a petrified monkey!
Everyone was quite pleased with their performances after the fact and we were proud.
You might also like
- Virtual Piano Recital
- Music Recital
- Mother's day karate, spring fling and recital
- Lac des Loups
- WKC Worlds
February 9, 2018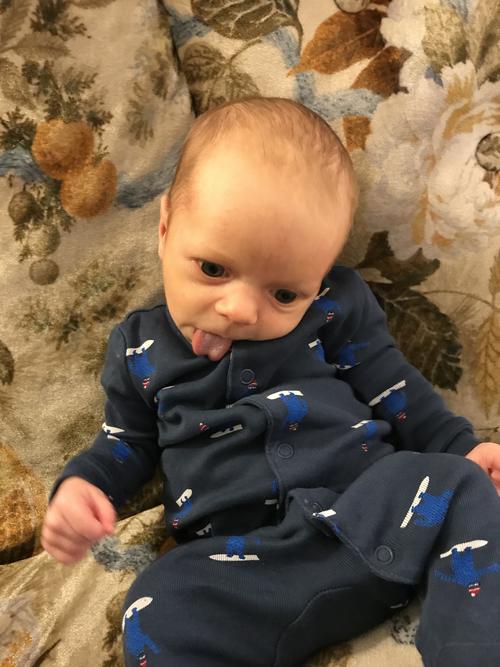 Daddy's take: At one month Michael is taking his duties seriously. He nurses, sleeps and produces like a champ. Otherwise he is angelic as long as when he eventually declares that no one ever feeds him, he is promptly provided with his food source. If said food source is indisposed for more than a short while the world will hear about it. There have been a few glimpses of smiles (of the non gas variety) and he is still taking a great interest in the world around him. Staring at everything with big eyes (which are still slate blue and no one can quite decide if they are getting bluer or browner). Elizabeth continues to refer to him as "my baby" and carts him around at every opportunity. She has even changed a few diapers and enjoys proclaiming loudly about how she even changed a poopy one.
Mommy's take: Michael is remarkably non fussy and rarely cries unless he is cold or having his diaper changed. He also doesn't seem to be particularly "spitty", to everyone's great relief. Hopefully writing this down doesn't come back to haunt me!
He sleeps well every other night - I'd say he isn't quite on a 24 hour cycle. Usually he has two long sleeps of four hours at a time, one sometime in the morning and the other usually overnight. Then he nurses most of the rest of the time in between a few shorter naps. When he sleeps he likes to have a lot of blankets. He seems to need to be warm. At first I worried he was getting overheated and kept checking his temperature as he's a bit of a furnace but after a while I decided to go with it (temperature was always normal!)
When he's awake he seems unusually alert. He makes big eyes, taking it all in. He twists his head until it seems like it will fall off looking around at the world. Like his siblings he has figured out holding his head up at an early age, but we still try to be close by if Matthew or Amelia are holding him as they aren't quite able to help support his head if necessary (babies get tired!).
Elizabeth loves helping with Michael, it's like having her own live doll, she says. She's been a huge help, rocking, dressing, undressing and even changing diapers!
You might also like
- Three Months
- Nine months
- 2 months
- Two months old
- Amelia 21 months
February 7, 2018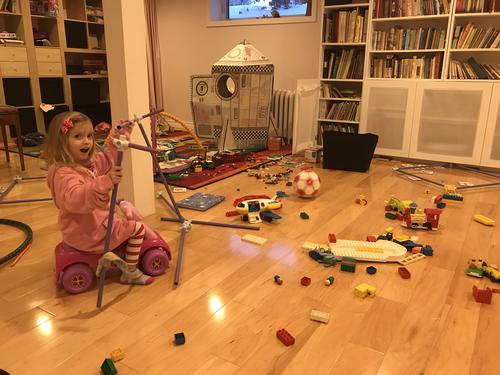 My basement frequently looks like the toy monster threw up these days. This is life with four kids. Super grateful for the "toy bomb squad" aka Auntie Janice aka best sister ever who has been helping clean up.
You might also like
- Fall (reprise)
- Handwashing
- Thirteen
- First Steps
- Birthdays
February 4, 2018
It was our first outing "en famille" and we managed to get to church before the service started! This would be partly because we were aiming to be there half an hour early. Luckily Michael's godparents Kate and Joel had our backs and collected our paperwork. Also we've done this before so Pastor Michelle wasn't worried about us not being oriented.
It was fun to introduce Michael to our church family and the many friends, family and neighbours that came. Elizabeth quite enjoyed showing off her baby wrangling skills to her peers, especially to Mila.
I'm pleased to report that we are four for four in the no crying while being baptized department. Elizabeth and Matthew were quite gleeful that "their baby" was so well behaved.
After the service we hung around for a few minutes for hospitality hour at church - they even had gluten free cupcakes! Then it was time for our baptism celebration open house at home. We had make your own pizza and more cupcakes, and we played pass the baby :) Michael was extremely obliging and didn't mind one bit.
It was mom and dad's last evening in Ottawa, so we had a gathering of the clan (18 of us) and Janice organized a Janice-safe "memories of raclette" dinner with sweet potato, beef, peas and swiss chard and a round of special Janice-safe melting cheese.
You might also like
- Halloween
- Birthday party
- Rachel and Andrew
- Piano recital and Mother's day karate
- Gingerbread part two
February 3, 2018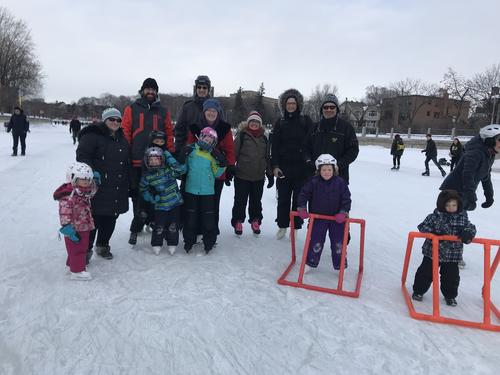 My Uncles Carl, Robert and Murray, and my Aunts Judy, Val, Mary and Joanne all came to visit us this weekend. It's been a LONG time since most of them have been so it was VERY exciting.
Robert, Val and Murray had to leave early Sunday morning, and Joanne wasn't able to arrive until Sunday afternoon after she got fogged in at the airport but it was super nice to see everyone on our home turf.
Elizabeth and Aunt Judy got into a bit of a gymnastics competition that ended with Judy demonstrating that she can still pull off a headstand with the best of them. Unfortunately I *just* missed documenting her triumph for posterity.
The kids were pleased that they got to go skating on the canal. Elizabeth thought she ought to have been allowed to go see ice sculptures too but it was pretty late so not this year.
You might also like
- An update
- Rachel and Andrew
- First Canal Skate 2013
- Happy Birthday Uncle Chris!
- Visitors