February 24, 2018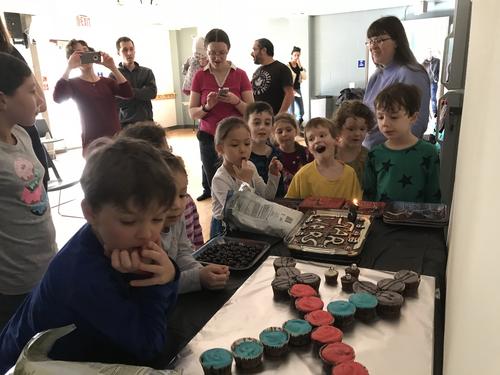 Matthew wanted to have a Star Wars pool party "just like last year" so we booked Dovercourt again and duly sent out invitations.
Sending out the invitations was more interesting that one might think. Turns out Matthew has two sets of twins in his class (he invited both sets, but we hadn't realized that two of the kids were related before the party). He's also mostly hanging out with the Jardin kids. Hardly surprising as he's one of the older kids in his class and he's always seemed mature for his age. Hopefully this isn't super sad next year when they all move to the big school... Franco has a pretty ethnically diverse population so over the years we've gotten used to hearing about kids with unusual (to us) names. I was quite amused to discover that "Pud" and "Ti-han" were actually Paul and Kiran.
The pool part was quite straightforward. Michael was sleeping - he actually slept very obligingly throughout the entire party - so I took the other three kids to the pool while Brendan set up the decorations and took some photos. We were supposed to be sharing the pool with another group but we were by ourselves which was very nice. Matthew tried swimming by himself and actually swam two or three metres unassisted!!! "I just learned how to swim!!" he announced. Elizabeth and Mila did the swim test and spent a great deal of time upside down or going down the water slide in the deep end. Matthew is hoping his swimming will improve enough to let him do the same by next year.
After swimming it was time to move on to the Stars Wars part of the party. We're a little bemused by the current Star Wars obsession as we haven't let Matthew watch any of the movies yet. In fact, we only just decided a few weeks ago that Elizabeth could watch Star Wars for the first time and he was quite put out to be excluded. In any case, both kids have long considered themselves experts and actually know a surprising amount about the Star Wars universe considering that what they know came from friends and the odd library book. This made choosing ideas for the party trickier than expected. Pinterest had fun ideas like action figures encased in blue jello or garbage compactor cake, neither of which would have made any sense to Matthew.
In any case, Matthew described his ideal party as using sticks to battle the other guests in a pretend light saber war. I promptly decided that a little structure in the way of activities was in order to ensure that the hour outside the pool didn't disintegrate into a wrestling match. Matthew and Elizabeth planned the "menu". Chips, popcorn, chocolate balls, juice, chocolate cake AND cupcakes by special request. The good news is that Elizabeth decided afterwards that this was too much sugar and her party is going to feature healthy food like salad in addition to chips, chocolate, juice and cake.
I printed out some colouring sheets, we wrapped some presents for a pass the parcel game and we set up a "laser" maze to climb through. The maze was a great hit although the boys destroyed it at the end about ten seconds before Elizabeth decided that she wanted a turn. "Worst party ever!" she complained, until I threatened to not allow Matthew to invite her next time.
Then the kids opened their loot bags, discovered the glowstick "light sabers" and charged around the room battling each other. "Oh Mummy I had a wonderful party", Matthew sighed at bedtime. "Let's do it again next week."
You might also like
- Double Digits
(0.474234)
- Summer School Summer
(0.46798)
- Crazy Pickles
(0.457507)
- Rainbow party
(0.456897)
- At Mary's
(0.456086)
All