March 4, 2018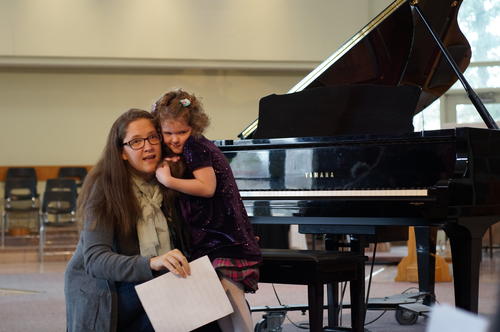 Xander and Isabelle have been doing MYC this year with a different teacher who is in Barrhaven. It's been interesting to see what is similar and different!
The MYC program encourages all the children to write a composition during the year. We typically don't do much beyond possibly playing our compositions in class. I thought it was a really nice idea to have the kids play their own compositions for a recital.
Unfortunately, Amelia was not in the mood for compositions and got increasingly antsy. She was SUPER distracted by some toys she saw out in the hall and wanted to go play - but not without Mommy. She ended up having a spectacular temper tantrum in the car during the second half of the recital. Sigh.
You might also like
- End of Year concert
(0.337349)
- Piano Recital
(0.324695)
- Xander
(0.323129)
- MYC Graduate
(0.321429)
- Baby!
(0.321145)
All
Our bedtime routine has slowly evolved and Elizabeth is now reading her bedtime story to herself much of the time, though she does prefer someone to come and read at least part of the chapter with (or even better to) her.
Usually Daddy walks the baby up and down while I put the "middles" to bed. If they get dressed, brush their teeth and pick clothes for the next day without too much stalling, then we'll have a bedtime story before we attempt prayers and goodnight blessings. Prayer time is a bit of a trial, to be perfectly honest, but that's a whole different story...
One of Amelia and Matthew's favourite books at the moment is a Little Critter book called "You go first" by Mercer Mayer. Amelia likes it in part because it's really long so it delays bedtime (but it's not so long that I insist on not reading the whole thing), and also because it's a bit scary, but not too scary. Matthew likes the scooter part. Anyway, in the book the mom makes these amazing pancakes and the kid complains because he doesn't get the first one. My kids looked at each other and sighed. Then Matthew said: "and he doesn't even know what it's like to be a kid like me that NEVER got to eat smiley face pancakes at ALL". I can take a hint...
You might also like
- Amelia is 2
(0.4)
- Farm Camp and On the Water Camp
(0.392231)
- Amelia is 4
(0.391011)
- 19 months
(0.386853)
- Piano Recital
(0.386014)
All
March 2, 2018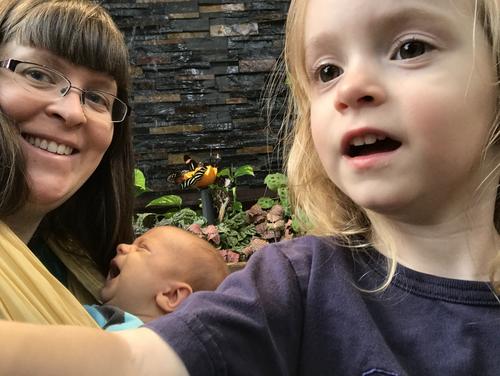 Amelia wanted to take Michael to the dinosaur museum so we went to see the butterflies. And dinosaurs. Turns out she wanted me to pretend to feed him to the dinosaurs and take a picture (this is tradition and the kids have discussed it a lot). We had to settle for a selfie since I couldn't operate child and camera at the same time.
Amelia has now reached the age where she's quite interested in the little videos at the museum. She has her favourites that she always needs to watch.
You might also like
- Buddy Day
(0.317073)
- Ultimate Dinosaurs
(0.314501)
- Cousin Marc
(0.300813)
- Baby shower and Canal
(0.299735)
- Twenty-two months
(0.299703)
All
March 1, 2018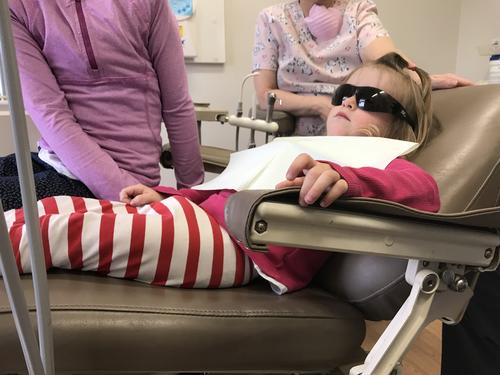 We took the whole family to the dentist. It wasn't as traumatic as last time to do all the kids at once. Matthew was as good as gold - just lay down, opened his mouth and let the dentist clean his teeth. Elizabeth was very chatty and friendly until they wanted to clean her teeth and then she was reluctant to even lie down. But in the end she did stop being a pain and got her teeth cleaned. She was great with her sister too, helping her lie down and have her teeth inspected. I think Amelia would have allowed a cleaning but since it was her first real checkup we didn't want to push our luck!
I probably have a cracked tooth that needs attention by a specialist. Boo!
After our visit Amelia cracked her head on something. Yes, again. Luckily no concussion this time.
You might also like
- Dentist
(0.407609)
- Dentist
(0.364754)
- Race Weekend (Children's Marathon)
(0.364686)
- Sleepover
(0.36425)
- Boxing Day
(0.35625)
All
February 28, 2018
For Elizabeth's birthday she had candles in her strawberries and chocolate Chex. The chocolate Chex was a special request as we aren't eating chocolate or dessert during Lent - except for birthdays and Sundays. (And no, stuffy birthdays don't count; this loophole was indeed discussed and rejected.)
It was the warmest February 28th on record today, going up to 10C so I let Elizabeth bring Michael to the bus stop. For lunch Elizabeth had a special request: "extra nori!"
We usually go out to a restaurant for birthdays, but when we talked about it Elizabeth realized "we have a timing problem". I gave her the option of going out for breakfast (but missing the bus), or lunch (but then no specially selected repas chaud at school, plus missing some school), or supper (but then missing music and/or karate and/or going to bed super late). She decided that she would rather not go out than modify her routine, provided that we could go out another day. I did surprise her with a Happy Meal at karate! After karate we had cake and presents.
Ultimately this reasoning and sensible behaviour actually sums up Elizabeth at nine pretty well. She is showing definite signs not only of turning into some sort of crazy athletic person but also a very sensible one. She has recently done shocking things like cleaning out her bedside toy box and declaring that "I have too much stuff in here, maybe I should get rid of some of it". She is generally quite mature, kind and thoughtful. She does still have a tendency of not wanting to be wrong (to the point of saying truly ridiculous things to pretend she knew something all along when she clearly didn't). This aside she is totally delightful 99% of the time. She is still super popular and friends with about half her school. She loves to read (mainly in French), sing, play with friends, draw, show off her flexibility and climb trees. She is super active: dance, swimming, karate, skating, running and generally playing outside. Her teachers all think she's amazing and are super proud of her independence and academic prowess. Elizabeth has also shot way up and is now one of the tallest of her friends and peers.
We really couldn't be prouder of our not so little girl.
You might also like
- Double Digits
(0.418384)
- 16 Months
(0.407018)
- 4.5 Amelia
(0.404902)
- Chateau Laurier
(0.40411)
- Matthew turns 8
(0.403783)
All
February 26, 2018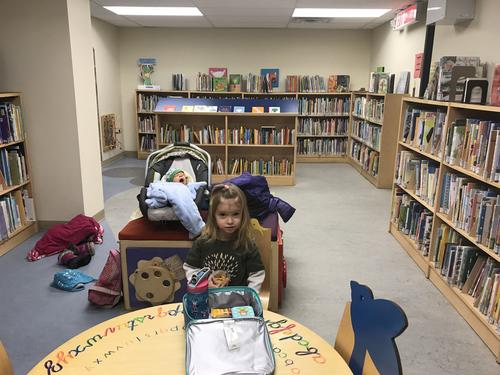 While I've been recuperating at home, other people have been stepping up to take the older kids to their various activities. Brendan says that one of the things he's missed most is my help with the driving - he feels like he spent the last month in the car! I'm not the only one excited to get my wheels back.
Monday mornings Amelia has music class with Mrs Shana. My mom and I took Amelia to her class the week of Michael's birth as a transition. Then the following week, Amelia got to have TWO grandmas at music class. She seemed pretty tickled about the two grandmas, but by the next week she was quite definite that she only needed one grandma at music class. Luckily she decided that it would be acceptable for that one grandma to be Grandma Margaret, since Mom isn't on our insurance and had no way to get there! Margaret has been taking Amelia pretty much every week since.
This morning Margaret was in Mexico. Amelia was not amused, but grudgingly accepted that maybe it would be okay if Mommy came to music with her and Michael. So off we went. Michael slept through most of the class quite obligingly. When he woke up, Shana helped hold him for a bit when Amelia decided that she needed me to carry her (I think Amelia was feeling a bit jealous!)
After music we headed to the library for a snack. We even got to wave to the passing train on the way, so Amelia was super pleased about that. Michael got his first library card and a welcome book.
In the evening Matthew didn't want to go karate because he wanted to build legos, but since he's been building legos non-stop since Saturday we thought better go work out some of that excess energy. Plus our deal is that if Matthew wants to quit karate then he needs to tell us that at an appropriate quitting point, and not five minutes before a class. Matthew says that he doesn't want to quit, he just wants to build legos and then go to karate after. He told me in the car that he wants to learn kung-fu instead because it's taking too long to get to the fighting part of karate and his friend says that kung-fu is better. (I pointed out that he'll get to spar sooner if he actually goes to his classes...)
Anyway, Matthew said he'd only go if Mommy drove him, so I called his bluff. And that's how Michael got to go to karate for the very first time. He slept through the entire class, waking up only to charm everyone with his big blue eyes on the way out the door.
You might also like
- 52 cm of Snow
(0.45233)
- Pandemic ER - Civic Edition
(0.436199)
- Home
(0.435965)
- London
(0.432558)
- Rachel and Andrew
(0.432044)
All