April 4, 2018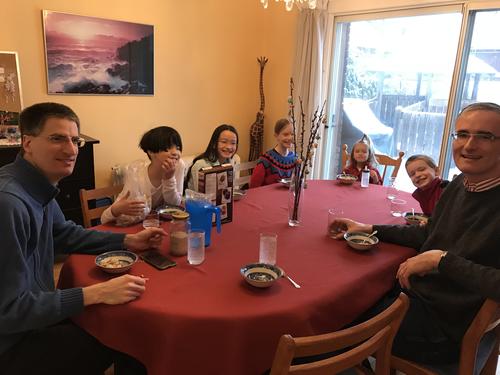 Chris, Maria and Erika have all moved back to Canada from Japan! They are living with us for the next few months as their house is currently rented out until the end of June.
You might also like
- Erika and Maria start karate
(0.267717)
- Two birthdays
(0.262357)
- Joanne
(0.256809)
- Yukiko arrives
(0.252212)
- Joey and kids
(0.251046)
All
April 2, 2018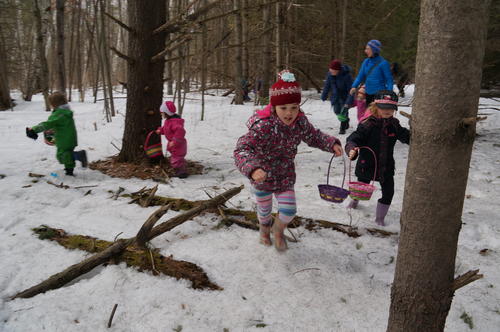 There was still snow on the ground and I have to say that coming around the corner to find hundreds of eggs scattered all over the woods is quite magical.
This year we divided up the bags for easier hiding and tried to improve the water proofing especially for those candies more prone to becoming disgusting if waterlogged. I actually searched around for eggs without holes but it seems that the hole is an integral part of how they are made.
Marit and her brother came to help me stuff the eggs this year which was super appreciated, and Lynda also gave me some pre-stuffed. All told we had some 400 eggs or something ridiculous, but we also had a pretty good turnout of kids who were quite happy to collect them all.
You might also like
- Grandir Ensemble
(0.325733)
- Elizabeth end of year concert
(0.321752)
- Easter egg hunt
(0.316147)
- Skating and Swimming
(0.314504)
- Holy Saturday
(0.313202)
All
One thing that drives me insane about the kids' current life stage is their desire to make magic potions.
Specifically, this involves raiding my spice, flour and flavouring cabinets, soap and a LOT of food colouring.
Now, I like to think I'm a chill mom about this sort of thing but while I can overlook using a few drops of food colouring here and there, it's much harder to focus on the creativity and fun of the activity when my yellow (hard to find in bulk) food colour just got (literally) poured down the drain, my pure vanilla extract bottle is half empty (why?? Why not use the artificial stuff?!?) and there's a couple of tablespoons of chili powder dumped all over the counter.
But then I take a deep breath, remember how much fun it was to make my brother eat "magic potions" (watered down shampoo, if I recall) and resolve to make sure the kids know that the magic only works if applied externally.... outside... to the ground...
You might also like
- Sledding
(0.321384)
- Orange swimsuit please
(0.312585)
- Cooking Class
(0.311989)
- We don't eat our feet
(0.311724)
- Ice balloons
(0.311576)
All
April 1, 2018
Alleluia! He is Risen!
Easter Sunday 2018 included our annual indoor Easter Egg hunt, chocolate nest cereal (courtesy of Auntie Janice), hospitality hour at church for lunch, Skyping with Lorianne and a big roast beef dinner.
It was also April Fool's day. Matthew had a haircut while Elizabeth was at book club, so he told her that his hair disappeared while he was sleeping. Elizabeth gave me a fish (it took me FAR too long to figure out what on earth the fish was for), and Brendan and I turned the milk green, as per tradition.
I've had orchids for years - they are my favourite flower and were in my wedding bouquet, but usually I baby them along for a decade or so and then throw them out after I forget to water them and they dry up. So around Christmas I was pretty excited when one of my orchids started to bud! Then I was pretty devastated when one of my children broke off the spray by being careless with a curtain (they aren't even supposed to touch). Luckily the orchid was pretty determined and it bloomed for Easter! The first few crocuses are poking up outside too.
The bishop visited our parish for Easter, so there were several baptisms and confirmations. Elizabeth's friends Peyton and Riley had their first communions. The congregation was invited to bring in their baptism candles to be lit from the newly baptised, so Janice and my kids did! I have no idea what happened to Brendan's baptism candle but don't think I ever had one of my own. Michael was asleep so we opted out; I had my hands full preventing Amelia from lighting her hair on fire as it was. It was a pretty cool moment.
He is risen indeed. Alleluia!
You might also like
- Grading for a brown belt
(0.379032)
- Amelia's third birthday party
(0.376947)
- Christmas Pukefest
(0.374263)
- Party day
(0.373737)
- Easter Sunday
(0.372897)
All
March 31, 2018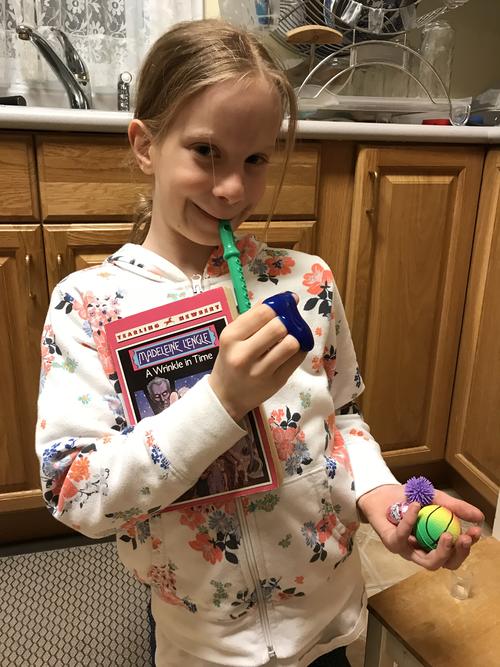 Douvris has started a book club and as soon as Elizabeth heard about it she really wanted to join in. As an enthusiastic reader myself, it's slightly bemusing that my reading aged kid is somewhat indifferent to books. I've apparently managed to keep my misgivings to myself as she describes herself as "a good reader" and "liking to read" (hooray!). In any case, the first month Elizabeth had a scheduling conflict but she was determined to go to book club for month number two.
The assigned book was A wrinkle in time. Grandma J had given it to her two Christmases ago and she had started it then but wasn't able to get into it. This time round she ploughed through it determinedly, but it was clear early on that it's still a bit beyond her English reading level, at least within the required time frame. I ended up reading about 3/4 of it out loud to her in the interests of finishing it before book club.
What did Elizabeth think of the book? "The author likes to go to church." When pressed for clarification, she explained that Madeleine d'Engle had written down many bible verses that Elizabeth knows as part of the story. Which is absolutely true! Elizabeth was not a fan of the ending. "But Meg saves Charles Wallace!" I protested. "I like to know how things end" she explained. "The book doesn't tell me what happened to Mrs Whatsit, Mrs Who and Mrs Which."
At book club they apparently had quizzes and prizes and got to wear awesome funny glasses. Book club is "amazing" and "great" and she was excited that her team won because she knew all about the book.
Next month they are doing Charlie and the Chocolate factory!
You might also like
- Grade 1 update
(0.38408)
- La lièvre et la tortue
(0.379415)
- Virtual School: Week 35
(0.379218)
- Grading for a brown belt
(0.373717)
- Calypso
(0.372567)
All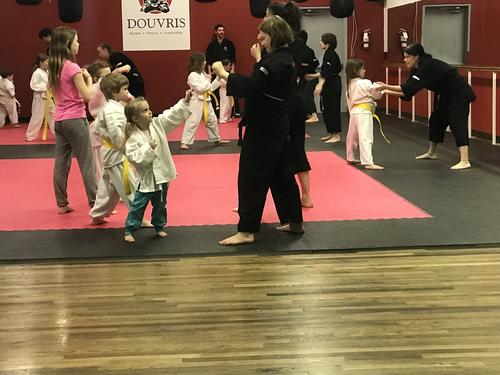 Amelia is really interested in karate and often pretends she is doing karate at home. (Along with ballet and being a tiger).
Matthew has been trying to invite a buddy for buddy day at karate for quite a number of months now, but his choices keep falling through. So he decided to ask sensei Cody if Amelia could be his buddy.
She was extremely excited right until we arrived at the dojo. And then she refused to go in, no matter how much Matthew cajoled. Michael was sleeping so I agreed to come in with her and we sat and watched for a bit while the various black belt kids tried to make friends with her. No dice, until Cody came along to save the day (Amelia is already friends with Cody you see).
Didn't take long after that before she was bear crawling with the best of them. She had a blast!
You might also like
- Pie Day
(0.346154)
- Butterflies 2015
(0.340278)
- Lac des Loups
(0.340223)
- Family Day
(0.339837)
- First stripe!
(0.339286)
All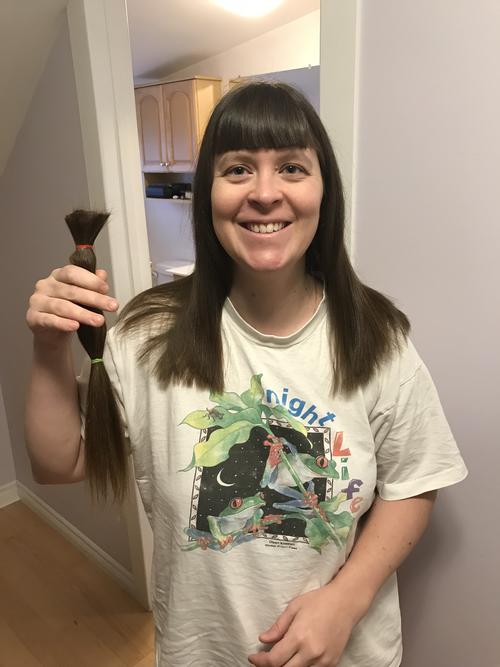 Michael had a third piece of hair tangled in his toes this morning and although we had a very busy day planned I decided that enough was enough - it was time to do something drastic.
15" of hair cut later I'm hoping that this puts an end to the hair tourniquets.
You might also like
- The boys get haircuts
(0.283668)
- Cottage Pony driving
(0.28115)
- Fall
(0.27957)
- Palm Sunday
(0.273292)
- Number One Buddy
(0.271053)
All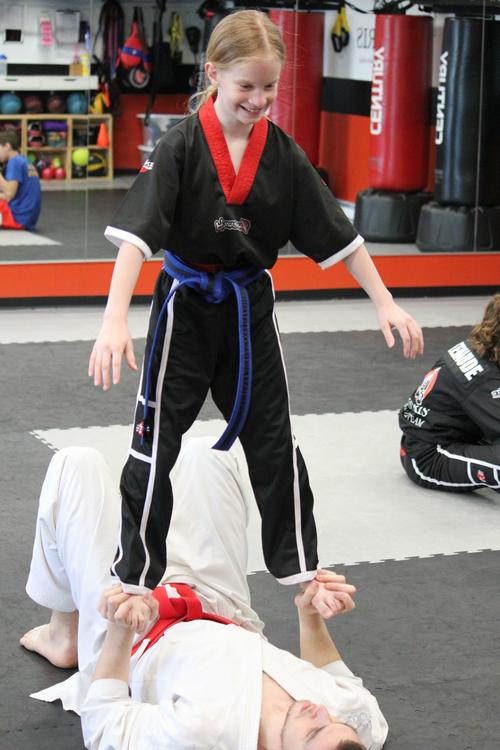 While Amelia was being Matthew's buddy at karate, Elizabeth was at part 2 of a special karate seminar with sensei Daniel Gaysinski at the Barrhaven location (the first part was yesterday evening). Sensei Daniel is hoping to compete for Canada in the Olympics for 2020 and he is quite amazing to watch.
I walked in just as each kid had a chance to try sparring one on one. Most got flipped for their troubles, though sadly Elizabeth wasn't one of them. She assures me she was flipped several times earlier. After the class some of the kids got him to autograph their gear but while Elizabeth kind of wanted an autograph she didn't want to mark up her gear (whew). She's really hoping she gets to cheer him on at the Olympics now.
You might also like
- First day of Maternelle
(0.341346)
- Cobra
(0.333333)
- Pukefest
(0.33277)
- Ski
(0.331783)
- Sheep Shearing
(0.329394)
All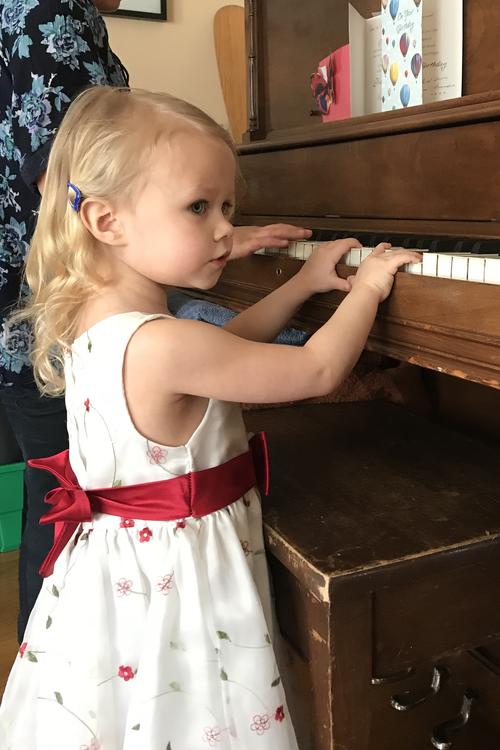 After buddy day at Bank street, I took the three youngest kids and headed for Evelyn's birthday party. Elizabeth was a bit annoyed about missing out due to her seminar but I did go pick her up and she got to eat superman cookies and cake and as she said she would have rather been being flipped by sensei Danny than have a longer time to play with Aidan and Caitlyn. As long as I agree that she can go play with Aidan and Caitlyn another time LOL.
You might also like
- Cousin Camp: Picnic
(0.320482)
- Olivia's birthday party
(0.307847)
- Angie
(0.306075)
- Cousin Tshirts
(0.298876)
- Xander
(0.293774)
All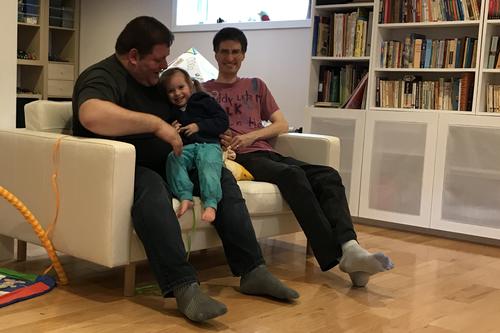 After the party, we headed home to hang out with Amelia's godfather Michael.
You might also like
- Distanced walk
(0.285714)
- Swiss Chalet
(0.28125)
- Raking leaves
(0.258333)
- Baby time
(0.255319)
- Visit from Michael
(0.242424)
All
March 30, 2018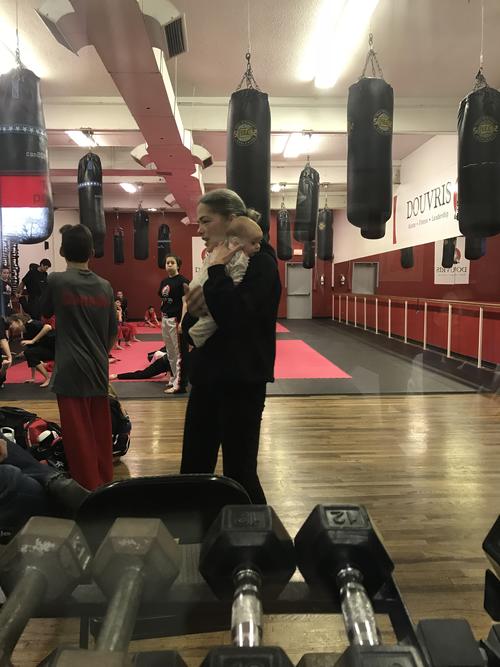 Babies are pretty popular at karate, even if they do sometimes christen the gis. Sensei Brigitte especially likes to steal Michael. This time she kidnapped him and took him into the dojo for tournament team lol
You might also like
- Baby time
(0.243446)
- Another stripe
(0.239884)
- DQ
(0.230769)
- July food
(0.228228)
- Maggie's birthday pinata
(0.220833)
All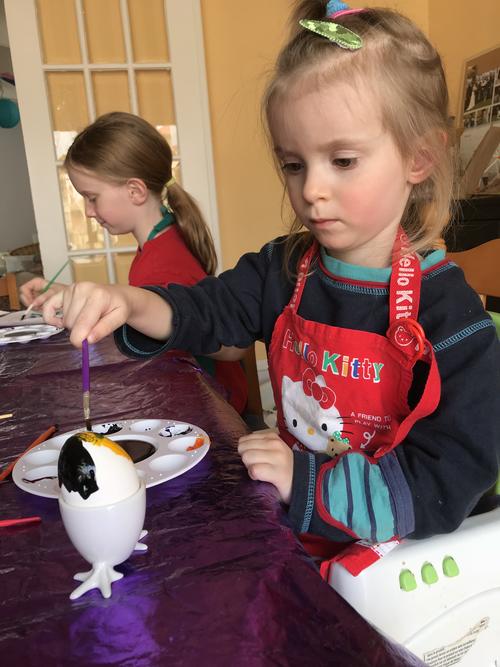 Good Friday is time to prepare for Easter Sunday. We kept it low key, decorating eggs and making hot cross buns.
Matthew got to try the hot wax for his first time.
You might also like
- Grading and birthday party
(0.299539)
- Let it Snow!
(0.28934)
- Trotting
(0.26556)
- Ratatouille
(0.261905)
- Cottage Days: Point Swim and Treasure hunt reprise
(0.250896)
All