April 13, 2018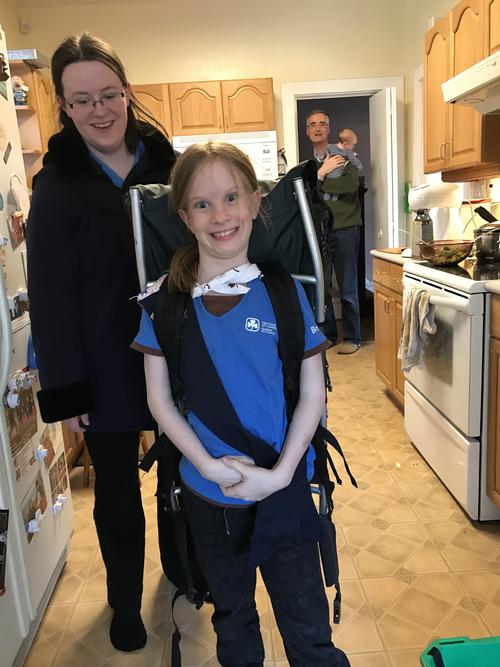 Elizabeth was away all weekend for Brownie Camp with Auntie Janice! She was super excited. The best part was "everything". They sang songs, they had campfire, they slept away from home!
The provincial karate tournament in Burlington (at which she almost certainly would have qualified for nationals, based on how her teammates did) were held the same weekend, and she was sad to miss out. Given though choice between the two it was no contest though. After all, she only gets to do brownie camp once!
You might also like
- Life with two kids
(0.31769)
- Muriel and Pat come to visit
(0.31631)
- Karate Tournament Sunfuki Mania
(0.313726)
- Christmas Day 6: Sleepover day
(0.313462)
- DQ
(0.312364)
All
April 12, 2018
Michael is big enough to be propped up in the bumbo now, at least for a few minutes. He absolutely loves sitting up like a big kid and the big kids think it's the greatest thing ever.
Amelia demanded that she help me make supper and told me that baby Michael wanted to help too. So I made it happen!
You might also like
- Snow platypus
(0.309824)
- Beach
(0.305405)
- Music Recital
(0.296524)
- Tent sleepover
(0.294118)
- Fort Magic
(0.287154)
All
April 11, 2018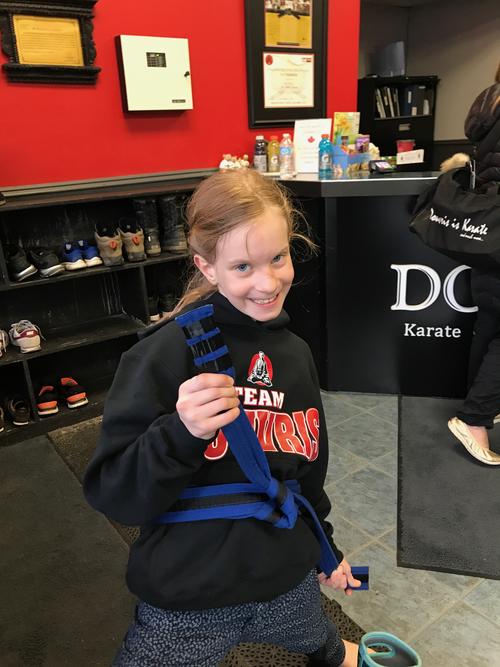 Looks like Elizabeth may be heading to grading April 21st and getting her brown belt!
She was pretty excited to get her new team hoodie, but ecstatic to get the stripe!
You might also like
- Red stripe
(0.398649)
- Green Belt, one stripe
(0.318182)
- Third Stripe
(0.316038)
- Erika has 2nd stripe brown belt
(0.307263)
- Matthew has a yellow belt
(0.306383)
All
April 10, 2018
At three months Michael has discovered his hands and toes. He is just fascinated by his feet. He wiggles them and then they move! He's quite fond of sucking on his hand and sometimes this will do in lieu of nursing for a few minutes. He's quite good at self-soothing.
He is spending more time awake and looking around rather than nursing/sleeping/pooping. Many people comment on what big eyes he has. He's still pretty good natured and smiles a lot at other people. This can get annoying in the grocery store when I can't walk 20 metres without someone asking me how old he is or telling me how gorgeous my child is which is lovely the first few times in an outing and then increasingly awkward as I start to run out of time to complete my shopping. At least no one is asking me how long he has to live.
All the sleep books say that you are supposed to put your child to bed while still awake so that they learn to go to sleep. Michael is the first child of mine where that works. More often than not I can nurse him to the edge of sleepy, then put him down and he just drifts off.
Michael doesn't mind being held by other people as long as he isn't hungry. He's especially fond of being held by Daddy or Elizabeth, although he has big smiles for all his siblings provided they aren't trying to manhandle him. Amelia has taken to twisting his arms and fingers or jumping uncomfortably close by, so I try to never leave them alone together. Matthew is very taken with his brother. He desperately wants to be old enough to tote baby around like Elizabeth but his arms aren't quite long enough to hold the baby without it being awkward.
He's now big enough to start having stroller rides (acceptable) and to bathe in the big tub with Elizabeth's help (popular with mom and sister, he's not sure what to think).
Michael went to CHEO the other day for a follow-up ultrasound on his kidney which was going the right direction but was not yet normal. He's also got an appointment with a urologist in June, which we hope won't be necessary. The ultrasound was booked by the pediatrician that saw him when he was first born, but our regular pediatrician referred him to the urology department after his previous ultrasound. All very confusing but we decided to wait and see what his results say!
You might also like
- Michael at 1 month
(0.430221)
- 19 months
(0.428091)
- Dr Lynn is leaving :(
(0.427637)
- How many weeks?
(0.425699)
- 23 months
(0.424242)
All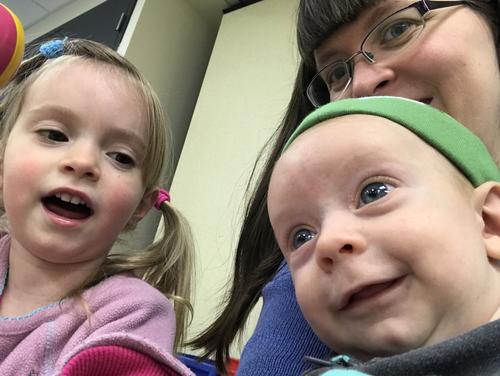 This morning Michael rode in a stroller without the car seat for the first time on the way home from walking Amelia to preschool. In the afternoon, Michael went to baby time for the first time. He looked and looked at all the other babies. Amelia helped him "clap" his hands and shake his shaker.
You might also like
- Fall
(0.306273)
- Distanced walk
(0.276151)
- Social Distance Walk
(0.273038)
- The boys get haircuts
(0.271429)
- Pumpkin Carving
(0.269896)
All
April 9, 2018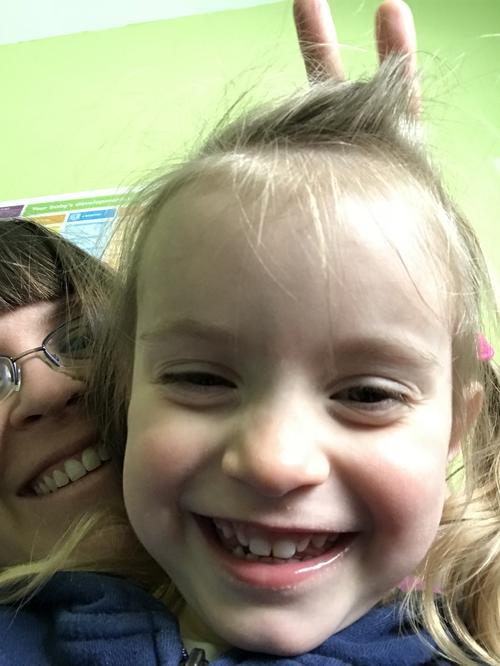 I'm celiac and Mom's celiac, which means we have a fairly strong history of celiac disease in our family.
That means that all of our kids get tested regularly and will need to do so until they figure out what triggers celiac, or we do genetic testing to see if they are not at risk (seems unlikely).
In any case, Amelia started having diarrhea last summer and her poops never really got better. Matthew had had the same problem at her age and it turned out to be c. jejuni (see also: why we don't lick the railings in the cow barn) so I asked the doctor to do a stool sample just in case. No convenient parasite explanation this time, but there was concern about crohn's so we were referred to a pediatric gastroenterologist whom we've been seeing for a few months now.
He listened carefully to everything we had to say and after examining Amelia he decided that neither Crohn's nor celiac were likely the problem, but instead she appears to be very constipated.
She's now (theoretically) on a low sugar, high fibre diet and it seems that this is doing the trick. Of course we've seen the doctor right after Christmas and Easter, which are particularly challenging times for me to deny sugar based treats, but we are working on improving our diet. I find it much more difficult than Brendan because I have a big sweet tooth but bit by bit we are making progress.
Amelia thinks the doctor's nice but she's "awfully tired of people poking my tummy"
You might also like
- Medical appointments
(0.396655)
- 19 months
(0.395813)
- Jaundice
(0.391667)
- Home
(0.383562)
- Virtual Piano Recital
(0.381838)
All