April 16, 2018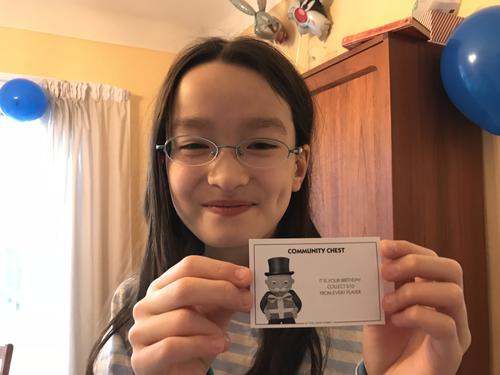 Today was actually Erika's birthday so we had chocolate muffins and chocolate croissants for breakfast with candles (as per tradition). No photos, though I did take a video. Then we continued the partying with some monopoly action.
Later that afternoon the other cousins showed up. Erika and Maria didn't seem too sure about all the new kids; I guess they were all pretty little when they left (Theo wasn't even around!). Eventually Auntie Janice took over and got them playing an indoor scavenger hunt together.
Laundry basket photos were more amusing for the adults than the kids but I'm already looking forward to retaking these when the kids are teenagers (bwhahaha).
We had lasagna, garlic bread and Caesar salad this time for supper. Isabelle helped me make the garlic bread. More chocolate cake! More candles!!!
You might also like
- Party weekend continues
(0.362637)
- Elizabeth is eight
(0.359732)
- Happy Canada Day
(0.346598)
- Uncle Dave
(0.345324)
- Mother's Day
(0.343085)
All
April 15, 2018
We had a family party tonight to celebrate Erika being (nearly) twelve. Roast beef and potatoes (and sweet potatoes) with salad. Chocolate cake, of course.
You might also like
- Elizabeth party
(0.314607)
- Charlotte and Elizabeth
(0.23494)
- Grandma's birthday
(0.219731)
- Daddy has a birthday
(0.212903)
- Double Birthday party
(0.211538)
All
April 14, 2018
Erika and Amelia helped me transplant the tomatoes today. The forecast today calls for freezing rain, snow and ice pellets. There were hundreds of accidents on the 401 leading to a « no tow » advisory, but here in Ottawa the kids scootered and biked (albeit in snowsuits (the wind was biting cold) and my garden is coming along nicely.
You might also like
- Spring!
(0.27)
- A garden story
(0.241026)
- Beach
(0.235577)
- Terry Fox Day
(0.235556)
- Swimming to the point and back
(0.234043)
All
April 13, 2018
Elizabeth was away all weekend for Brownie Camp with Auntie Janice! She was super excited. The best part was "everything". They sang songs, they had campfire, they slept away from home!
The provincial karate tournament in Burlington (at which she almost certainly would have qualified for nationals, based on how her teammates did) were held the same weekend, and she was sad to miss out. Given though choice between the two it was no contest though. After all, she only gets to do brownie camp once!
You might also like
- Life with two kids
(0.31769)
- Muriel and Pat come to visit
(0.31631)
- DQ
(0.312364)
- Elizabeth cuts her hair
(0.311547)
- London Grand Nationals
(0.309339)
All
April 12, 2018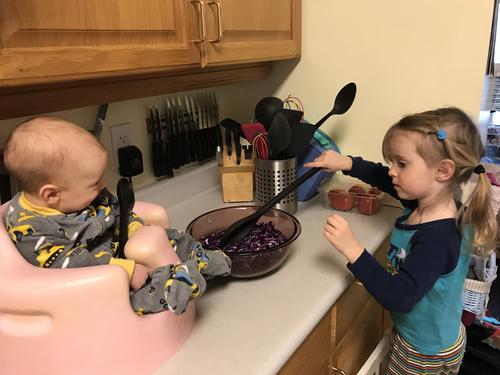 Michael is big enough to be propped up in the bumbo now, at least for a few minutes. He absolutely loves sitting up like a big kid and the big kids think it's the greatest thing ever.
Amelia demanded that she help me make supper and told me that baby Michael wanted to help too. So I made it happen!
You might also like
- Beach
(0.305405)
- Music Recital
(0.296524)
- Fort Magic
(0.287154)
- Green Belt
(0.284345)
- Swimming
(0.282828)
All