April 21, 2018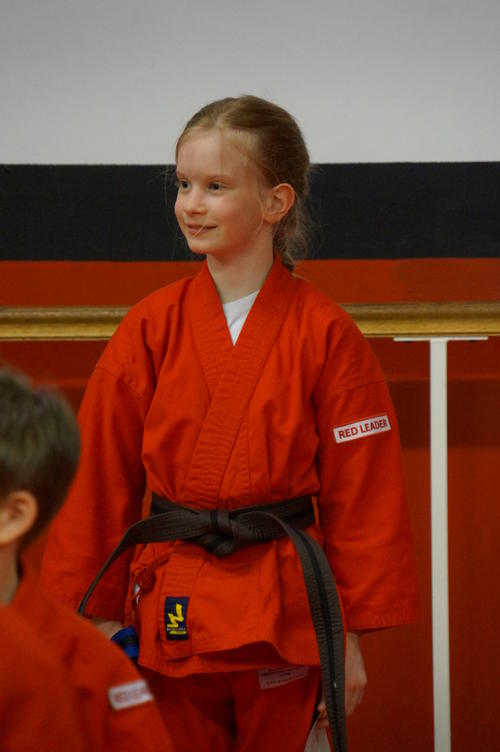 Elizabeth said goodbye to her blue belt today and is now a brown belt. Grandma J would like to remind everyone that this is as far as Mrs Pollifax got :)
Auntie Janice came to watch and was duly impressed.
I should put something profound about how proud we are of Elizabeth (true) but mostly I'm a little mystified to find myself the parent of a brown belt.
Elizabeth said that her favourite part of karate was the kicks. She said she was going to say the senseis but other people said it first so she couldn't do that. We pointed out that no one said tournament team, which she has been saying she will say is her favourite part for a couple of gradings now but then keeps chickening out. This time it was because "no one will know what that is". Kids...
She did a pretty funky kick though. I had my hands full keeping Amelia sitting and quiet(ish) so when some of the other karate moms offered to keep Michael I passed him off. I was really hoping to avoid a repeat of that time I ended up playing trains in the waiting area instead of actually watching grading.
Elizabeth was very happy to get her belt. She made cupcakes to bring to grading as part of fundraising efforts for the team (and then bought one with her own money lol, along with a chocolate milk). Matthew and Amelia bought gummy worm cupcakes. Amelia ate just the gummy worm part.
After grading we were all set to go to Tim Horton's for our traditional timbits (doubly required since Erika and Maria claimed to not know what timbits were!) when Amelia crushed her finger in the door. We probably tell our kids that doors are not toys and they are not to play with or near them twenty times a day, but that didn't prevent Amelia from standing too close and then putting her finger in the crack while it was closing. Brendan says the finger was quite flat and deformed when it came out. There was much screaming. We were able to ice it immediately and by the time I got around to taking a picture it looks bruised and a bit bigger than normal but not too bad at all. We're hoping she doesn't lose the nail. Brendan thinks he'll have nightmares but Amelia says her finger is much better now, despite demanding more ice right before bed.
You might also like:
-
19 Months
-
River Oak
-
Family Day
-
Social Distancing: Day 20
-
Good Friday 2015
It was a gorgeous day so after we got home from grading we decided to play outside. Matthew biked up and down the block with Mila, Elizabeth and Noemie. Elizabeth scootered while the other two rollerbladed. Matthew very graciously allowed Amelia to use his scooter.
At the appointed time, we walked to the park with Mila and Elizabeth to meet up with Bianca for a sleepover at Bianca's. Matthew played with Bianca's brother a bit in the park and then Michael started getting fussy so I decided it was time to walk back home.
Simon was playing ball with Molly the dog and his owner (another Matthew) and my Matthew joined right in.
I ended up getting a mild sunburn! It may have snowed this week but for now it is Spring!
You might also like:
-
Sledding disaster
-
First day of Holidays
-
Snow Day
-
Pull to standing
-
Sport Day
April 20, 2018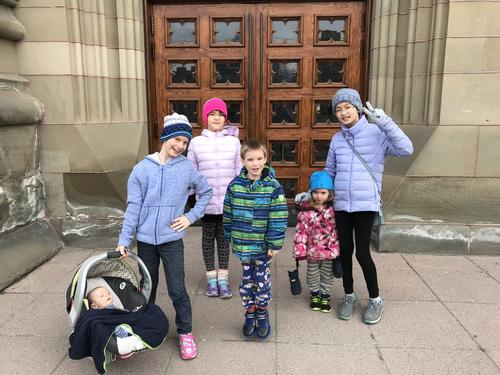 The Museum of Nature was having a special science night that sounded awesome, so when Janice couldn't drive Elizabeth to brownies we gave Elizabeth the option of what she wanted to do instead.
She nearly went to karate, because the BBM Thursday class is often pretty cool. After determining that it wasn't the last Thursday of the month (special leaders stuff) and they had done weapons stuff last Thursday, she decided that she'd go to the museum because it was something she could do with cousins.
Marit and Francesco's crew were going as well, so after doing some lichen yoga to get tattoos we joined up with them. I was very happy to have adult backup since I was slightly outnumbered...
The kids weren't quite sure what to make of the yoga (it was to teach them about survival strategies in the arctic but I'm pretty sure that was WAY over Amelia and Matthew's head at least).
Elizabeth was thrilled to find a wolverine (it's the kata she's currently learning, hence the karate pose). Maria didn't want to leave "her" bears. Elizabeth, Erika and Matthew literally climbed the walls in the caves. We played in the boat.
But the highlight was getting to dress up as a miner and have your photo taken on the green screen. The photo printed out on a super slow but pretty awesome printer. Then the kids all got an activity book and their very own amethyst to take home! Best part of a pretty fun night!
You might also like:
-
Strike Day
-
Fall summer
-
St Nicholas Day
-
Skating
-
Mother's Day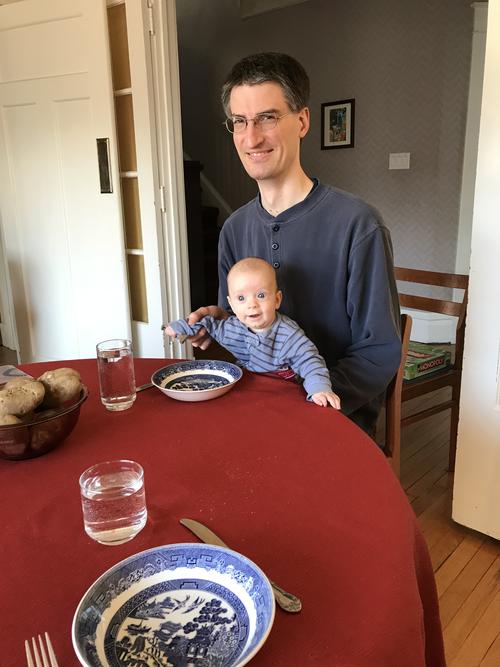 Michael has started to try to grab things at the dinner table. He's particularly keen on grabbing utensils and has just figured out how to support a fork.

He's so proud. He's also somewhat inclined to fling said fork across the room or try to stab himself and others so allowing this victory requires hypervigilance.
You might also like:
-
10 days
-
Christmas Preschool
-
Red stripe
-
Pull to Standing
-
Sportball
Elizabeth thought it was super cool that she could see the dark side of the moon tonight. So Brendan photographed it for her.
You might also like:
-
A donkey carrot
-
Pentecost
-
End of an era
-
The Cuckoo House
-
Grandma's birthday
April 17, 2018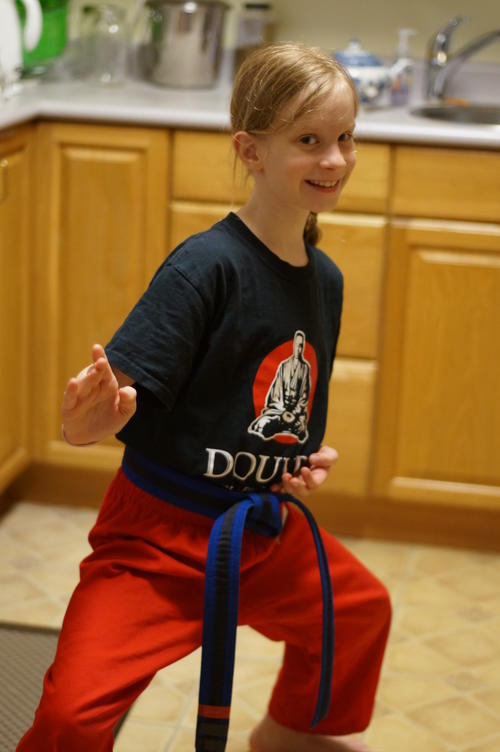 As predicted, Elizabeth got her red stripe in class today.
You might also like:
-
Green Belt, one stripe
-
Red stripe
-
Support Technician in Training
-
Black Belt Stripe Test
-
Elizabeth second stripe on brown belt
April 16, 2018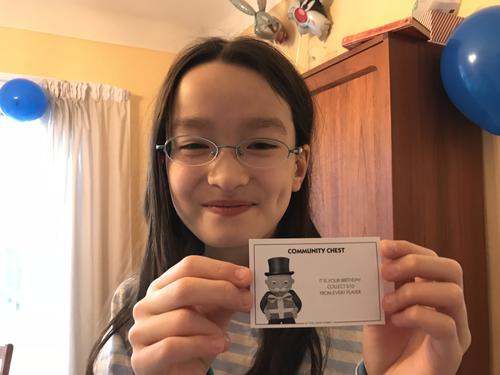 Today was actually Erika's birthday so we had chocolate muffins and chocolate croissants for breakfast with candles (as per tradition). No photos, though I did take a video. Then we continued the partying with some monopoly action.
Later that afternoon the other cousins showed up. Erika and Maria didn't seem too sure about all the new kids; I guess they were all pretty little when they left (Theo wasn't even around!). Eventually Auntie Janice took over and got them playing an indoor scavenger hunt together.
Laundry basket photos were more amusing for the adults than the kids but I'm already looking forward to retaking these when the kids are teenagers (bwhahaha).
We had lasagna, garlic bread and Caesar salad this time for supper. Isabelle helped me make the garlic bread. More chocolate cake! More candles!!!
You might also like:
-
Party weekend continues
-
Elizabeth is eight
-
Happy Canada Day
-
Uncle Dave
-
Mother's Day
April 15, 2018
We had a family party tonight to celebrate Erika being (nearly) twelve. Roast beef and potatoes (and sweet potatoes) with salad. Chocolate cake, of course.
You might also like:
-
Charlotte and Elizabeth
-
Grandma's birthday
-
Daddy has a birthday
-
Double Birthday party
-
Maria\u2019s birthday