May 5, 2018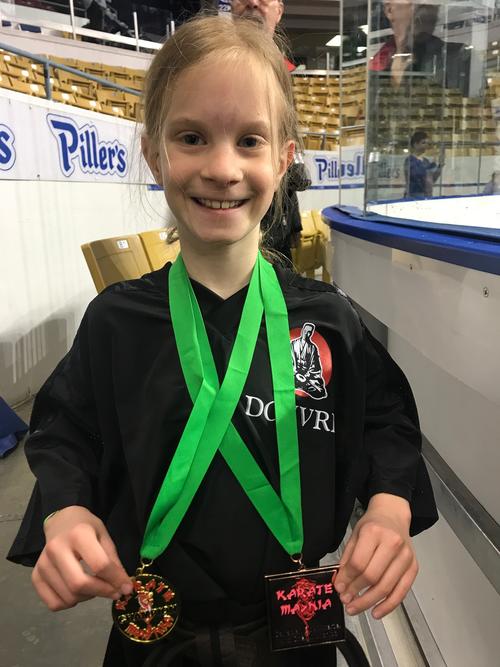 Elizabeth and Daddy drove to Kitchener this weekend for the Kitchener Karate Tournament. They got there just in time for a record-breaking windstorm. Lots of trees down and shingles off roofs, but luckily the venue had power so they were able to compete.
Meanwhile back in Ottawa we were nervous about the damage so we battened down the hatches (secured lawn furniture, bbq and bird feeder). Saturday morning we went to karate by bus - to the great amusement of all. It was Michael's first time! Luckily it was quite a beautiful day and not even too chilly despite the wind.
You might also like:
-
Rachel
-
Social Distancing: Day 34
-
Fantasy Fair
-
Cottage Days: Tubing, Robinson's and Pony rides
-
Sleepover Weekend
May 3, 2018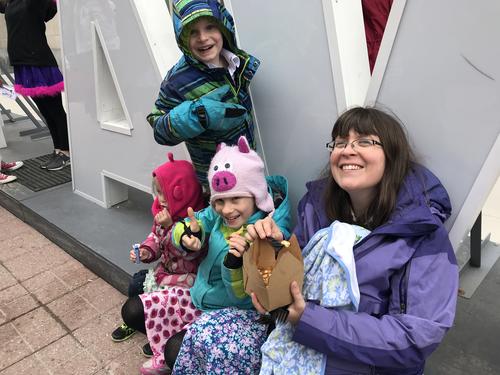 We usually don't go to the many, many food related festivals here in Ottawa because I can't safely eat at them.
I'm a member of the local Ottawa Canadian Celiac Association facebook group though, and they had been going on and on about this celiac safe food truck for quite a few months, raving about the poutine and onion rings (neither of which I've had in a long time, and both of which I adore). Unfortunately, the Upper Deck truck normally parks in Orleans, which seemed like a long way to drive for fast food.
Anyway, there was a notice on the facebook page saying that the Upper Deck was participating in PoutineFest. A little investigation told me this was being held a short walk from church.... A scheme was born... It was a further walk than anticipated and the kids were disappointed when one of the other trucks ran out of the funky spiral fries they had their hearts set on. But I got my poutine and it was delicious. Very expensive, but delicious.
You might also like:
-
MosaiCanada
-
Daddy and the buck bucks
-
Buskerfest and cousins
-
Cottage Arrival 2019
-
The birds and the bees
May 2, 2018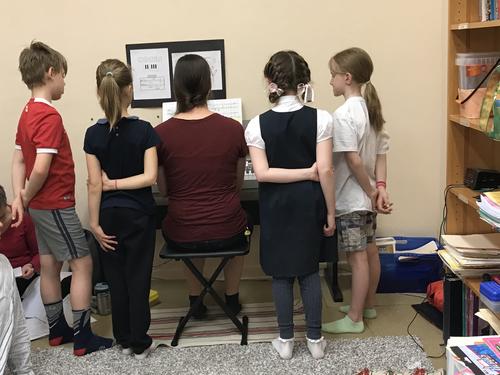 Elizabeth started taking Music for Young Children classes when she was three, and she was with most of the same kids since she started piano in 2013.
Now she's done and moving on to private lessons - which is going to be quite a big difference. I wish I had been brave enough to ask for a real picture of her fellow students this year!
In theory she could now take the RCM grade 1 exam, but on Shana's advice we're going to skip forward to grade 3, probably at the end of next year.
I'm sad the group lessons are over as they were quite motivating for Elizabeth. Having had one child go all the way through the program I can definitely still recommend it. All the kids that graduated from MYC are far, far better pianists than I am, that's for sure!
You might also like:
-
Elizabeth end of year concert
-
Amelia starts ballet
-
End of Year concert
-
Three at a time
-
Siblings
April 30, 2018
Lots of runs with Elizabeth. Erika sometimes comes along but Maria usually chooses to opt out. Matthew and Amelia often not invited so that we can go further. The deal is that if Elizabeth and Erika run fast enough to get far enough ahead that they can climb "their" tree, we'll stop and take pictures.
Michael has accompanied us a couple times now, with varying degrees of success.
You might also like:
-
Goo
-
Umbrella
-
Photos in the snow
-
Hike and picnic
-
Hashi
We didn't arrange to have our tree stump removed last fall because we were feeling broke and in any case the specialists that removed the tree don't do stumping.
We asked around and discovered that due to the positioning of the stump in relation to our fences and our hedge a special machine was recommended. Today the special machine came and ate our stump. It took two hours. It was noisy and loud and now we have a LOT of mulch in the backyard.
You might also like:
-
Park with Dianne
-
First day of Maternelle
-
Thanksgiving
-
Little red wagon
-
Skating with Angie
April 29, 2018
Ray (aka Reza) lived with us for five years back when Elizabeth was little before he moved to Toronto. He happened to be in Ottawa so he dropped by (and introduced us to his significant other!)
Super awesome to catch up with him a bit.
You might also like:
-
Good night little bus
-
Off to the cottage!
-
Rain rain go away
-
Baptism Birthday
-
Matthew has a yellow belt