May 29, 2018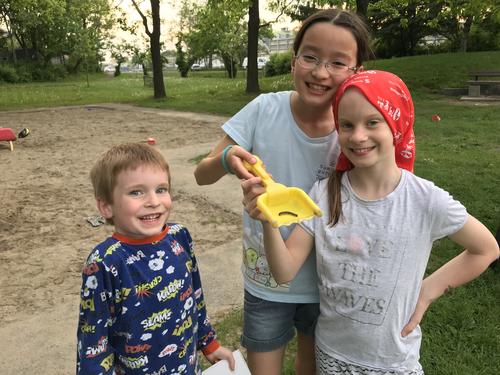 I mentioned that we have been running, and the kids are enjoying this enough that we've kept going even after race weekend.
Sometimes we run down to Dow's lake (usually doing the loop around the island and back). Sometimes we run through the park and then up to Clemow Estates. It's always entertaining and sometimes we run into friends and learn things like Bianca has started a caterpillar collection.
You might also like:
-
Social Distancing: Day 69
-
Fireworks
-
Eight Years!
-
Breakfast O'Clock
-
French class
May 28, 2018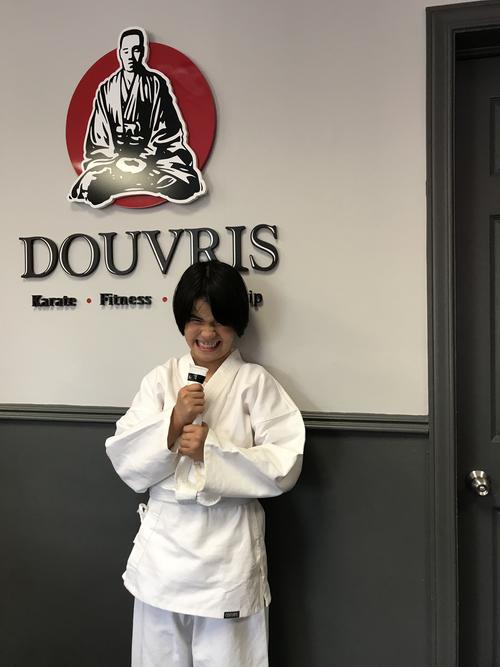 It didn't take long before Maria too was sporting her first stripe!
You might also like:
-
Stripes and going to grading
-
1st Stripe Brown Erika
-
Maria stripe
-
Orange Stripe
-
Orange belt two stripes Matthew
May 27, 2018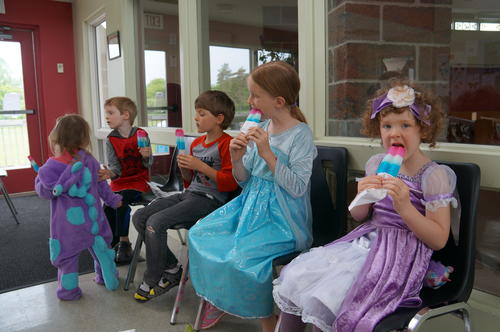 We went to Xander and Isabelle's piano recital. It was Disney themed, so the kids all were invited to dress as super heros. Elizabeth discovered her frozen dress still fit, so decided to go as Elsa. Fifteen minutes later she decided she would still wear the dress but would be some kind of made up superhero because "kids my age don't like Elsa and I don't want anyone to laugh at me". Matthew decided to be a knight and Amelia went as a dinosaur, because that's basically the only costume she's interested in.
Matthew and Amelia started out fairly engaged, but the pieces were fairly long and not terribly recognizable especially at first and they rapidly started to lose the plot. In the interests of not having to take a child out to the car (again), I sent them to play together out in the lobby by the toys. So I guess having the toys in the lobby was ok this time lol.
The recitals do make me appreciate how well run Mrs Shana and Hannah's recitals are. The theme idea for Disney was creative and I suspect fun for the students, but all of the pieces seemed just slightly too hard for the kids. One kid quite literally ended up having her big sister mash her fingers into the keyboard in an approximation of the right notes since she either seemed too stagestruck and/or disinterested in actually playing.
Some highlights: the boy who had a light saber that he thrust at the audience prior to playing something from Star Wars; the other Star Wars player who announced his piece via Darth Vader mask; the ensemble pieces that they sang and played with rhythm instruments; and obviously Xander and Isabelle's pieces :) I might be biased but I thought they did better than most of their classmates.
Afterwards there were popsicles to share, which was wonderful!
You might also like:
-
Virtual Piano Recital
-
Music and Beyond family expo
-
Music
-
Party
-
Halloween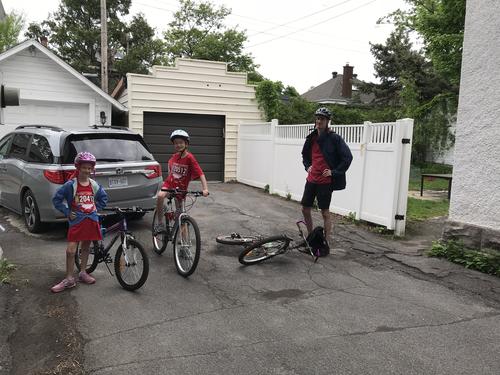 Marathon day and Elizabeth only complained a little bit about being forced to bike downtown. Her ballet studio was signed up to do the cheer station for the adult marathon by Grandma's house so I sent Brendan and Erika and Elizabeth to meet Grandma there and they did a little bit of cheering for the other runners before the race while I wrangled the other kids.
Then they biked downtown, and raced. Erika took my admonitions to run their own races and do their bests to heart and finished well ahead of Elizabeth. Elizabeth was slightly chagrined I think but they both had fun.
On the way home they stopped by the cheer station again for more encouragement. Brendan said it was quite the production - I gather there's some kind of competition for the best cheer station and KV went all out!
You might also like:
-
Family Day
-
Orange swimsuit please
-
Race Weekend (Children's Marathon)
-
It's for you
-
Study in Motion
May 26, 2018
Finished my first race ever. Matthew ran the whole way. There were two or three intervals where he demanded to walk and I slowed (gratefully) to a fast walk for about ten seconds or less. But Matthew kept running and then just picked up speed again 😂 Elizabeth ran most of it literally looking back over her shoulder hollering that she didn't want to separate, which inspired Matthew to keep a pace that was a little above my comfort level. Finally when we could see the finish Elizabeth decided to run ahead and finished 14 seconds ahead. I tried to get Matthew to run ahead too but he had a death grip on my hand and didn't wish to let go.
Elizabeth was pondering out loud about how Catherine (our neighbour) was going to run 21 2km races. "I definitely can't do that", she mused, "I think I could manage doing it four more times though"
You might also like:
-
Race Weekend (Children's Marathon)
-
Boxing Day
-
Spartan Race
-
Race weekend 2017
-
Happy New Year
May 25, 2018
Tomorrow's the Great Glebe Garage sale, so we decided to take Matthew to karate tonight. I figured we could pick up Elizabeth from ballet (since it was pouring rain).
Of course her route goes the wrong way down a one-way street, so we actually somehow missed her and then were almost late to karate. Sigh.
Erika and Maria usually go on Mondays and Thursdays, but since they share the Friday class with Matthew, Erika decided she'd go for an extra class. She was glad she did since she got her FIRST STRIPE!!!
Matthew was pretty excited to get his red stripe, which means he is headed to grading.
You might also like:
-
Maria is orange-green
-
Stripes, stripes, stripes
-
More snow
-
Hashi
-
Stripes