June 16, 2018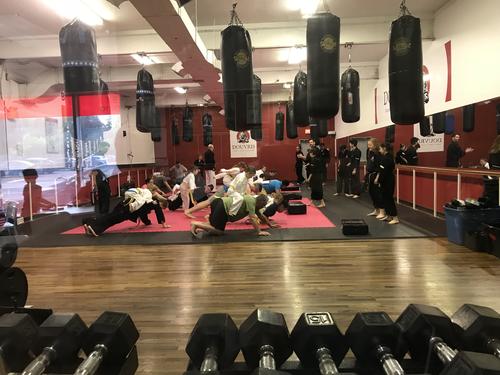 It was Father's day at the dojo but we completely forgot and I ended up being the parent taking Matthew to his 9am class.
Brendan was not sad that he got out of having to do pushups with Matthew on his back. Matthew was a bit disappointed but the class was so fun that he didn't mind too much. Actually I had a narrow escape having to substitute. Good thing I brought the baby!
You might also like
- Strawberry picking
(0.319209)
- Father's day karate
(0.306329)
- Canal #3
(0.300683)
- Visitors!
(0.294393)
- Cottage with Grandma and Grandpa
(0.292683)
All
June 15, 2018
Usually Matthew's school end of year picnic has been the last day of school, but not this year. He did have good weather and enjoyed blowing bubbles and running around the park with his friends.
You might also like
- Last week of Summer 2018
(0.292135)
- Last duty day for Matthew
(0.286604)
- Pumpkin carving
(0.284519)
- Jardin
(0.277286)
- Duty day
(0.264438)
All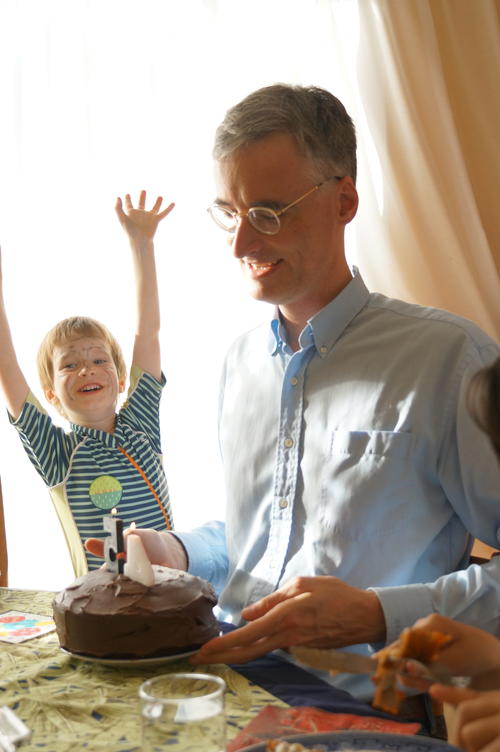 Uncle Chris had a birthday, so we got to eat cake! There was much rejoicing among the small fry.
I think he was amused by our "must have candles at breakfast" tradition.
You might also like
- Theo is 5
(0.307377)
- Museum and Birthday
(0.304348)
- 40
(0.299145)
- Happy Birthday Rachel
(0.28)
- Theo is Three
(0.278481)
All
June 14, 2018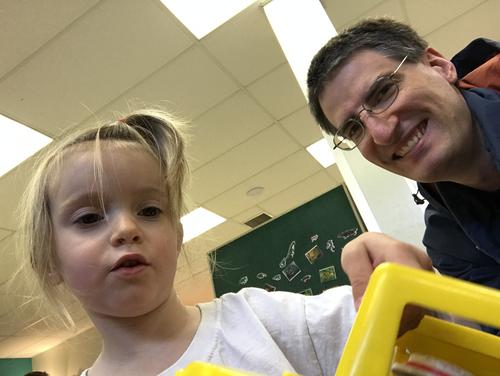 Amelia took Daddy to preschool
You might also like
- Crazy hair day
(0.226415)
- Butterflies
(0.2)
- Crazy Hair Day
(0.186441)
- Support Technician in Training
(0.179104)
- Glue
(0.174603)
All
June 12, 2018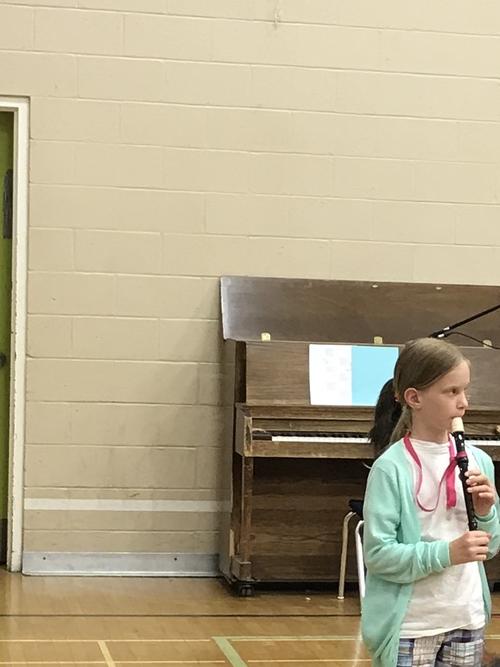 We went to Elizabeth's end of year concert. The recorder and xylophone playing is either getting less terrible or it's growing on me.
Elizabeth was all the way to one side so Daddy didn't have a terribly good view but Amelia greatly amused Elizabeth's immediate classmates by running up and down the aisle towards Elizabeth. No comment on what Amelia's mother thought...
You might also like
- Twelfth night
(0.323529)
- Father's day karate
(0.323308)
- Spectacle de musique
(0.316527)
- Green Belt
(0.31085)
- Table Manners
(0.308333)
All
June 10, 2018
At five months Michael is growing hair! He's also probably teething. Certainly he's chomping on enough!
Hes getting more talkative, cooing and laughing at his siblings. Still a flirt, though he's obviously started recognizing certain people like cousins and siblings. He usually doesn't mind going with people who aren't mommy unless he's hungry. He can sign for milk and Elizabeth at least swears he has a couple of words like Mommy and down (into the exersaucer). He's fond of the exersaucer, and if the other kids are around it seems to entertain them as well since they like to "show Michael how to play". As a result Mommy's fond of it too...
hes started playing with toys and can sit with us for meals trying to stuff spoons and his favourite toy (a silicone muffin liner with feet) into his mouth. After he turned five months we let him try Cheerios and gluten free Os. He seems to like them, although he's only managed to actually consume about half of one.
Today he was spotted playing peek-a-boo with a blanket.
He's spending much more time awake and for longer in one stretch. Usually he wakes up around 6:30am, naps in the morning around 9am, around lunch (tends to sleep through lunch, which is usually between 11 and 12) and then around 3pm. He's usually ready for bed around 6:30pm or 7, but since that's Amelia and Matthew's bedtime prep someone gets to deal with him wailing at them until I'm ready. Unlike his siblings he's quite good at self-soothing and particularly likes soothers. He doesn't keep it in his mouth long by himself but if he has a good grip on it with his hand that doesn't really matter since he can chomp on it by himself (not that he exactly gets the right parts back in but that doesn't seem to matter).
You might also like
- 13 months
(0.415909)
- 21 Months
(0.404936)
- 19 months
(0.400774)
- Two!
(0.398273)
- Nine months
(0.397578)
All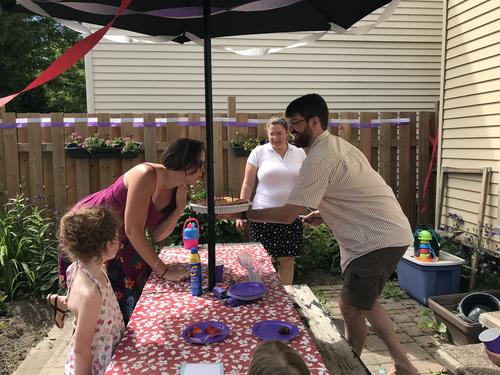 Karen was sick for her actual birthday so Dave arranged a celebration for her half birthday!
There was strawberry rhubarb pie!
You might also like
- Foolish Chicken
(0.257895)
- Elizabeth's baptism birthday
(0.238532)
- Elizabeth is nine! (again)
(0.237805)
- Stuffie party
(0.235507)
- Baptism Birthday
(0.229249)
All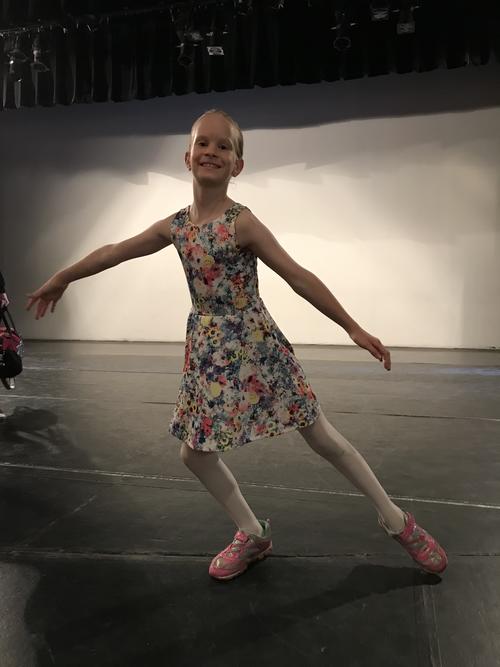 Janice and Erika came with us to see Elizabeth's production of the Wizard of Oz.
It was super fun to watch - Elizabeth's friend Olivia was Toto so there was almost always someone we knew onstage. Michael mostly nursed and filled his diaper during the production - just pees and I didn't want to be up and down the aisles disrupting everything so I was terrible and just changed him right there. Seven times. It's not as unhygienic as it sounds because I can quickly put the new one on, then whip the old one off without touching anything, plus I did have wipes to clean my hands afterwards. I didn't quite get away with it because we encountered the curse of little boys at one point when I was a bit too slow. Hopefully I don't regret admitting this on the internet. Also I hope Janice's hat recovered. Nothing else other than my pants and dignity got sprayed.
Anyway, the dancing was very good, we enjoyed the show and we were impressed with our daughter. So a win all around.
You might also like
- Piano Recital
(0.372191)
- Virtual Piano Recital
(0.355609)
- Canoeing
(0.350993)
- Orange swimsuit please
(0.347185)
- Ballet
(0.345)
All