June 22, 2018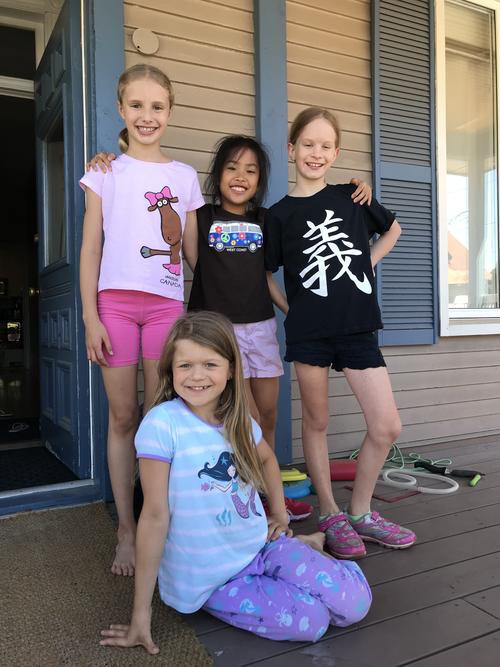 Elizabeth's friend Samia invited her and a couple of other girls for a sleepover to celebrate the last day of grade three.
They decorated cupcakes, watched a movie and generally had a blast.
The era of sleepovers has begun!
You might also like:
-
Museum and Birthday
-
Happy Birthday Opa!
-
Maddie has a birthday
-
Family ziplining
-
Party time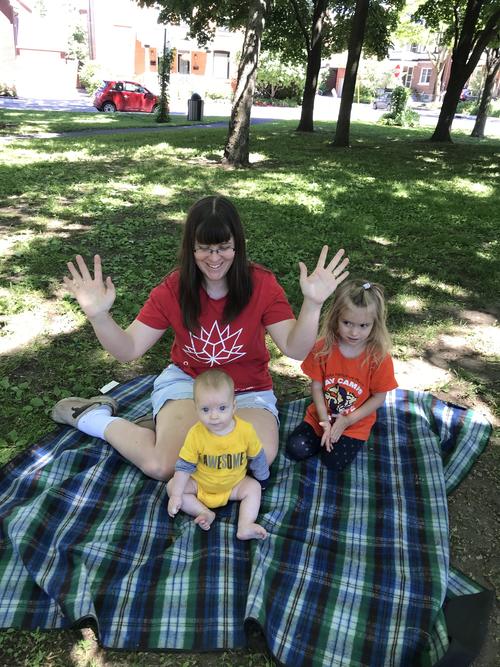 He can't do it long, but Michael can sit up by himself! Be afraid...
You might also like:
-
Standing unassisted
-
Pastor Michelle
-
Footprints
-
First Popsicle
-
Maria gets a stripe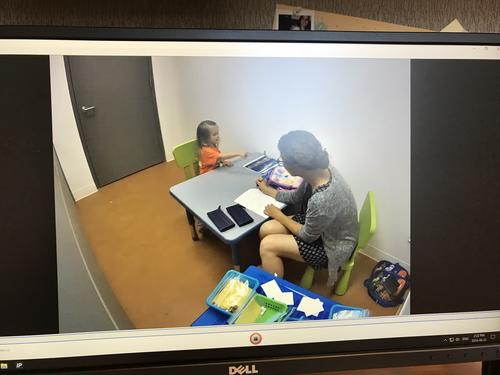 Matthew and Amelia were invited to come and participate in a research project on how kids see the future.
They were asked questions about what they thought they'd use when they were grownups like whether they'd have a school bag or briefcase. Matthew said he'd have a schoolbag full of money. Then they were asked a few questions about what they would like most when they grew up such as sticker books vs magazines, books vs storybooks, Curious George vs cooking shows, crosswords vs playdough and juice boxes vs coffee. Amelia answered everything based on what she likes now. Matthew answered based on the more obviously "adult" except he chose sticker books and Curious George.
Then they did a delay of gratification exercise - pick one now or get four later. Matthew chose to wait; Amelia chose to eat what was offered immediately. They could also choose to give hypothetical smarties to someone else. Matthew offered up 8. Amelia offered up 3, thus proving that Matthew is my more generous child (heh).
After they were all done they were allowed to pick a toy and they both picked out hatchimals. Elizabeth was SUPER jealous. Matthew and Amelia want to help the scientists again as soon as possible.
You might also like:
-
Fall summer
-
Home for holidays and more research
-
MosaiCanada
-
Butterflies 2014
-
Adventure
June 21, 2018
Erika and Maria have received their second stripes!
You might also like:
-
White gi
-
Stripes!
-
Stripes and going to grading
-
Second blue belt stripe
-
Fort Magic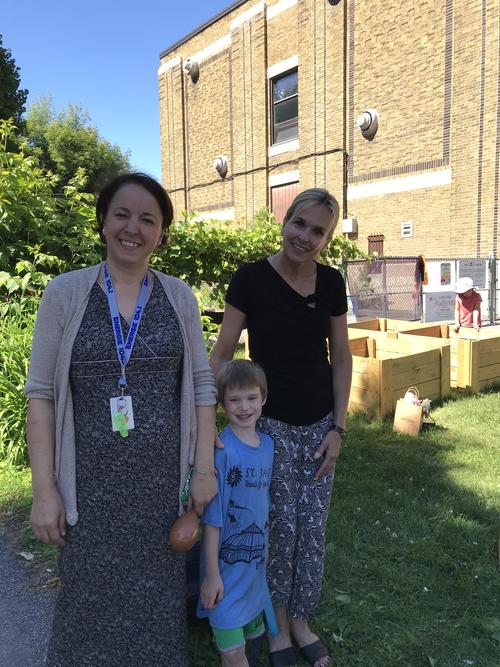 It was the last day of school for my kids! Amelia's school technically goes another week but we're heading out of town so it was her last day too which wrapped things up quite nicely. For breakfast we tried out the many weird flavours of honey we got at the insect place.
Matthew got a photo with his teacher Mme Judith at the playground when they did their little party, but Mme Samia had disappeared by the time I remembered such things. He was quite pleased not to be taking the bus home the last day.
I picked Elizabeth up first and was quite amused by having to wade through hordes of wailing sixth graders. The school ends after sixth grade so it was extremely tragic and there were FLOODS of tears. On the opposite end of the spectrum the kindergartners were getting onto the last bus of the year amid dancing, tambourines and maracas. The teachers at least were getting ready for one big party and it was quite festive.
You might also like:
-
Sheep Shearing
-
End of Year concert
-
First day of Maternelle
-
Silly Sock Week
-
Grade 1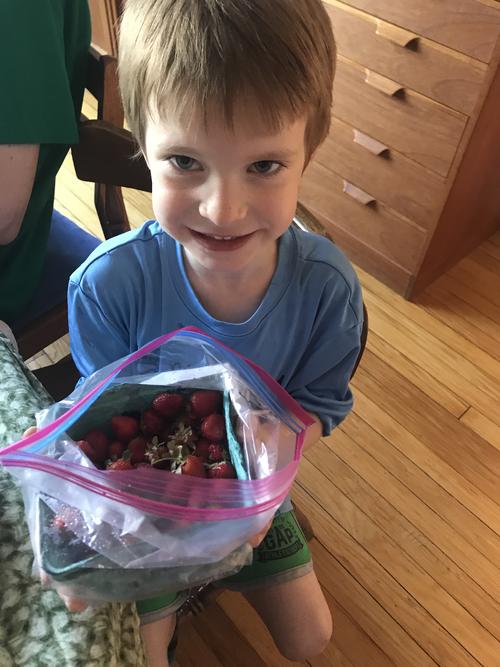 Matthew had a sortie to a farm with his class today and they got to pick strawberries. Apparently most of his class ate their weight in berries and didn't bring any home, but Matthew just picked and picked and picked. I was super impressed. Elizabeth commented "Oh yeah, I went there too and also picked berries" (I don't recall her ever talking about the berry part). Apparently she ate hers.
Matthew used his berries for jam. He was super proud.
You might also like:
-
Berry picking
-
Acro viewing week
-
Palm Sunday
-
Le Patinoire
-
Father's day dojo
June 20, 2018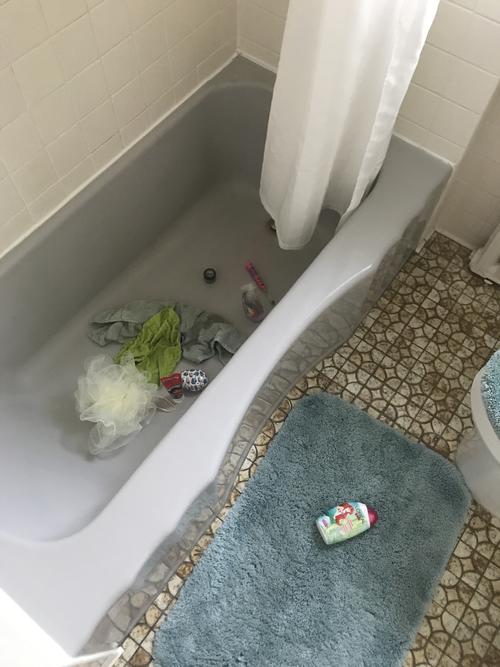 Matthew finds using the tub in unsanctioned ways to be rather irresistable. He's our child that has flooded the bathroom floor not once but twice (luckily for him only the first one caused water damage). Lately he's been going through a phase where things magically end up in the tub whenever Matthew needs to go to the bathroom. He insists this is a coincidence, but bits of toilet paper, hairbrushes, copious quantities of toothpaste and nearly a full bottle of shampoo all found their way into the tub. This was less annoying than the time(s) he shoved an entire bar of soap down the sink drain.
Brendan eventually started insisting on a "bathroom door must be open" policy and even insisted on adult accompagniment for a few days. Eventually Matthew got bored and mostly moved on.
You might also like:
-
Rainy day
-
First Dentist Appointment
-
Ottawa Maker Faire 2013
-
Family Reunion
-
10 days
June 18, 2018
Matthew and I stumbled across the Ottawa Insectarium when we were downtown for Poutinefest and he has been bugging me (ha!) to go back ever since so he could see the insects and buy things from the gift store with his allowance.
Elizabeth does not like bugs, so she opted out. I picked Matthew up early from school and we went to check it out. It's quite small but the kids really enjoyed looking at all of the things on display. Matthew would have liked to buy all the things but eventually settled on a spider watch, a water game for Amelia and honey sticks for everyone else. Then he promptly "lent" the watch to his friend overnight and never saw it again but that's another story.
On the way home we bumped into Auntie Yukiko on the bus!
You might also like:
-
Rachel
-
Biking adventures
-
Smiley Face Pancakes
-
Skating and Swimming
-
French Class
June 17, 2018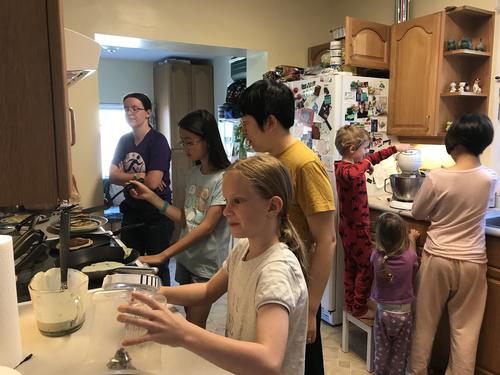 The kids were requested NOT to do breakfast in bed, so they decided to make a special breakfast instead of blueberry pancakes, sausages and fruit.
There was a special hospitality hour after church, so that's what we did for lunch. Father Jared, our curate, is leaving for his own parish. (He's pictured with Amelia choosing her candy prize for reciting her monthly memory verse)
We'd be sadder, except that Jared's replacement is Creighton!!! So Rachel is back from Texas and Elizabeth is ecstatic (although she's also mildly put out that we never actually sent her to visit Texas).
It was warm after church so we pulled out Amelia's paddling pool and spent some time jumping in and out. Elizabeth and Erika discovered that it was great fun to fling their wet hair in the air and spent an inordinate amount of time doing so. It was great fun to photograph too!
You might also like:
-
Wedding prep
-
Science by Night
-
Happy Birthday Daddy
-
Baby Summit 2015
-
Rachel and Andrew