July 7, 2018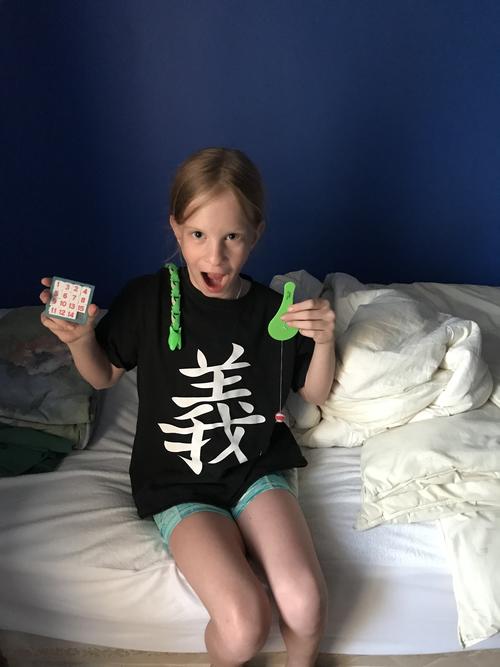 Left to my own devices, I wouldn't have let Elizabeth start reading Harry Potter until she was the same age as Harry in the books. The first few are fine and both Brendan and I enjoyed reading them greatly ourselves but it seems to us that they get less and less age appropriate as they go and there are many, many other books that we'd prefer our kids read first that are both great reads AND age appropriate.
It is of course possible that we are slightly on the overprotective side when it comes to media consumption, but I've never understood the hurry to introduce kids to things like Star Wars or Harry Potter.
This of course drives Elizabeth batty as she was the only kid in her Sunday School class not to have seen the latest movies and I'm assured she's the only kid "not allowed" to read Harry Potter.
She was obviously thrilled when it was assigned for karate book club, and we decided that not allowing her to participate would probably be cruel. Needless to say she absolutely LOVED the book and begged to keep reading. We decided that she could go ahead and read the first three books but would need to stop and wait a bit longer for books 4-7.
You might also like:
-
First day of "preschool"
-
Cousins move in
-
Victoria Day Fireworks
-
Christmas Village
-
Olympic skater
When I came to pick up Elizabeth, I was surprised to discover that not only had Matthew and Erika received stripes (confirming that Erika is indeed going to grading), Elizabeth got her first brown belt stripe as well!
Now it's just a waiting game to see if Maria is going to get her stripes too. Erika has been going to more classes, but since Erika couldn't go to class for a week or so they are still more or less at the same level.
You might also like:
-
Two stripes
-
Going to grading
-
Maria is orange-green
-
Bikes
-
Hashi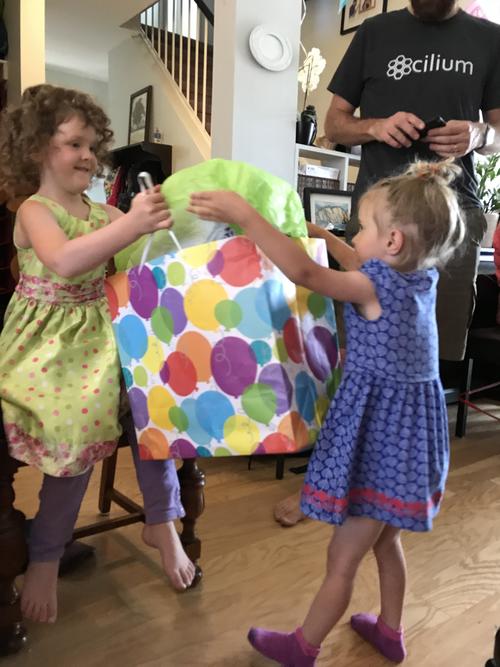 Wee Isabelle turned five and today was her party. Surprise gluten free pie for Auntie Sarah, whose birthday it was too!
Sweet, shy Isabelle with the glorious curls is now five. She and Matthew are great friends and often run off together to do secret cousin things by themselves. Usually they manage to stay out of trouble, which suggests she is a tempering influence on Matthew...
You might also like:
-
Running
-
Rainbows and Lollipops (2 & 4)
-
Model Child
-
Cousin Tshirts
-
Grading and birthday party
July 6, 2018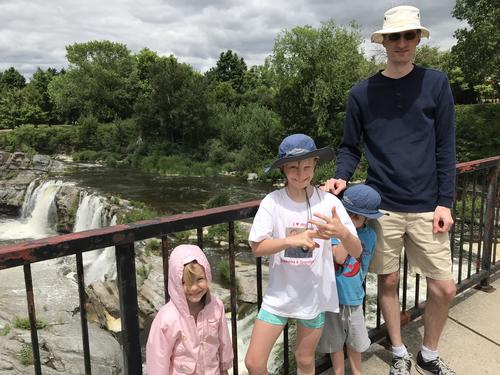 With Maria still in quarantine and the rest in need of some quiet time before Isabelle's birthday party on the weekend, our kids were indignant to think we might cancel the last day of cousin camp.
We'd originally planned to visit Mooney's bay park as Uncle Chris had a company lunch function with his family here so figured we could go with the girls and then deliver them to the lunch, but unfortunately it didn't work to connect.
Elizabeth declared we could have "cousinless camp" instead and next thing we knew we were having a picnic, flying our kites and visiting the park. Kites were fun until Elizabeth burned her fingers on one of the lines. Then she was done. She sulked pretty much until we made it to Mooney's bay, after which she forgot her wounds in the excitement.
This playstructure was the subject of much controversy here in Ottawa, as it was developed in conjunction with a TV show as a Canada 150 project. Ottawa paid $1 million dollars, and the show paid $1 million dollars and the show got to cut down a lot of mature trees on prime riverside land with no public consultation whatsoever.
It's a really nice park, even though they ran out of money and didn't implement the world's longest monkey bars or whatever it was going to be. I don't think it's two million dollar nice, and if anyone had asked me I confess I'd probably have agreed that it would have been better to put it somewhere else. But it's there now and it's super fun, if a bit crazy busy. It's become a summer camp destination so it was full of poorly supervised kids running rampant the day we went but it was big enough that we didn't mind. My only complaint was that we didn't leave enough time to properly explore all the provinces (each section of the playstructure is themed for a different province) and we never found all the treasure hunt clues hidden throughout. I guess we'll have to go back!
You might also like:
-
London
-
River Oak
-
Flying Squirrel
-
The Log Farm
-
Fred
As soon as Erika got her third stripe, I checked the grading schedule. Of course grading is when we're going camping. Too bad! Luckily she won't have to wait until next grading to get her belt...
0 comments
You might also like:
-
Stripes and going to grading
-
Erika going to grading stripe on green
-
Maria stripe
-
Red stripe
-
Stripes, stripes, stripes
July 5, 2018
Andrew Haydon Park is a pretty unique park in Ottawa that has consistently made the top ten lists of play places. Unfortunately it recently was "refurbished" and although the online plans looked promising the end result is classic Ottawa design. In short, they completely ruined it.
The water play area is why people drive from all over the city to visit it - in the old park there were many different ways to move water around and setting up the various wooden structures to transfer water and sculpt the sand was a fun engineering challenge. The "water slide" was pretty amazing too.
The new water play area is a small fraction of its former self and on the day we visited at least, all the kids were crowded into the water play area almost completely ignoring the rest of the park. We went pretty early in the day, as the sun got higher the lack of shade on much of the structures made them very unappealing. Perhaps they'd get more use on a cooler day.
It's been long enough since we'd visited that the kids didn't remember the old version - I'd never brought Amelia and Matthew at all I don't think - so they didn't spend the whole visit fuming about missed opportunities and inept "improvements" the way I did. In fact, it would only be fair to note that they enjoyed their visit very much and would like to go back.
You might also like:
-
Pony Dancing
-
Doors Open Ottawa: Barber Carving & Sculpture Inc
-
Cottage Days
-
Mooney's Bay
-
Apple Picking Reprise
July 4, 2018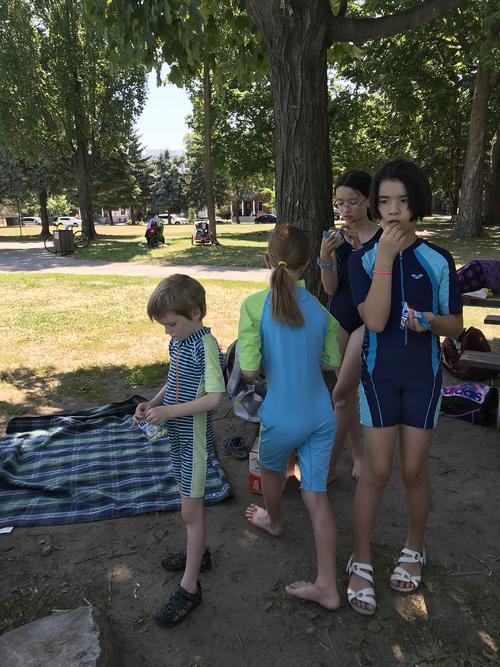 Brendan and I came and picked up our kids from the sleepover bright and early so that we could be in the pool for swimming lessons at 8:20am. Erika tagged along to watch, while Maria stayed back to help Isabelle catch ants.
Apparently they slept well and Karen said "They did very well. No reminders after lights out. And quiet in tent until I put the signal on the window telling them they could come in!"
Brendan and the kids headed back to Barrhaven after swimming but Janice picked me up from the pool to go for root canal part 2. It's actually the same blankety-blank tooth I wrote about previously, which basically hasn't been right since and was progressively getting worse. I had part 1 done three weeks ago - cleaning everything out, disinfecting and packing with antibiotics. The recovery was pretty awful but it does seem to be improved if not yet perfect. Lovely endodontist says I need a crown but we'll have to hold off until we're sure tooth is settled.
When Janice and I got back to Dave and Karen's the kids had settled into today's activity: the marble run! Isabelle had especially asked to build a marble run in the backyard today as it is her birthday! Everyone was very amused by my "British accent" (aka lisp) courtesy of three shots of freezing. I have to say I was feeling rather sorry for myself.
Erika and Maria came home with us for lunch and afterwards decided to go to the wading pool by Landsdowne park. Now that Matthew's five he doesn't have to be within arms length anymore so he had a wonderful time splashing around. Maria demonstrated her "toes of steel" on the burning hot sand at the adjacent playground. Amelia spent a long time trying to stand on a turtle shaped float board. We even dipped Michael's toes.
You might also like:
-
Family Day
-
Music Day
-
Pumpkin picking
-
Halloween
-
Cousin sleepover
July 3, 2018
Cousin camp was a little later today, so we went to the so-called car park around the corner from us for a picnic lunch.
Why was cousin camp delayed you ask? Well, when I asked the kids what they wanted to do for "cousin camp", the first thing they all said was "SLEEPOVER"
I can't remember who first suggested putting up a tent in the backyard, but I do know that I said it couldn't be at our house outside as we don't have an enclosed backyard and it's just not safe. (We get far too many visitors wandering up our driveway to check whether our car is available for petty larceny and neither the lights nor the fairly obvious security camera deter them.)
Dave and Karen bravely volunteered their house and even offered to take Amelia! So both Matthew and Amelia have now had their first sleepover away from mom and dad in someone else's house!
The kids slept by themselves outside!
Theo and Amelia knew they didn't get to sleep in the tent with the big kids but seemed okay until they had a chance to go inside the tent with the other kids to help them set up. Then Theo had floods of tears. So Karen setup two miniature tents inside for the littles. Amelia was so happy she could hardly wait to go to bed!
You might also like:
-
First day of preschool
-
Angie 2015
-
Pooh Sticks
-
First day of Maternelle
-
The Log Farm