July 10, 2018
At six months, Michael weighs 6.87kg, his head measures 43cm and he is 64.6cm long. He's babbling up a storm and can communicate with a few signs (milk, diaper) and vocalizations (mmmmmmum). He thinks it's hilarious to blow raspberries. His siblings are some of his favourite people.
Michael has started taking fewer but longer naps. The other day he slept for three and a half hours in the morning! He mostly sleeps through the night too. He's much less barfy, though he does still spit up from time to time.
He's very grabby and is starting to be able to locomote towards objects of interest. He can rotate himself in a circle and has just started pushing himself backwards. He can sit up unassisted for a short time and sit propped such as in a grocery cart for quite a while. The trick with the grocery cart is not putting objects of interest too close or he ends up twisting himself around in an attempt to eat all the things. Diaper change time is an excellent time to roll over. It's definitely not safe to leave him unattended on a couch.
His favourite toy is now probably the Jolly Jumper. He's VERY enthusiastic. He also greatly enjoys the jolly jumper, Matthew's beanie boo dragon stuffies, a set of plastic keys and is still a big fan of the silicone muffin liners with feet. He also does take a soother, though he tends to gnaw on the wrong end.
He still mostly tries to nurse his solids but is making progress on learning to chew. He seems to like everything he has tried, though he makes some hilarious faces. Oranges are a particular favourite, as is watermelon and sweet potato.
A very smiley boy with an adorable giggle - his big blue eye garner much attention pretty much everywhere we go.
You might also like
- 5 months
(0.403604)
- 22 months
(0.401942)
- Nine months
(0.394269)
- 11 months
(0.394167)
- Eight Months
(0.392962)
All
July 9, 2018
Our household is no stranger to episodes of gastro. In fact, we have so much experience that we have an "extreme vomiting" protocol that we generally institute as soon as anyone starts celebrating pukefest, as we not so affectionately refer to it.
In any case, Elizabeth had her friend Lindsay over making slime. I came home from karate with Matthew about 8:15pm and pale Elizabeth came to me in the kitchen and said "I don't feel good". I didn't even have time to send Lindsay home before Elizabeth was throwing up in the sink. She threw up five more times within the hour. Managed to sleep; then threw up in her sleep (which is always the worst).
We started with 1 tsp of Pedialyte every five minutes as per our regular routine. We took it down to 1cc every minute. That didn't help. Gravol was obviously not going to be any use.
By the time she threw up 10 times in three hours we decided we might want to seek some anti-nausea drugs at CHEO. Then she started to vomit blood and that was the clincher.
Final tally: 18 episodes in 6 hours. Eventually they gave her Zofran and just like that pukefest was over! Apparently she suffered mallory weiss tears. She's on meds that smell like pure peppermint oil for the next 7-10 days to reduce the acidity of her stomach. We have more magical anti nausea tablets if she feels ill. She's supposed to avoid any more vomiting. We are all completely onboard with that idea.
0 comments
You might also like
- First outings: Music, library, karate
(0.371971)
- St Nicholas Day
(0.369835)
- 52 cm of Snow
(0.367804)
- First day of "preschool"
(0.367238)
- Mother's day
(0.36612)
All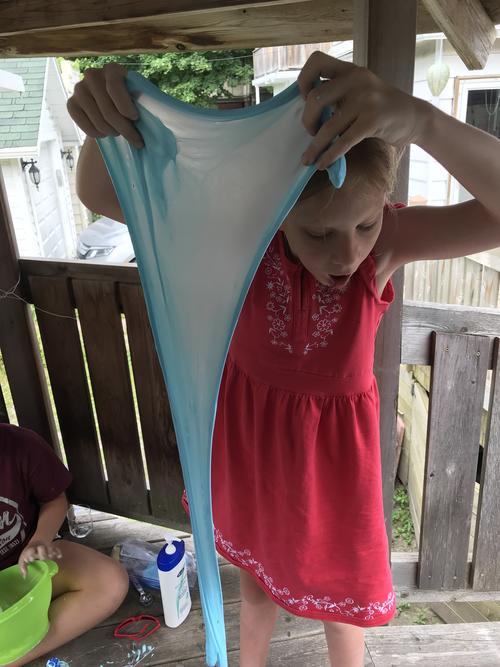 Lindsay from three doors down came over to make slime; to everyone's great delight.
I was glad I insisted they make it outdoors, and sorry I didn't insist they avoid the deck.
You might also like
- Auntie Mary
(0.253659)
- Winter sickie
(0.248031)
- Cousins
(0.244344)
- Slime!
(0.240741)
- Playing with your food
(0.240566)
All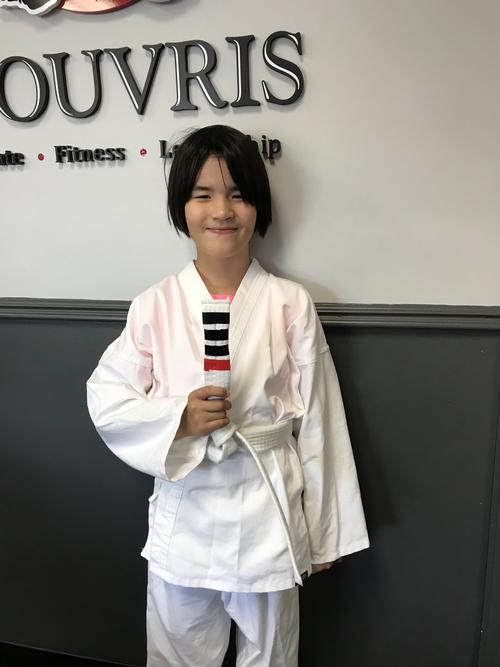 Maria has her red stripe now too so both cousins are getting new belts. Matthew has just realized that they are going to catch up to him pretty quickly at this rate; Tyke belts move more slowly than Kid belts, because younger kids just take longer to absorb the material and be able to perform it at an adequate level.
He's vowing to go to more classes in order to stay ahead - we're have to see...
You might also like
- Stripes, stripes, stripes
(0.336927)
- Pokemon
(0.296984)
- Third stripe on Yellow black belt
(0.286611)
- Maria is orange-green
(0.284047)
- Amelia starts ballet
(0.283465)
All
July 7, 2018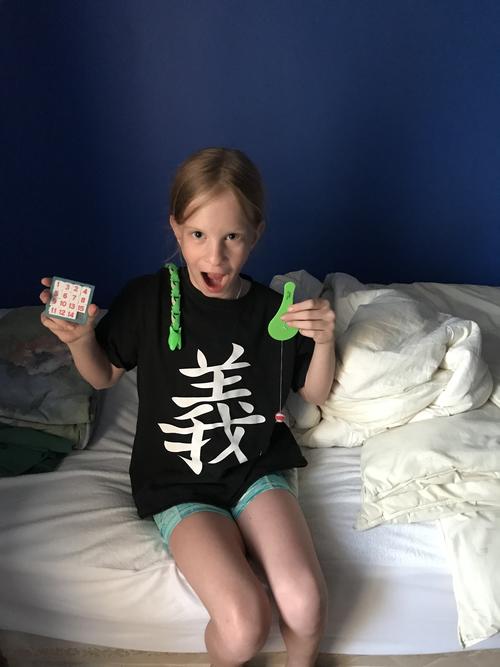 Left to my own devices, I wouldn't have let Elizabeth start reading Harry Potter until she was the same age as Harry in the books. The first few are fine and both Brendan and I enjoyed reading them greatly ourselves but it seems to us that they get less and less age appropriate as they go and there are many, many other books that we'd prefer our kids read first that are both great reads AND age appropriate.
It is of course possible that we are slightly on the overprotective side when it comes to media consumption, but I've never understood the hurry to introduce kids to things like Star Wars or Harry Potter.
This of course drives Elizabeth batty as she was the only kid in her Sunday School class not to have seen the latest movies and I'm assured she's the only kid "not allowed" to read Harry Potter.
She was obviously thrilled when it was assigned for karate book club, and we decided that not allowing her to participate would probably be cruel. Needless to say she absolutely LOVED the book and begged to keep reading. We decided that she could go ahead and read the first three books but would need to stop and wait a bit longer for books 4-7.
You might also like
- First day of "preschool"
(0.357907)
- Cousins move in
(0.352304)
- Victoria Day Fireworks
(0.350205)
- Christmas Village
(0.349931)
- Olympic skater
(0.349275)
All
When I came to pick up Elizabeth, I was surprised to discover that not only had Matthew and Erika received stripes (confirming that Erika is indeed going to grading), Elizabeth got her first brown belt stripe as well!
Now it's just a waiting game to see if Maria is going to get her stripes too. Erika has been going to more classes, but since Erika couldn't go to class for a week or so they are still more or less at the same level.
You might also like
- Two stripes
(0.350711)
- Going to grading
(0.336927)
- Maria is orange-green
(0.336049)
- Bikes
(0.328452)
- Hashi
(0.319261)
All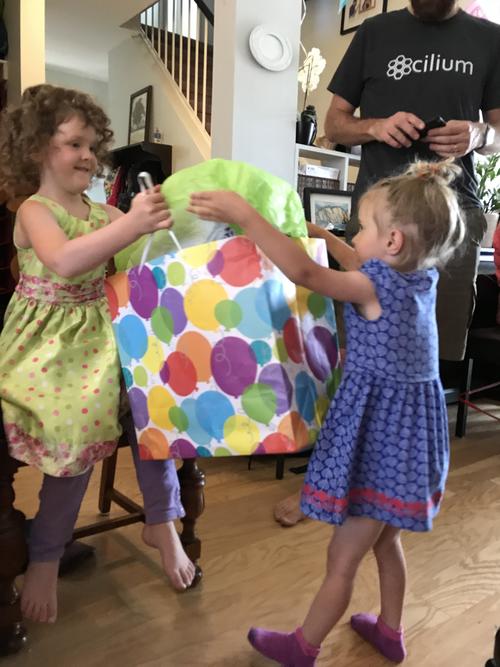 Wee Isabelle turned five and today was her party. Surprise gluten free pie for Auntie Sarah, whose birthday it was too!
Sweet, shy Isabelle with the glorious curls is now five. She and Matthew are great friends and often run off together to do secret cousin things by themselves. Usually they manage to stay out of trouble, which suggests she is a tempering influence on Matthew...
You might also like
- Running
(0.293796)
- Matthew Family Party
(0.285714)
- Rainbows and Lollipops (2 & 4)
(0.280142)
- Model Child
(0.277652)
- Cousin Tshirts
(0.276688)
All
July 6, 2018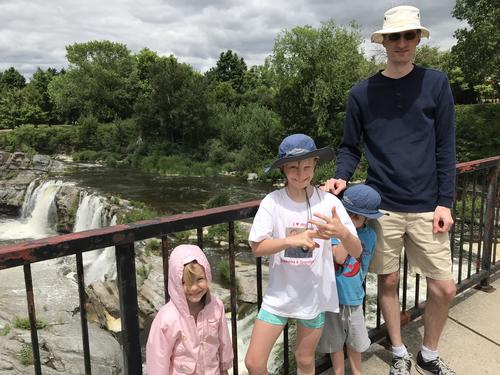 With Maria still in quarantine and the rest in need of some quiet time before Isabelle's birthday party on the weekend, our kids were indignant to think we might cancel the last day of cousin camp.
We'd originally planned to visit Mooney's bay park as Uncle Chris had a company lunch function with his family here so figured we could go with the girls and then deliver them to the lunch, but unfortunately it didn't work to connect.
Elizabeth declared we could have "cousinless camp" instead and next thing we knew we were having a picnic, flying our kites and visiting the park. Kites were fun until Elizabeth burned her fingers on one of the lines. Then she was done. She sulked pretty much until we made it to Mooney's bay, after which she forgot her wounds in the excitement.
This playstructure was the subject of much controversy here in Ottawa, as it was developed in conjunction with a TV show as a Canada 150 project. Ottawa paid $1 million dollars, and the show paid $1 million dollars and the show got to cut down a lot of mature trees on prime riverside land with no public consultation whatsoever.
It's a really nice park, even though they ran out of money and didn't implement the world's longest monkey bars or whatever it was going to be. I don't think it's two million dollar nice, and if anyone had asked me I confess I'd probably have agreed that it would have been better to put it somewhere else. But it's there now and it's super fun, if a bit crazy busy. It's become a summer camp destination so it was full of poorly supervised kids running rampant the day we went but it was big enough that we didn't mind. My only complaint was that we didn't leave enough time to properly explore all the provinces (each section of the playstructure is themed for a different province) and we never found all the treasure hunt clues hidden throughout. I guess we'll have to go back!
You might also like
- London
(0.393791)
- River Oak
(0.390838)
- Flying Squirrel
(0.390597)
- The Log Farm
(0.389699)
- Fred
(0.388235)
All
As soon as Erika got her third stripe, I checked the grading schedule. Of course grading is when we're going camping. Too bad! Luckily she won't have to wait until next grading to get her belt...
0 comments
You might also like
- Stripes and going to grading
(0.304878)
- Erika going to grading stripe on green
(0.303226)
- Maria stripe
(0.29697)
- Red stripe
(0.292929)
- Stripes, stripes, stripes
(0.280936)
All
July 5, 2018
Andrew Haydon Park is a pretty unique park in Ottawa that has consistently made the top ten lists of play places. Unfortunately it recently was "refurbished" and although the online plans looked promising the end result is classic Ottawa design. In short, they completely ruined it.
The water play area is why people drive from all over the city to visit it - in the old park there were many different ways to move water around and setting up the various wooden structures to transfer water and sculpt the sand was a fun engineering challenge. The "water slide" was pretty amazing too.
The new water play area is a small fraction of its former self and on the day we visited at least, all the kids were crowded into the water play area almost completely ignoring the rest of the park. We went pretty early in the day, as the sun got higher the lack of shade on much of the structures made them very unappealing. Perhaps they'd get more use on a cooler day.
It's been long enough since we'd visited that the kids didn't remember the old version - I'd never brought Amelia and Matthew at all I don't think - so they didn't spend the whole visit fuming about missed opportunities and inept "improvements" the way I did. In fact, it would only be fair to note that they enjoyed their visit very much and would like to go back.
You might also like
- Pony Dancing
(0.382813)
- Doors Open Ottawa: Barber Carving & Sculpture Inc
(0.381885)
- Cottage Days
(0.38025)
- Mooney's Bay
(0.375)
- Apple Picking Reprise
(0.371765)
All