July 31, 2018
Elizabeth now has her second stripe on her brown belt
You might also like:
-
Erika has 2nd stripe brown belt
-
Red stripe
-
2nd Stripe
-
Second blue belt stripe
-
Erika stripes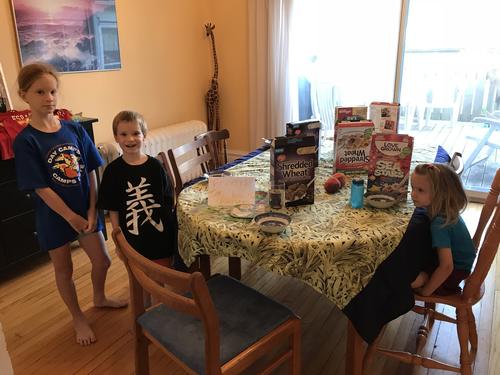 The kids got up early to be the breakfast fairy this morning lol
You might also like:
-
First Snow
-
Cuddling with Lorianne
-
Auntie Mary
-
Bunaffe goes skating
-
Chris has a birthday
July 30, 2018
Lorianne and Michael came for lunch while the other kids were at camp to celebrate Amelia's baptism anniversary with us. The other kids were not terribly amused to be left out even though we saved them some cake. Getting godparents and entire family in the same room proved beyond my scheduling capabilities so we decided to go with what we had. Amelia was quite pleased to have (mostly) undivided attention.
You might also like:
-
Baptism birthday
-
Elizabeth baptism birthday
-
Matthew's baptism birthday
-
Snow Day
-
Duty day the third
July 29, 2018
Auntie Joanne came to visit us again. The kids were super happy to have her around. Matthew's planning to move in with her (on his boat in Wellesley) when he's big, apparently. She can read him lots of stories without needing to stop for bedtime.
You might also like:
-
Auntie Karen's Garden
-
Auntie Mary
-
Hayley
-
A birthday on Canada 150
-
Movie Night
July 28, 2018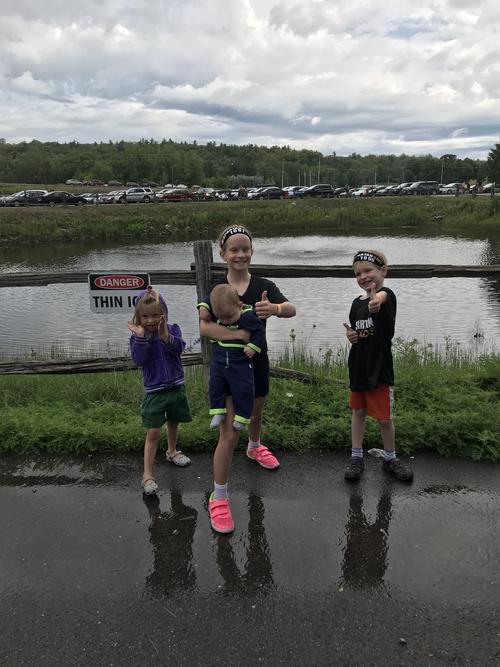 Well, it was Matthew's first spartan race and it started out absolutely POURING. Elizabeth was apparently very nervous (we signed her up for the 3km one for the first time) and spent the entire car ride there telling me that she hates running and races and WHY AM I MAKING HER DO THIS WHEN SHE DOESN'T LIKE RUNNING?!?
Matthew thought she was being very silly (not wrong), but luckily it had stopped raining by the time we got there so she agreed to come in at least and get her t-shirt. Then we found Aidan and Caitlyn and randomly bumped into a couple of her friends from school and some more from karate and she cheered up.
Matthew and Caitlyn were in the same heat, so she agreed to take him under her wing. Then there was a bit of a kerfuffle over dividing the heat and there were only about 10 kids in the second wave or something, so they were all like "just go!" but Caitlyn didn't want to and it took me a bit to convince her she should start running. By that point Matthew had completely disappeared. Absolute chaos. I was a little stressed about finding him there were SO MANY people and spent more time than I would have liked running back and forth parts of the course looking for him. Eventually I located him though (and Caitlyn caught him up). There wasn't any mud to speak of. Matthew finished in 20 minutes and 58 seconds.
Elizabeth had to wait around until the afternoon for her heat and by that time it was crazy hot. We sprayed her with water as she came around the course, which she loved. She finished every single obstacle even though they told her it was optional and adored every minute. We were crazy impressed. She finished in 36 minutes and 38 seconds and took back all the stuff she said about not liking running. Of course I must sign her up for next year, but maybe she could do the harder Elite one because they got better freebies and it's not like she had to skip any of the obstacles. I'll have to remind her of this next year...
After the race we went swimming with Aidan and Caitlyn and Evelyn. We borrowed swimsuits because it would have been too far to go home and back again.
You might also like:
-
TriKids Triathlon 2017
-
Spartan Race
-
Surprise
-
Flying Squirrel
-
London
July 27, 2018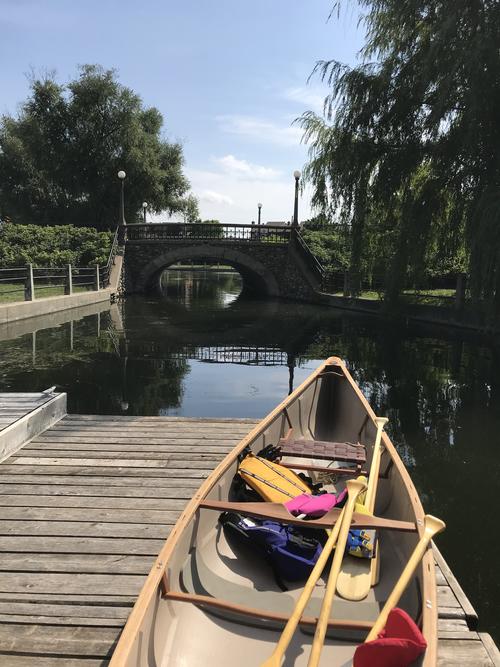 My kids are constantly asking when the canal is going to freeze again because "we can only go on it when it's a skating rink". I've been telling them for years that it's pretty neat to use for boating too but although we even have a canoe in our garage it's taken us a while to get around to actually putting it into the canal.
There's an easy access point by Patterson now though, so we loaded up the canoe, our scooters and many small children and off we went!
The kids enjoyed paddling around very much, especially the part where we squeezed by the island. We mostly stayed in the inlet because it was quite windy and the canal is a wind tunnel but Brendan took some of the kids out into the main channel for a brief exploration. After that they stopped arguing that it wasn't all that windy.
You might also like:
-
Heidi and Tante Elfi
-
Gatineau Park Ski
-
Kindergarten graduation
-
Skating
-
Matthew's christmas concert