August 9, 2018
Today was the point swim and Mommy managed to convince Amelia to join her in the water. Amelia was probably heard protesting all the way in Huntsville after about 30 seconds but there was no way Mommy was letting her off after she committed to swimming, so Mommy acquired a baby bear on her back and somehow managed to make it back to the dock without being drowned by her cargo. Elizabeth with peer pressure from Erika finally swam both ways without stopping in the middle. This means she has now passed our goal of being able to swim 1km in open water and if off the hook for swimming lessons for a while. All the kids (including Amelia) were very proud of themselves after they had a chance to warm up a bit.
You might also like
- 10 days
(0.333948)
- Pancake Chef
(0.328205)
- Spring
(0.320138)
- Music Recital
(0.319468)
- Tubing and Mr. Bear's treasure (injury edition)
(0.319277)
All
August 8, 2018
Ponies were ridden (or touched), art was made (really cool art with lots of steps and unusual supplies), lunch was had in Bracebridge, and perhaps most importantly the canoe was tipped (repeatedly). Mommy had been threatening for years now to tip the canoe on purpose so that the kids could learn how to deal with such and event. They of course lived in mortal fear that Mommy would do so every time they went within ten feet of any canoe. Mommy finally decided that this would be the year. With the kids trembling with fear she tipped the boat in shallow(ish) water and after the kids resurfaced they immediately demanded to be tipped again, and again, and again. They had great fun learning how to right the canoe, climb back in and bail it out. In the end it was decided that perhaps this wasn't actually such a scary thing after all. After all the excitement of the day the kids decided to do some karate practice on the beach to wind down.
You might also like
- Summer week 3
(0.344985)
- Xander
(0.333333)
- Progressive Supper
(0.329738)
- Waterskiing, fish and clams
(0.329268)
- Face paint practice
(0.327744)
All
August 7, 2018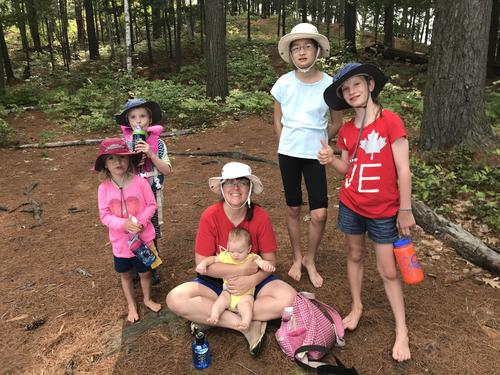 Tuesday's are totally tubular at the cottage. Erika experienced her first tube ride and immediately fell in love with bouncing around at high speed. There was canoeing (with a mild bout of excessively competitive spirit), exploring, marshmallow roasting, seed spitting (with mandatory pre-spit dance to psych one's self up) and much fun in the sun.
You might also like
- Andre's Cottage
(0.266169)
- Cottage tubing
(0.26097)
- Misty morning and a beautiful day
(0.257895)
- Johanne's cottage
(0.256532)
- Seed spitting and s'mores
(0.253369)
All
August 6, 2018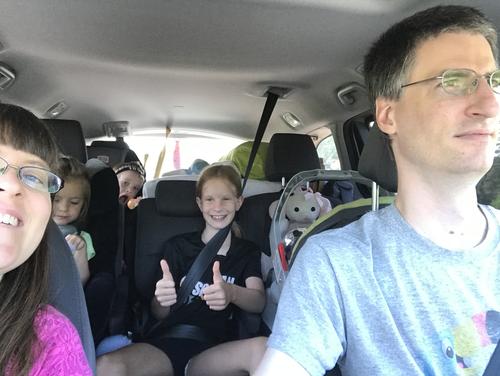 Despite planning to leave bright and early we somehow found it necessary to clean the house within and inch of its life before leaving and thus left about the time we normally do. We filled the van to the point of bursting and then popped the canoe on top for good measure. Somehow we even managed to stuff all of the children in despite Daddy having distinct visions of recreating the Richard Scarry story about the plane which of course had room for just one more and when the ant climbed onboard split down the middle. In the end though we made it to Muskoka in good time and with smiles on everyone's faces.
You might also like
- Garden 2018
(0.304745)
- Roses and Thorns
(0.301915)
- Chair recovering
(0.296422)
- Tubing and Mr. Bear's treasure (injury edition)
(0.295455)
- First Restaurant Order
(0.293729)
All
August 4, 2018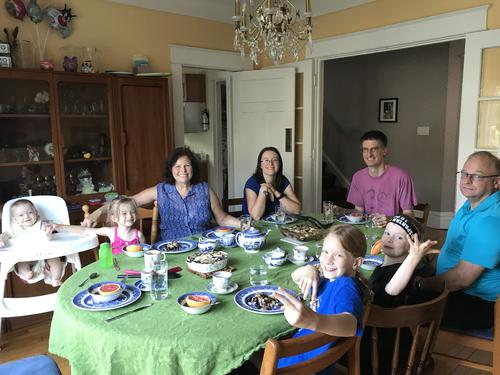 My aunt Maybeth's sister Liz and her husband Kurt were passing through Ottawa so they stopped in for a quick visit before we leave for the cottage!
You might also like
- Cousin Time
(0.280528)
- Movie Night
(0.278846)
- Breakfast at Mary's
(0.245614)
- Christmas Pageant
(0.242857)
- Trash panda
(0.241803)
All