August 30, 2018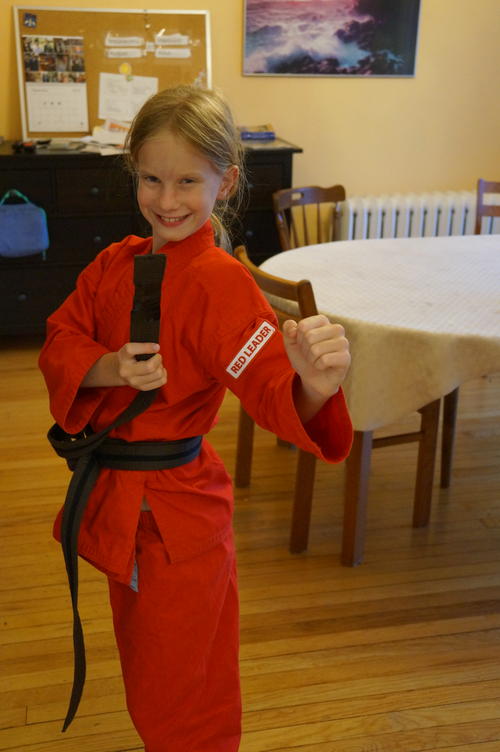 Looks like someone is headed to grading soon...
You might also like
- Red stripe
(0.318681)
- Cuddling with Lorianne
(0.229508)
- Stripes and going to grading
(0.21)
- Third stripe on blue belt
(0.19863)
- Homework
(0.19)
All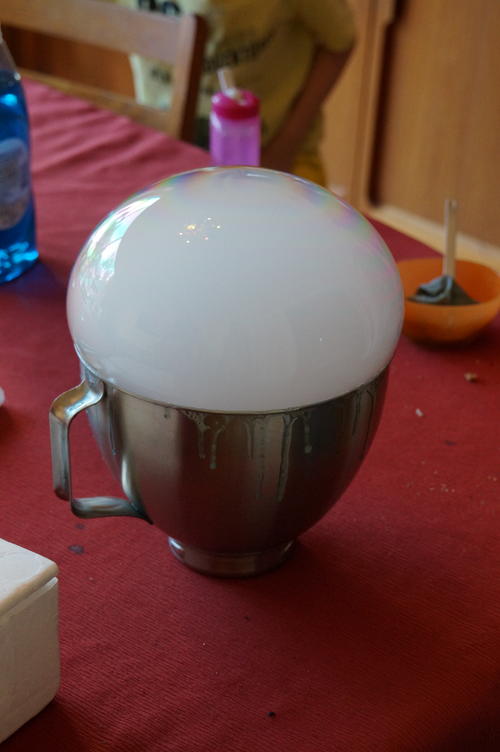 I have mentioned our little war on Fred the rat that lives in our front garden before, but despite our best efforts the hole remains occupied and our pet snake seems to no longer be frightening any of them. In fact said snake has acquired quite a few teeth marks around the neck so the vermin may be onto us...
Anyway, Brendan had been doing some research and apparently one can painlessly and humanely get rid of rodents by plugging all their holes and stuffing dry ice down the tunnels. The oxygen gets displaced and the rats all suffocate. We figured it was worth a try and in any case it's always fun to get to play with dry ice...
So our science homeschool theme this week was death by dry ice... Most of the dry ice was lovingly placed down the main tunnel after we blocked up all the outlets we know about and then we looked up a few experiments that you can do with leftover dry ice and tried them too. The most successful was definitely the "make a giant soap bubble". Sadly the rat tunnel system appears to be too well established and well ventilated and the death part of our science experiment was a failure.
Brendan's now ordered a kind of diving board trap that is supposed to lure the rodents to a watery grave.
You might also like
- Garden
(0.361361)
- Grade 1
(0.352727)
- MYC
(0.350444)
- Hawaii
(0.349776)
- Seven
(0.349341)
All
August 29, 2018
Matthew is back to school today along with half the maternelle class. He'd rather stay home and build things out of lego, but he's pleased to be going back to his class.
He has the same teachers as last year and likes them (we do too). All his friends have moved to the big school for grade one. He says he doesn't need new ones, but we're encouraging him to try to make new friends anyway.
After school he said he had a good time and was pleased to be back, aside from it being a bit too hot. The school is having brickwork done so none of the windows can be opened in his class!
You might also like
- Preschool registration
(0.331828)
- First day of Maternelle
(0.328671)
- Amelia starts preschool
(0.323789)
- Expedition to Home Depot
(0.321555)
- A masked visitor
(0.319005)
All
Elizabeth is 9 and half. While she is clearly experimenting with sass in anticipation of becoming a teenager on the whole she is a delightful young lady. She continues to impress us with her athletic abilities and is a star pupil at school. She is friends with approximately half the city. Everywhere we go people call out "hi Elizabeth". She's continued to grow like a weed and is now distinctly tall. Her love of Elephants continues while she keeps trying out new hobbies. Her drawing is getting quite good.
Today was a beautiful day so despite it being a school night we all went outside to play with the neighbours.
You might also like
- 8 months Michael
(0.310518)
- One month
(0.30678)
- Duty day the third
(0.303483)
- French class
(0.299259)
- Summer school aug 24-28
(0.298887)
All
August 28, 2018
Elizabeth is starting fourth grade. I was a little dismayed to find out that very few of her friends or previous year's classmates are in her class, but she likes her teacher and is super excited to start upper elementary.
You get to join sports teams! Recess is different! You get more responsibility! You have to change for gym!
But most importantly (according to Elizabeth) you get to learn English.
You might also like
- Last day of grade one, Matthew's baptism birthday
(0.320675)
- Matthew and Elizabeth spectacle
(0.30621)
- Terry Fox Day
(0.301762)
- Matthew has a yellow belt
(0.300595)
- First day of grade 3
(0.300199)
All
August 27, 2018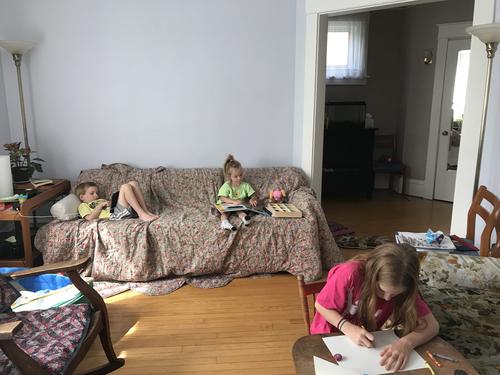 Although Elizabeth and Matthew are sure their teachers told them that "les vacances" are for "relaxing" and "forgetting about work", in our family summertime is for homeschooling.
Elizabeth requested that she learn calligraphy, lots of art and cooking. Matthew wanted to do science that involved flying airplanes and to learn cursive. Amelia wanted to do crafts.
I wanted Elizabeth to start Math U See Epsilon (fractions) and Matthew to work through Math U See Alpha. I figured I'd go over the Pre-K materials with Amelia for the Canadian Curriculum Press that I did with the other two on the grounds that it's not a terrible way to practice writing letters and numbers.
I had plans for some drama and visual art. We wanted Elizabeth to improve her research skills. We wanted Elizabeth to learn to type. We wanted to work on Elizabeth's spelling and Matthew's French. We wanted to introduce some basic computer skills. We wanted to talk about health, specifically puberty (since Elizabeth is showing signs of hitting this stage long before we are going to be ready).
Getting through Delta before the start of the summer proved too ambitious. I threw that idea out the window and concentrated on teaching division very slowly and methodically. She knows the mechanics but clearly does not "get" what's going on underneath. Matthew has been working through Alpha. His fine motor skills have been an obstacle in terms of writing but he is really enjoying doing "his" math so we persevere with some extra math on the iPad (Starfall, monster math) to ensure the writing part didn't get too frustrating. Amelia doesn't really have the fine motor skills to write numbers either and although she desperately wanted to do math too she wasn't terribly interested in the materials I had prepared. Her math ended up mostly looking like playing with math blocks and doing Starfall math. Not the end of the world.
I don't have any calligraphy skills and Matthew was clearly not ready for cursive. So we just skipped those for this summer. We didn't do any airplane science either - so much for child-led learning! We did do a lot of arts and crafts, and science. We did a bunch of Canadian history as well. I tried on the drama but the kids were not amused. We read a lot of French books and watched some videos in French. I took out many books about the human body and puberty and we had some chats with the kids. I had Elizabeth and Matthew work on a summer journal again. This year Matthew was required to write a sentence for each entry. Our summer journals were much more hit and miss than 2017.
Elizabeth did learn to type using the BBC Dance Mat program. Daddy did a couple of little sessions on basic research and computer skills as well. Overall I felt that I wasn't as prepared as I could have been and the results reflected that. Dealing with the baby and three different levels at the same time was extremely challenging and probably that's why we ended up doing so much art and science. I do think that on the whole I'm reasonably satisfied with the progress we made.
You might also like
- Summer School Summer
(0.463704)
- Grade 1 update
(0.439856)
- Virtual school: Week 4
(0.438003)
- Virtual school: Week 5
(0.434853)
- Homeschool wk apr 6-9
(0.434191)
All
August 26, 2018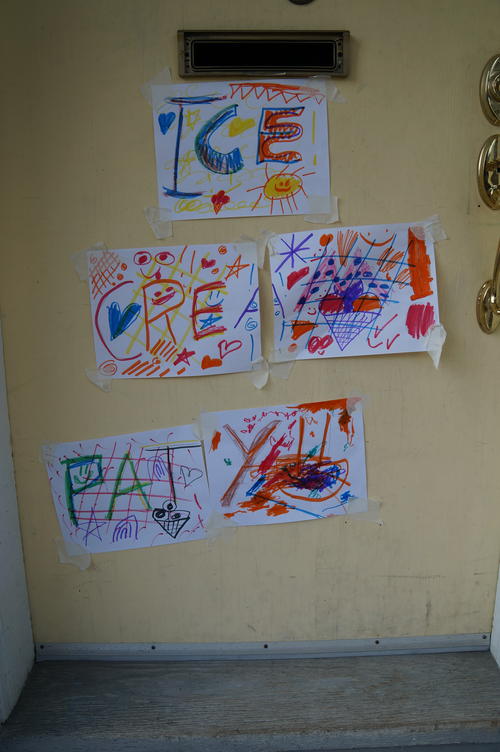 Annual ice cream party and we only got stuck with thirteen flavours of ice cream at the end (!) I neglected to keep track of how many flavours or guests but it was a fun party as usual. Elizabeth says it's one of the best days of the year "because you get to eat as much ice cream as you want". Matthew (our child who often doesn't eat ice cream) enjoyed filling his cones with toppings such as maraschino cherries, marshmallows and chocolate sauce.
Next year I need to remember to buy more bowls and spoons! I also might force everyone to eat gluten free cones as it got quite difficult to police the whole not putting cone bits into the ice cream with 2358939687456 children.
Janice is getting very good at making cones too.
You might also like
- Ice cream potluck
(0.357243)
- We three Kings
(0.333333)
- Come Sing Messiah
(0.331897)
- Messiah practice
(0.321311)
- French Class
(0.318489)
All