September 16, 2018
It was stinking hot but the wading pools are all closed, many of the city pools are closed for maintenance, the beach sounded like a recipe for heat stroke and inviting ourselves to someone else's pool seemed like too much work.
"Let's use Elizabeth's slip-n-slide!" suggested Matthew. Shortly after we had many small children flinging themselves with abandon across our lawn. It was pretty perfect, even though Matthew eventually got into trouble with the super soaker and was sent indoors to contemplate how to improve his sibling relationships.
Lorianne and Oliver (The Boy!) came for lasagna and cherry cheesecake supper. Elizabeth decided to be twins with Lorianne since she could. Then we all played dutch blitz. Oliver and I lost but we had teammates that proved natural handicaps. Matthew was on Oliver's team; Amelia and Michael were on mine.
I also include a photo of our deck; apparently our deck furniture doubles as fort building supplies. Many, many people have inquired if our gazebo / slide are off limits at the moment for structural reasons and the answer is no, we just have many children who think that it's fun to crawl through an obstacle course to get to said slide.
You might also like
- Party
(0.370833)
- River Oak
(0.36722)
- Fall summer
(0.361419)
- 7.5 ish years
(0.359841)
- Medical appointments
(0.358944)
All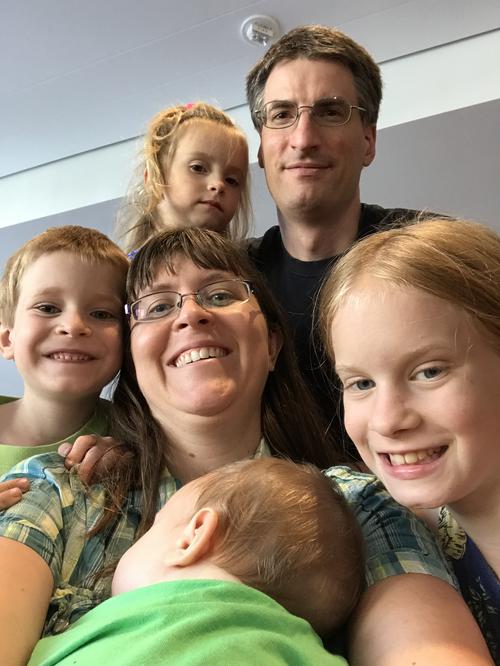 The NAC was doing a special Beethoven series and part of it featured a free introduction for kids. "Ludwig van Cranky Pants" was an amusing but informative look at the composer. Marjo(2) are Marjolaine Fournier and Marjolaine Lambert, also dubbed Purple hair and Grandpa by the kids. Basically the premise was that Purple Marjo was a kid who didn't want to practice her Beethoven (and/or wished to make her own "improvements"). The other Marjo played grumpy Beethoven.
The kids were pretty engaged, although Amelia lost interest about halfway through and wanted to sit on my lap. This was not an option because Michael also wanted my lap in order to have a nap and nurse.
Luckily the venue was pretty informal so Michael and I went to stand at the back for a while.
I thought the performers did a wonderful job. My favourite part was probably when they got the audience to do a canon (they were showing the kids what it was).
You might also like
- Gingerbread
(0.32992)
- Rainbow Camp
(0.326705)
- Christmas Eve
(0.321123)
- Ballet Recital
(0.320567)
- Crachel
(0.318681)
All
September 14, 2018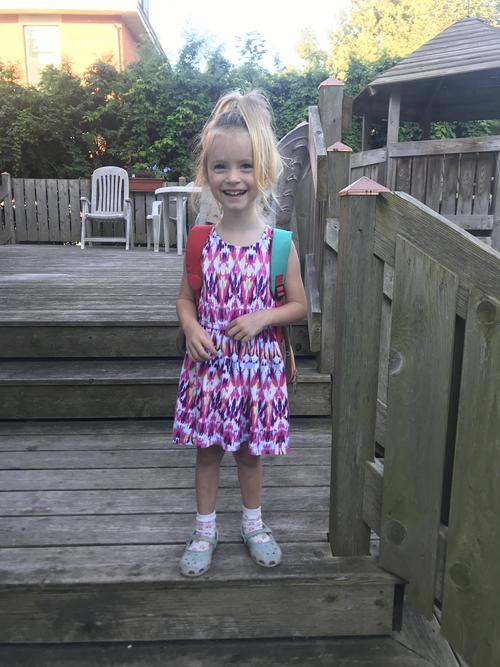 Preschool started late this year because of renovations being done at the community centre.
But today was finally Amelia's first day of preschool. She was very keen to go back "to see her friends". Our next door neighbour Horatio is coming this year too, as well as Matthew's preschool buddy Adam's little sister Ally from around the corner. Amelia says she's going to help them settle in, although as luck would have it they were not in the same staggered entry day as Amelia.
We arranged a couple of playdates with Horatio in the days leading up to the start - one at our house and one at his house with some of the other preschool kids. Much fun was had!
Anyway, I was asked if I wouldn't mind doing the first day again and when they reminded me that meant I only had to bring snack for half the kids I was definitely on board. Amelia decided she wanted a "rainbow snack" of course. It was nice to get to know the two new teachers this year. Amelia was happy to be the "duty girl" but didn't particularly hover around me as she methodically went around the room checking out all the toys. She showed me which jobs she was going to do when she's grown up: a fire fighter and an artist. I was amused to observe her scissors "technique" which is neither effective nor safe. Something to work on!
You might also like
- Preschool duty days
(0.4117)
- Halloween
(0.408353)
- River Oak
(0.405978)
- Matthew's first skating class
(0.399563)
- Camp Otonabee
(0.390368)
All
September 11, 2018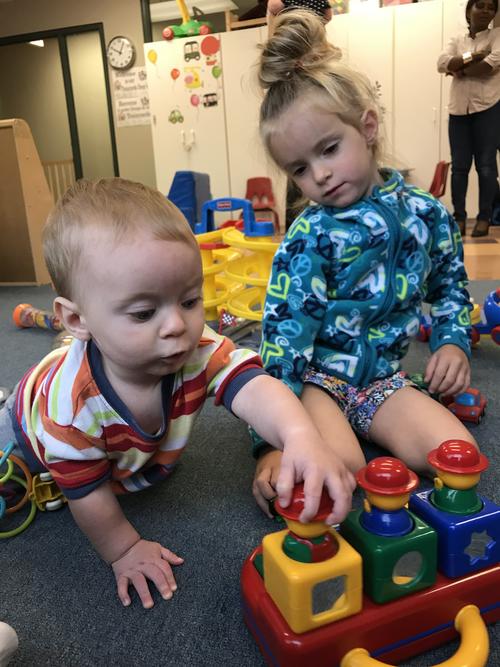 When Elizabeth was little we did all kinds of things to teach her French prior to starting at Francojeunesse.
We spoke French at home for at least one meal every day. I played songs and stories in the car in French. She went to French class at a local community centre. We read lots of stories in French. We went to this amazing playgroup in French at Marius Barbeau. She did jeu d'école.
We stopped speaking French at home when Elizabeth started JK and seemed too mentally exhausted. We got a new car that was hard to play music on and then thieves stole our hard drive, so I stopped doing that. The community centre stopped offering French. The playgroup closed. The CEPEO stopped funding jeu d'école.
I never really found a good equivalent playgroup for Matthew and felt slightly guilty about how much less prepared he was for starting school. Recently however, Elizabeth started saying she wants to speak more French at home and we are making new attempts to expose the younger two to more French.
Part of that means it's time to forget about looking for a Marius Barbeau substitute and just find a playgroup with some French. So today we went to the French immersion group near Trainyards. I've been here before. It's not wonderful, just okay but we spoke French for two hours and Amelia had a ball.
She did try to shoo me out the door on the grounds that she is now big and no longer needs her mother to come to school with her, so I guess she's more than ready to go back to preschool.
You might also like
- Dovercourt
(0.388005)
- French Class
(0.385768)
- Summer School Week
(0.379172)
- First Day of School
(0.378768)
- First day of Maternelle
(0.377931)
All
September 10, 2018
Michael celebrated turning eight months old by casually holding on to Daddy while playing with a toy standing up... and then letting go! So he's officially stood unassisted for a few seconds!!
Elizabeth keeps saying "I'm not ready for him to grow up" and "I still remember the day you were born". We're very amused, although we sympathize with the sentiment!
If seven months was locomotion, eight months is vertical. Now that he can pull to standing Michael spends a lot of time doing exactly that. Amelia finds his newfound mobility and height "'nnoying, Mommy". Daddy says Michael is showing signs of being as wild as Matthew. Michael certainly likes to roam about and get into all the things.
Michael is communicating more and more, especially with Elizabeth. He's also made a surprising amount of progress on the using the toilet front, to Amelia's great chagrin.
You might also like
- One month
(0.362916)
- Five months
(0.359296)
- 12 Days of Christmas: New Year's Eve
(0.355177)
- Dovercourt
(0.351492)
- Decision making study
(0.350438)
All
September 8, 2018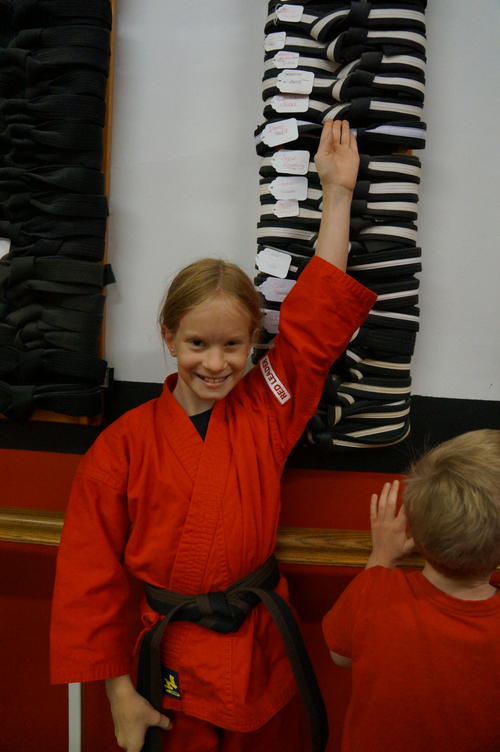 Elizabeth is now the proud wearer of a brown black belt. Or, as she likes to say "four stripes away from my junior black belt!!!!"
She sang "brown like tree, black like shadow" all the way to grading.
We told her this might be her last chance to do regular grading (it's her last belt before the special black belt grading) so that she should think carefully about what she wanted to say when she got asked about her favourite part of karate. Her favourite part is tournament team, but she's always been too shy to say so. Not this time!
Afterwards we went out for lunch at the "bear" restaurant (aka The Works) because Amelia has been demanding to eat there every time we drive past (several times a week) and it seemed like a good time to celebrate a little.
You might also like
- Orange Belt
(0.344768)
- Fun at the neighbours
(0.344554)
- Ice Cream Festival
(0.343137)
- Cousin Marc
(0.338828)
- Sheep Shearing
(0.338323)
All