September 20, 2018
Hayley came for supper and since the kids knew it had recently been her birthday they decided birthday cards and a cake were in order. Matthew made a birthday paper airplane in lieu of card. Elizabeth made a very elaborate booklet.
Kids reckoned she should stay overnight but settled for bedtime stories being read by Hayley.
You might also like
- Xander
(0.313278)
- Grandma's birthday
(0.307443)
- Cousins
(0.302857)
- Museum and Birthday
(0.302671)
- Soon you'll get to 30
(0.301887)
All
September 19, 2018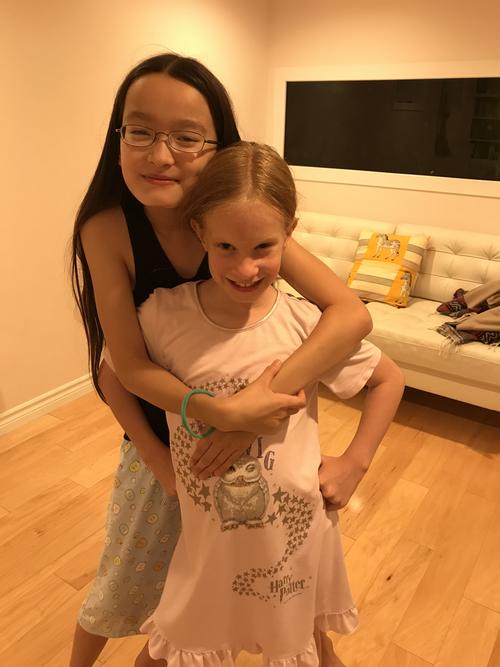 Erika and Elizabeth are keen to hold us to our promise they could have "lots of sleepovers". Erika was supposed to come on the weekend but succumbed to "Hoshino disease" as her mother put it. Or, in other words she pretended to be sick in order to get out of Japanese school, which meant she wasn't allowed to come overnight Saturday evening.
When they came to pick up vegetables on Tuesday Erika was keen to reschedule so we agreed to let her come on a school night. Elizabeth was so happy she didn't even complain about how we aren't letting her go to karate after ballet on Wednesdays.
You might also like
- Great Aunt Joanne
(0.331707)
- More snow
(0.327345)
- First day of school
(0.320158)
- Cousins move in
(0.319444)
- Recital, Home Depot, movie night
(0.319209)
All
September 18, 2018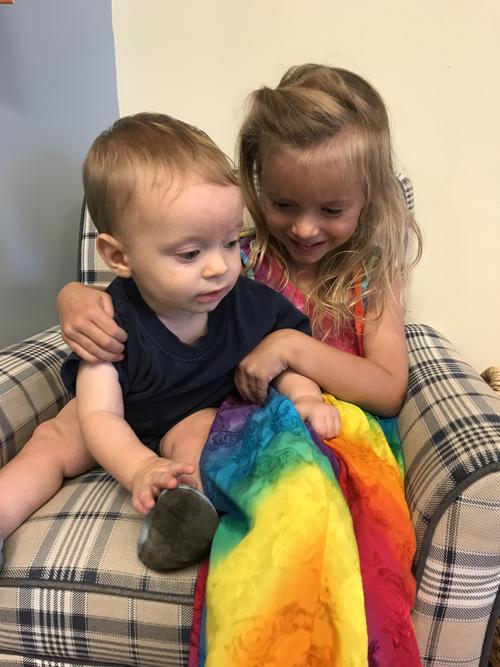 I know I said that I was just going to settle for a French playgroup that was just ok, but I figured I might as well check out some of the other options.
The main decision I've made is to take the kids to A playgroup every Tuesday morning and so far so good.
I actually liked this one quite a lot. The room was bigger, the play areas had more thought out into them and they even had a little area suitable for gross motor play. Not quite the climbing structure with slide from Marius Barbeau, but an improvement for sure.
The circle was really good too; there were instruments, dancing, songs, stories and they even played a game where the kids had to find a mouse hidden under different coloured houses. Amelia's getting pretty good at her french colours. I'm quite impressed by how fast she seems to be picking things up - perhaps she has inherited silly Grandpa's talent for languages.
You might also like
- French Class
(0.372)
- French class
(0.366434)
- Apple Picking Reprise
(0.361893)
- Blood Pressure
(0.36017)
- Amelia is 2
(0.359536)
All
September 17, 2018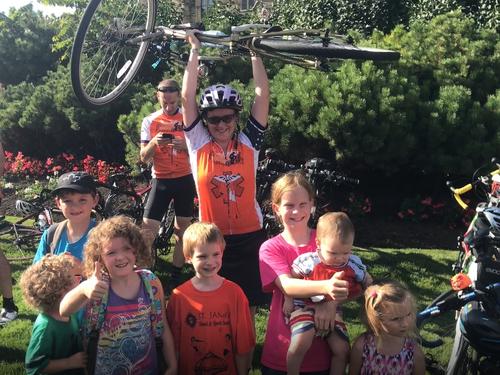 Janice has been riding her bike very often all winter and summer to prepare for a fundraiser bike ride with the paramedics.
This weekend was the big race - 505km over four days (actually it ended up being longer than that due to construction).
She figured that if she had a reaction en route at least she'd have many first responders nearby! I'm pleased to report that she did not require medical assistance, though her roommate did...
We decided to pull the kids out of school early in order to meet Janice at the finish line. We parked at the World Exchange plaza and headed for parliament hill where we discovered Dave and Karen had had the same idea! Mom & dad were able to FaceTime in despite terrible internet connections. Soon enough the cyclists arrived and there was much victory posing with bikes.
Then came the closing ceremony, which consisted of many politicians giving longer than necessary speeches while the dressed to the nines honor guard members slowly succumbed to the heat and had to seek medical attention. By the time the second guard went to sit down we were starting to get concerned about both Michael and Matthew. We decided to bail when the third guard checked out. Brendan stayed behind to grab bags while I took the kids into the a/c.
Needless to say, a very impressive accomplishment for Janice. Many congratulations and well done!
You might also like
- River Oak
(0.404872)
- Nationals
(0.394737)
- Social Distancing: Day 3
(0.390152)
- The Big Clock
(0.389785)
- Big Apple
(0.384971)
All
September 16, 2018
It was stinking hot but the wading pools are all closed, many of the city pools are closed for maintenance, the beach sounded like a recipe for heat stroke and inviting ourselves to someone else's pool seemed like too much work.
"Let's use Elizabeth's slip-n-slide!" suggested Matthew. Shortly after we had many small children flinging themselves with abandon across our lawn. It was pretty perfect, even though Matthew eventually got into trouble with the super soaker and was sent indoors to contemplate how to improve his sibling relationships.
Lorianne and Oliver (The Boy!) came for lasagna and cherry cheesecake supper. Elizabeth decided to be twins with Lorianne since she could. Then we all played dutch blitz. Oliver and I lost but we had teammates that proved natural handicaps. Matthew was on Oliver's team; Amelia and Michael were on mine.
I also include a photo of our deck; apparently our deck furniture doubles as fort building supplies. Many, many people have inquired if our gazebo / slide are off limits at the moment for structural reasons and the answer is no, we just have many children who think that it's fun to crawl through an obstacle course to get to said slide.
You might also like
- Party
(0.370833)
- River Oak
(0.36722)
- Fall summer
(0.361419)
- 7.5 ish years
(0.359841)
- Virtual School: Week 34
(0.359053)
All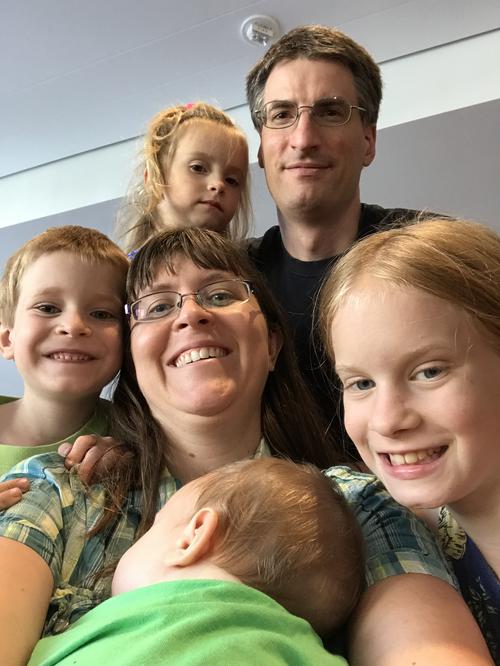 The NAC was doing a special Beethoven series and part of it featured a free introduction for kids. "Ludwig van Cranky Pants" was an amusing but informative look at the composer. Marjo(2) are Marjolaine Fournier and Marjolaine Lambert, also dubbed Purple hair and Grandpa by the kids. Basically the premise was that Purple Marjo was a kid who didn't want to practice her Beethoven (and/or wished to make her own "improvements"). The other Marjo played grumpy Beethoven.
The kids were pretty engaged, although Amelia lost interest about halfway through and wanted to sit on my lap. This was not an option because Michael also wanted my lap in order to have a nap and nurse.
Luckily the venue was pretty informal so Michael and I went to stand at the back for a while.
I thought the performers did a wonderful job. My favourite part was probably when they got the audience to do a canon (they were showing the kids what it was).
You might also like
- Gingerbread
(0.32992)
- Rainbow Camp
(0.326705)
- Christmas Eve
(0.321123)
- Ballet Recital
(0.320567)
- Crachel
(0.318681)
All